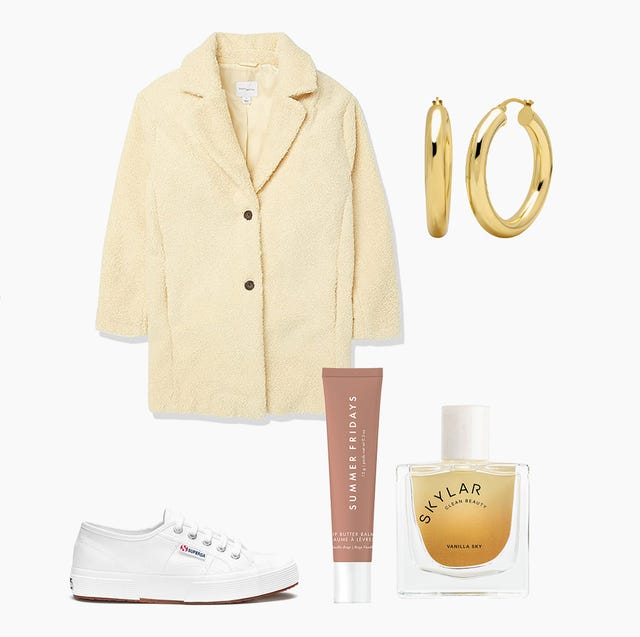 Courtesy of retailer
Think of the latest TikTok aesthetic, the Vanilla Girl, as the Clean Girl's neutral-wearing sister, the Mall Girl's chic cousin, and the Coastal Grandmother's closet-raiding granddaughter. While she may wear Uggs and flare leggings, she sticks to a minimalist palette of white, cream, and tan that makes it feel effortlessly chic. Perhaps that's why #VanillaGirl has already racked up over 394 million views on TikTok.
The spring 2023 fashion trend draws inspiration from Scandi minimalism, monochrome dressing, and layer-loving It Girls like Hailey Bieber and Matilda Djerf. Everyday essentials include oversized sweaters, tan trousers, white sneakers, and vanilla-flavored lip gloss. Drawing on the nostalgia of Pumpkin Spice girls and early 2010s hipsters, no Vanilla Girl's closet is complete without Uggs and flare yoga pants, either.
While many TikTok fashion trends come and go, expect the cozy fabrics, casual comfort, and creamy color palette of the Vanilla Girl aesthetic to stick around. And with the help of these Amazon finds, looking—and smelling—like a Vanilla Girl is as easy as clicking Add to Cart.
Check out Firstfinds to shop more of the Internet's favorite products, including viral hits, home hacks, fashion essentials and so much more.
Advertisement – Continue Reading Below
Koolaburra by Ugg
Advay Slip-On Boots
Theory
Cashmere Easy Pullover
Lee
High-Rise Wide-Leg Slouch Jeans
Skylar
Vanilla Sky Eau de Perfume
ODODOS
Cross-Waist Bootcut Yoga Pants
Southern Elegance
Creme Brûlée Scented Candle
Daily Ritual
Teddy Bear Fleece Jacket
Superga
2750 Cotu Classic Sneakers
Logene
Oversized Turtleneck Sweater Dress
Summer Fridays
Vanilla Beige Lip Butter Balm
TEREA
Lexie Pleated Front Pants
Sewyer
Dainty Gold Pearl Necklace
Madewell
Northside White Tee
Athlisan
Cropped Puffer Vest
Lack of Color
Teddy Bucket Hat
Gildan
Fleece Crewneck Sweatshirt
Advertisement – Continue Reading Below