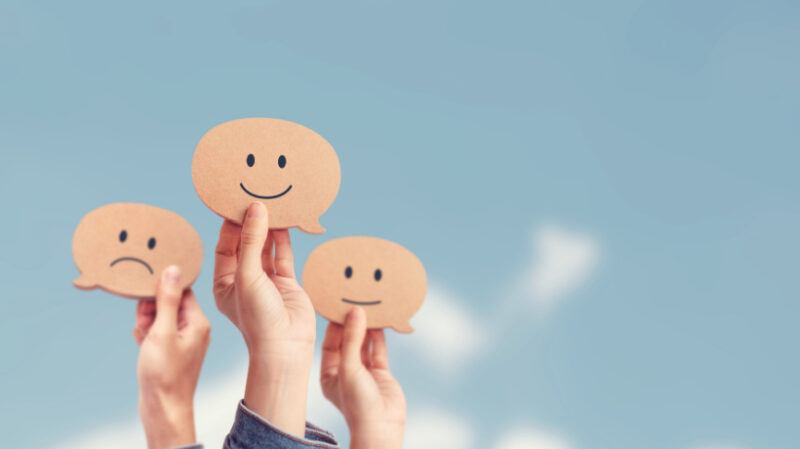 Encourage Positive Habits With Constructive Feedback
Some people may use feedback as a vehicle to sneak in passive-aggressive insults or highlight a person's shortcomings. Within a workplace, that's never acceptable. Feedback should be utilized as a management tool to help employees reach their full potential and exceed the company's and their own expectations. Discover the many ways you can improve your feedback-giving by making it a positive, constructive experience.
How To Give Feedback Correctly
1. Determine The Value Of Constructive Feedback
Quarterly or yearly performance evaluations are common practice among companies—but do they promote self-improvement and proactive work habits? Constructive feedback is an essential communication tool that addresses day-to-day action and long-term development. It is primarily focused on recognizing achievements and setting new goals while approaching improvement in a solution-based manner. Companies that know how to utilize constructive feedback are less prone to turnover and have higher job satisfaction rates. How much positive value would constructive feedback add to your company processes and culture? Determining the metrics is a good place to start. If you feel like your company is on the right track to offer helpful feedback to its workforce, then the areas of improvement can be targeted more quickly and precisely.
2. Get To Know Your Staff
Getting acquainted with your workforce is the next step. Find out how they respond to feedback and continuously work on improving your methods. In this phase of the process, it's also essential to collect data on your employees' strengths and areas for improvement. Gathering this data will allow your management to focus on a solution-specific feedback plan to address any gaps and personalize your strategy. You can put your people first by discovering the best way they need to be approached on such matters to ensure their growth. Moreover, determining the right dosage of praise, recognition, and call to action that your employees respond to can help further individualize the feedback process. Some people would prefer a more step-by-step approach because they strive for constant betterment, while others would want to see recognition for their achievements front-and-center to keep them motivated. Do your research and find the right combination for each of your team members.
3. Devise A Plan Of Action
The cornerstone of constructive feedback is creating solutions, not highlighting problems. Progress is not linear; there are ups and downs. Showing your employees that there is a way out of those down periods through actionable steps is a great way to motivate and engage them in practicing proactive thinking. In addition, constructive feedback ensures open communication by reducing the chances of your employees shutting off during one-on-one meetings. This also lets your team know that you are there to help them find their bearings in situations that may be challenging to address by themselves. Having a pre-made plan of action to build on can reduce stress and encourage creative thinking. On that note, though, creating solutions should be a team effort in which both leader and employee actively participate.
4. Define Success
Career trajectories, personal and professional goals, and aspirations differ from employee to employee within your company. Making assumptions that every team member aims to have a long corporate career is a generalization that can have a direct impact on your management style and the way you approach constructive feedback. It is important to tailor your feedback strategy to each individual employee. Thus, in this stage, it is important to revisit the ways your organization defines success and acknowledge how each of your team members sets their own success parameters. Compare each list and highlight the common objectives; that's the baseline you will need to cover when redefining your feedback-giving process. If both parties acknowledge and understand each other's definition of success, they both know where to aim in their day-to-day duties and what solutions to propose when the need arises.
5. Make It Informal
Feedback sessions can put employees on edge if they think that someone is going to point the finger at all their flaws. Having inconsistent or infrequent feedback sessions may worsen the stress some people feel when asked to face these one-on-one discussions. So, make feedback part of your company's culture. Incorporating feedback into the everyday work routine helps cultivate a casual environment where open, constructive dialogue is the norm. In addition, a consistent feedback system may identify issues at a much earlier stage, and having feedback as part of the company culture promotes transparency, collaboration, and targeted problem-solving. If feedback isn't already a main aspect of your corporate culture, consider starting with an open-door policy to nurture free-flowing dialogue and make things more casual with your team.
Conclusion
Feedback isn't something to be feared but something that can help us move forward and evolve. Make sure that your employees receive the right kind of feedback. It shouldn't hone in on their weaknesses; it should celebrate their strengths and show them how to utilize them. Constructive feedback should also be solution-based; if you choose to point out an area that can be improved, suggest how. This is a great opportunity to practice and cultivate empathy in your company, as well as show your staff that you care about their personal development.