Whether performing in front of a sold-out crowd at Soldier Field, appearing on Saturday Night Live, partying at Chateau Marmont, or pumping gas, Daisy Jones embodies the '70s sartorial cool that continues to inspire nearly 50 years later. Yes, Daisy might be a fictional character—portrayed by the equally magnetic Riley Keough—but she captures the stylish essence of a period in rock and roll history that we still obsess over today.
The adaptation of Taylor Jenkins Reid's beloved novel Daisy Jones & The Six has been several years in the making, with a production put on pause due to the global pandemic, but it is well worth the wait. Produced by Reese Witherspoon's Hello Sunshine and Amazon Studios, the show follows rock band The Six and singer-songwriter Daisy Jones, whose paths collide before propelling each other to global stardom. The 10-episode limited series primarily takes place across the 1970s, when the likes of Fleetwood Mac ruled the stage—and the gossip columns—and boho chic and disco glam took over the runway.
"I did a lot of visual research on musicians, groupies, and kids on the Strip—I had so much inspiration. It was hard to peg down one thing; it was such a great time for fashion," costume designer Denise Wingate tells ELLE.com. Not only did Wingate grow up in Los Angeles, but she also toured with The Bangles for a year in the 1980s as the band's stylist. "When I was a teenager, I was always sneaking out of the house, going to clubs. I had a fake ID, so I knew the scene well. I read the book and was like, 'I know these people. I know what it's like to be on the road.'"
More From ELLE
In all likelihood, catchy tracks like "Regret Me" and "Look At Us Now (Honeycomb)" are going to get stuck in your head, and Daisy's aesthetic is just as mesmerizing. Luckily, Wingate and makeup department head Rebecca Wachtel are on hand to unpack how they brought Daisy Jones to life, from the importance of the novel to collaborating with Keough and much more!
Starting from the Page
Reid's descriptions of Daisy in the novel pinpoint specific signature items such as her bangles, hoop earrings, and borrowed menswear. "There were things like when she comes to the recording studio wearing the man's shirt and the cowboy boots, we couldn't not do that," says Wingate about referencing the source material. Wachtel felt similarly about the character origins, wanting to maintain "the integrity of the characters in the way that they look."
Wingate (whose credits include '90s teen classics Cruel Intentions and She's All That) covered her office from "floor to ceiling with boards of inspiration photos." An open-door policy meant that "anybody could come into my office at any time and look at where my inspiration was coming from." She worked on the series for over two years because of COVID, giving her more time to flesh out Daisy. "I think if we had had a six-week prep, it wouldn't have looked so authentic," she says. "Riley is a very free-spirited person, and I know she wanted to bring her own style to Daisy, her own sensibility. I think that my photographs were a stepping-off point."
Wachtel came on board after the lockdown, replacing the original makeup designer, who was no longer available. She wanted to avoid anything resembling a "caricature of the '70s" and scaled back pre-fame Daisy's makeup to match her research of the era. For Daisy's lips in the earlier episodes, Wachtel used Lime Crime Clear Gloss over natural lips to achieve this look. The makeup team also had to cover Keough's (and other cast members') tattoos, which added to the time in the chair. "In the beginning, it was a little time to get everything tweaked, but I would get her all done in 45 minutes," she recalls.
"Whereas some of the other characters put themselves together a little bit more, I wanted her to be this naturally beautiful '70s glowing girl," she says. When Daisy plays a song for herself in a mostly empty bar in the opening episode, the lighting perfectly captures the makeup department head's vision. Wachtel blended cream-based products to showcase rosy glowing skin and reflect Daisy's mood and circumstance, which she would reduce or enhance depending on the scene. Go-to products include Koh Gen Do Aqua Foundation for the first five episodes, Evanhealy Luna Cream Highlighter on Keough's cheeks and cheekbone, Julie Hewett Cheekie in Rosie, and RMS Enchanted on the cheeks and bridge of the nose.
Inspirations from Linda Ronstadt, Stevie Nicks, and Joni Mitchell
Thanks to The Last of Us, singer Linda Ronstadt is having a cultural resurgence. Now, Daisy Jones & The Six will spotlight the singer's image. "If you Google early Linda Ronstadt, she was amazing; the little cut-off shorts, halter tops, and cowboy boots," Wingate says about Daisy's stepping-off point. Cowboy boots allowed Keough to "move in them well, and the way she walked, she kind of strutted, so that gave her height." The shift to fully-fledged rock star and the Stevie Nicks-influenced platform boot trend was more restrictive, and "you'll notice a lot of the concert scenes she's barefoot, because, at a certain point, she's like, 'I can't move, I'm gonna fall over.'"
It is no secret that Fleetwood Mac influenced Reid's story, specifically Nicks and Lindsey Buckingham's fiery on and off-stage dynamic. Anyone who has seen the Nicks twirl on stage in layers of velvet and lace will recognize elements of the legendary singer's style in Daisy's performance attire, with big sleeves and billowy fabrics. Wingate collaborated closely with Keough, recalling the actress initially resisting this direction. "Originally, her show outfits were a little vest and shorts," says Wingate. A static image can only reveal so much, and the concept changed when the designer saw Keough's butterfly-like movement during the band camp sessions. "When she performs, she becomes alive. It's amazing," says Wingate. "The first time we saw her perform, we were like, 'Wow! It's incredible!'"
Wachtel pulled from different sources beyond Nicks for Daisy's overall makeup look. "Maybe there's a certain essence, but she's her own person," she says. "I did watch a lot of Joni Mitchell, and she was a good reference point because she didn't wear makeup. She was very natural but glowing." This fresh-faced design bled into the actress's life; "She is like Daisy. She's very natural. I even taught her how to do her makeup in that way. So she's doing that for her life—the first part of the Daisy look."
Various '70s icons provide touchstones for when Wingate was designing the ensemble, with Billy's wife Camila (Camila Morrone) resembling Ali MacGraw when she was younger, "and then she morphs into Bianca Jagger." As The Six's only female member, Karen's (Suki Waterhouse) style is likened to early Patti Smith before touches of Suzi Quatro, Marc Bolan from T. Rex, and Joan Jett. Wingate mentions Grace Slick as an influence in the earlier scenes when she wears a signature turtleneck—"that was another big story point because they mentioned it in the book." Wingate drew on Donna Summer, Gloria Gaynor, and Chaka Khan for Simone (Nabiyah Be) and was thrilled to "dive into the disco world and the underground gay clubs in New York."
Sourcing Daisy's Carefree Closet
"We did a lot of flares, short shorts, and little kimono things. I think Daisy was a person who just wore whatever she wants," says Wingate. Bell sleeves, tie-front shirts, cropped tops, and bedwear as outerwear are all staples in this boho closet. But Wingate wasn't only sourcing garments made in this decade. "If you think about it, people from the '70s—especially the Laurel Canyon hippies—all wore vintage stuff, so they were buying vintage. I was buying velvet pieces from the '20s and '30s that were literally rotting and falling apart on the actors," she describes. Case in point, a 1920s velvet bed coat jacket that Daisy is wearing when she meets BFF Simone for the first time at a party: "It ripped down the back, so we were putting tape on it and have her hair cover it. It was a disaster."
Wingate used "as much vintage as I could" for Daisy's approximately 100 costume changes (plus those of the rest of the cast and background actors). Extended production time meant she could "hit up every single rental house," scour online, and go to flea markets every weekend for a year. "I wanted it to look period but also feel a little bit contemporary," she says. "If I found it at a flea market, but I didn't know exactly what period it was from, but it looks '70s to me, then I'd use it." In addition to thrift and costume house rentals, Wingate's team made various garments: "I had a guy making leather jackets. I had my seamstress building a lot of Riley's custom pieces. There's a scene where they're playing Saturday Night Live; she made this flowy piece for me, which is amazing."
Keeping track of the "thousands of changes" was another challenge ("I think Camila in one episode alone had 56 changes!"), requiring Wingate to devise an ingenious way of determining how garments appear within the frame. "There were so many people in each scene I would make paper dolls. I would take the pictures, cut them out, make paper dolls, and then have a big board with Velcro strips," Wingate says. "Then I would move the paper dolls around, so I could see what people look like together in the scene."
The Aurora Album Cover
Aurora is the smash album from Daisy Jones & The Six (which you can also order and stream IRL), requiring a cover shoot to match the intensity of the songs—and chemistry between the singers. A photograph of Nicks wearing a white flowing dress taken by legendary rock photographer Neal Preston was on Wingate's research boards "for so long." Wingate designed a "beautiful diaphanous silk sheer with lace and embroidery" gown that would take center stage. Unfortunately, the desert location's weather forecast had other ideas. "It was snowing. It was freezing. It was like the coldest day we had. So, here's this beautiful dress that we put a white fur coat on, and I think we saw it briefly," laments the designer. The hem of the dress dramatically flutters in the wind, and the white cowboy boots get screen time, but Wingate wonders what might have been if it had been a hot day.
Sometimes the elements work against a designer, and Wingate refers to this Aurora moment as a "Kill Your Darlings outfit." A party scene at the legendary Chateau Marmont also ticks this box, doubling as an Easter egg for fans of the novel. Taking this beautiful gown from page to screen required three duplicates as Daisy takes a dip fully dressed. "I have this amazing seamstress, we found vintage fabric, and she did all-gold beading on it," Wingate describes. "Again, you see it for three seconds, and then it's in the water.'"
Wachtel also vividly remembers the Aurora cover shoot, noting the windy conditions added to the freezing temperatures. "I wanted Daisy to be a little more ethereal looking and cleaner than we see her. I put shimmer on her eye," she adds.
Daisy's "Armor"
Feather-collared coats are a sartorial staple of this period, so Wingate located several standout pieces, including ones that date back to the '20s and '30s. The one Daisy wears to the recording studio has a collar of marabou feather, not fur as it initially appears. "It's fabulous, right?" Wingate asks. (Yes, yes it is.) This pivotal garment was rented from the iconic Western Costume Company in Los Angeles. During a later press conference, Daisy's green suede number (one of Wingate's favorite costumes) was a rental from Palace Costume and originated from the '70s. "It was like a needle in a haystack finding pieces, but in the rental houses, I would look in every era," she says. "I also felt the coats for her were, in a weird way, armor. If the character was feeling removed or she wanted to distance herself from Billy," Wingate adds. Meanwhile, as Billy, Sam Claflin wore a rotation of denim shirts and leather jackets, emulating early Bruce Springsteen. "To Sam, I'd be like, 'Sorry, here's a new leather jacket' because everybody else got these grand outfits—Warren was wearing full-length fox fur," she adds.
Another piece of outerwear provides a subtle tether to Keough's famous lineage, as Wingate commissioned a denim patchwork coat by designer Love Melody. This designer custom-made clothing in the '60s and '70s for musicians, including two jumpsuits for Keough's grandfather Elvis Presley. "She was the real deal, and I thought it would be nice to have her design a few items for Riley and bring everything full circle," explains Wingate.
Vivid Blue Eyes
On tour, Daisy's stage makeup evolves from warm tones to a washed-out complexion that loses the rosy glow. "She was into it when we would have to make her more unraveled and deconstructed, and she liked the imperfections," Wachtel says about Keough's open-minded approach. Keough had less overall input on the makeup concepts than the costumes, but she provided one image at the beginning of "something she wanted to do, and it was a blue eyeshadow wash." Wachtel added this to her boards in the trailer and would eventually be paired with a winged tour ensemble.
"That's where I work in collaboration with Denise because her costumes played off—especially in the show looks—to what I would do," she says about the creative environment. Some days, they could shoot five or more show looks, with the stage dressed to resemble various stops as part of a montage. "It was like being behind the scenes of a theater, and I've got 10 minutes to change her over from one look to another, but I don't know what she's wearing," says the makeup department head. "I'd have eyeshadow palettes all laid on my table; it could be any stage of her deconstruction. I'd have to put her back together and make it pretty, then take her apart." In moments like this, Wachtel took color inspiration from the costume choices, including one that complemented the image Keough added to the board. "It's when she's falling back into the audience, and it was the perfect moment. "As soon as I saw that outfit, I was like, 'That's it! That's the blue eyeshadow!' Wachtel used MAC Triennial Wave and Stila Magnificent Metals in Comex Platinum as a dry washover on her eyes and MAC Brick lip liner with custom color from a Bobbi Brown pro lip palette as a dramatic lip.
Eyeliner and Glitter
It isn't only the clothing that is authentic to the period, as Wachtel used a '70s makeup hack for hardened eyeliner, which Daisy utilizes herself too. Sometimes cosmetics are applied onscreen to underscore the mood of a scene, and production asked Wachtel if she had "some ideas about something [Daisy] could do that would be strong." She thought of " the Tonya Harding moment when she painted her face" in I, Tonya when developing this concept. "[Daisy's] in this messy headspace when she puts herself together like that. It's supposed to be different than how we see her normally in her show looks," she says.
Wachtel made a demonstration video with Keough in the makeup trailer to show the director how this application visually underscores Daisy's energy at this moment. Then they shot the scene: "Light the lighter, light the eyeliner, and then they took an ashtray and put the eyeliner down in it, and then she starts painting her face."
For the eye makeup Daisy actually wears on stage, Wachtel applied black Inglot #77 Gel Liner (no light necessary!) in a messy cat-like shape before adding sparkly Lemonhead Spacepaste in Gilderbeast over Keough's eyes and cheekbones. The final show in Chicago is the first time we see Daisy in glitter makeup, and it holds a special significance as "it's a little tease" into Simone's disco world—eagle-eyed viewers should keep a lookout for where Daisy's glitter ends up. For keyboardist Karen, Wachtel used MAC Blacktrack Eyeliner to create the edgier cat line "in different thicknesses during the show."
The Gold Showstopper
Daisy's jaw-dropping final tour look performing at Chicago's epic Soldier Field is teased in the opening episode, and the story behind her Halston pleated caftan and 1930s gold crochet dress from Palace Costume doesn't disappoint. Wingate knew it had to be superb, so it took time to come together as other potential outfits were utilized for other tour stops. Ultimately, it was Stevie Nicks who lit the spark. Inspiration came when Keough heard Fleetwood Mac's brilliant "Gold Dust Woman" on the radio—a song that does appear in the series. "She called me immediately on the phone, 'I'm listening to Gold Dust Woman. We have to do Gold Dust Woman!'"
From here, Wingate found the pleated gold lame Halston (a designer mentioned in the novel), and because the caftan was tent-like, Keough suggested cutting it and turning it into a cape. The designer hesitated with this alteration, saying, "I couldn't really afford Halston. 'Oh my god, I'm gonna be cutting up the most expensive item in her closet.'" However, going from the static fitting room to the stage proved Keough's instinct was right: "We were shooting in New Orleans, a storm was coming, she lifted her arms, and a wind blew, and everybody at the monitors gasped—the way the light was hitting the lamé." Daisy's showstopper is one for the ages, capturing the star power of this character and Keough's memorable performance.
"You have thousands of changes, and I'm sure I'll go back and be like, 'That's not so great, or I would have done that differently,'" says Wingate. "But this was perfect."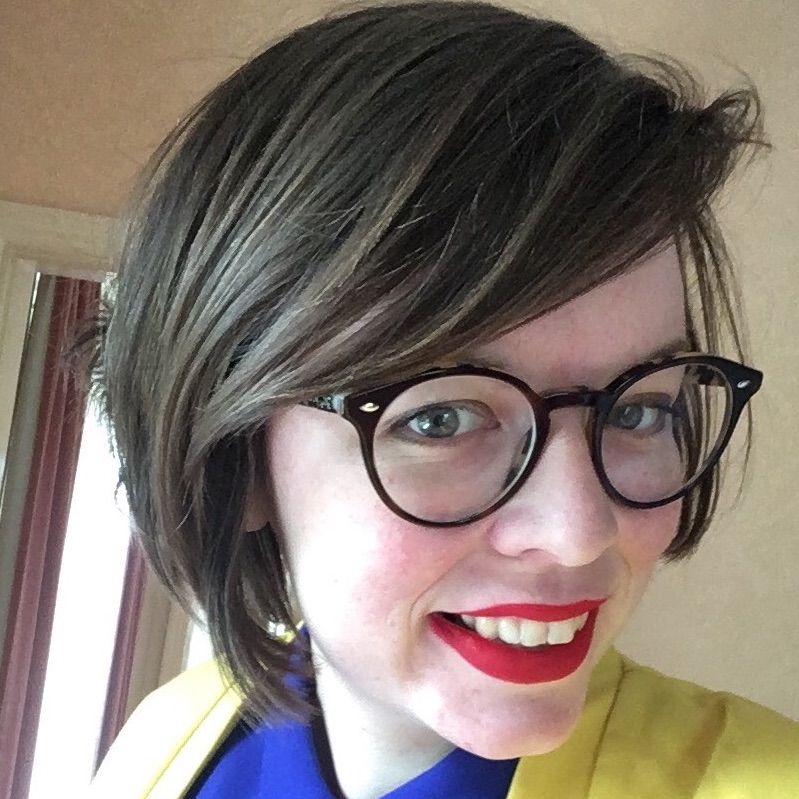 Emma Fraser is a freelance culture writer with a focus on TV, movies, and costume design. You can find her talking about all of these things on Twitter.