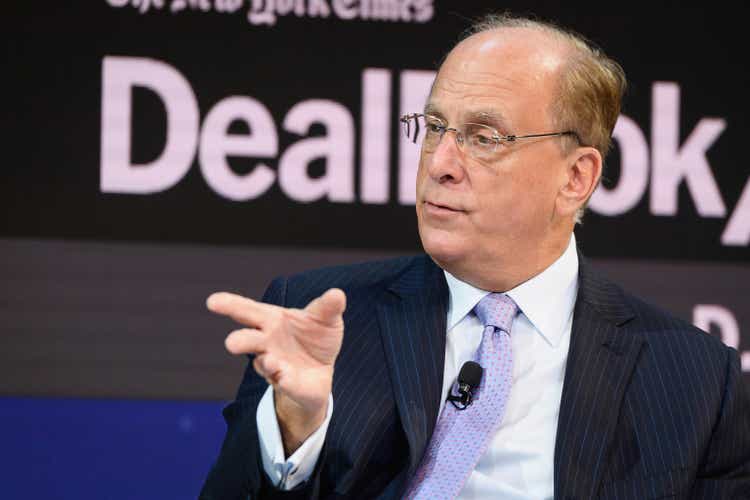 The Federal Reserve's pace of rate hikes — the fastest since the 1980s — have "exposed cracks in the financial system," said BlackRock (NYSE:BLK) Chairman and CEO Laurence Fink in his annual letter to investors.
In addition, he expects inflation to stay close to 3.5%-4.0% for years as the tradeoff for more resilient and secure supply chains to strengthen national security will likely be higher prices.
The failures of Silicon Valley Bank and Signature Bank were the first domino to fall as a result of years of easy money, he said. Asset-liability mismatches could be the second domino to fall, he posits.
"We don't know yet whether the consequences of easy money and regulatory changes will cascade throughout the U.S. regional banking sector (akin to the S&L crisis) with more seizures and shutdowns to come," he wrote.
Fink considers it likely that some banks will need to pull back on their lending to bolster their balance sheets. "And we're likely to see stricture capital standards for banks."
Capital markets may become more important as banks potentially become more cautious in lending, he said.
In addition to the asset-liability mismatches at some banks, liquidity mismatches may also be an issue. "Years of lower rates had the effect of driving some asset owners to increase their commitments to illiquid investments – trading lower liquidity for higher returns. There's a risk now of a liquidity mismatch for these asset owners, those with leveraged portfolios."
In considering global economics, Russia's invasion of Ukraine produced shifts in globalization and underscored the importance of national and economic security while the pandemic has reshaped supply chains.
"This tradeoff between price and security is one of the reasons I believe inflation will persist and be more difficult for central bankers to tame over long term. As a result, I believe inflation is more likely to stay closer to 3.5% or 4% in the next few years," Fink wrote.
North America could be one of the biggest beneficiaries of this trend of economic fragmentation, he said.
On Tuesday, U.S. inflation cooled to lowest level since September 2021.