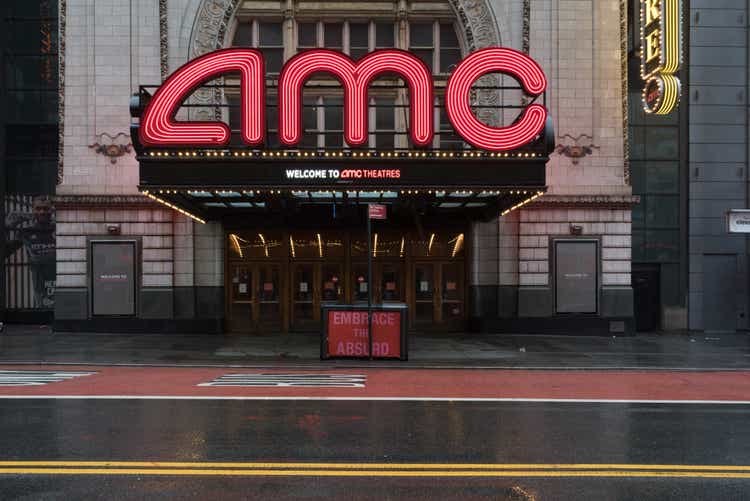 AMC Entertainment stock (NYSE:AMC) is shifting again late Wednesday as Delaware's Court of Chancery denied a proposed settlement between AMC and shareholders designed to allow a series of transactions leading to a capital raise.
AMC stock (AMC) was up 6.7% postmarket, while AMC's preferred equity units (APE) were down 12.9% after hours.
In a ruling issued Wednesday evening, Vice Chancellor Morgan T. Zurn ruled "I write to resolve the plaintiffs' Unopposed Motion to Lift the Status Quo Order Due to the Parties' Proposed Settlement … the Motion is denied."
AMC stock had slid Tuesday, and AMC Preferred Equity units (APE) jumped, as a proposed settlement looked to remove a hurdle from a plan AMC put into motion to convert the APEs into AMC common stock, implement a 10-for-1 reverse stock split, and then pursue an equity raise for more capital.
That meant an additional payment of common stock to shareholders. But essentially, the court found AMC was moving too quickly according to the rules to get its transactions done.
"The parties seek to lift the status quo order to allow the defendants to complete their settlement obligations before the settlement is noticed, considered, and approved," the ruling stated. "This Court has cautioned against parties performing even partial settlement obligations before a settlement hearing, as doing so prevents the Court from meeting its obligation to oversee class action settlements."
"The parties offer no good cause to lift the status quo order," Zurn ruled, adding "In the absence of any demonstrated need to reorder the established and purposeful order of operations, I must conclude that harm to the putative class suffered by foregoing Rule 23's required protections of proper notice, opportunity to object, and approval exceeds the benefit of receiving the common stock sooner."
In February, Zurn set an injunction hearing on the lawsuit for April 27.