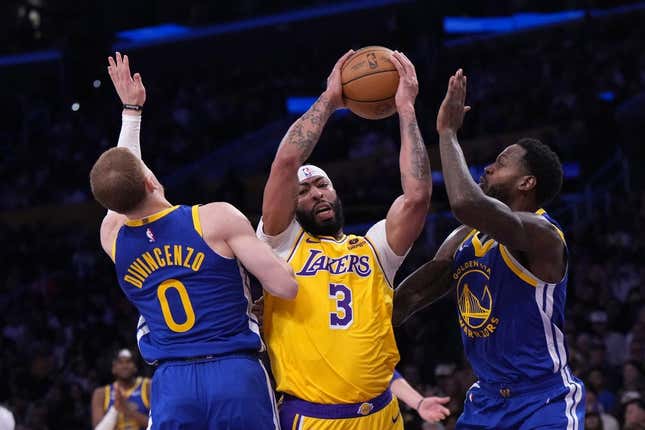 LeBron James finished with 27 points and Lonnie Walker IV scored all 15 of his points in the fourth quarter as the Los Angeles Lakers built a commanding lead in the Western Conference semifinals with a 104-101 victory over the visiting Golden State Warriors on Monday
Is Suns owner Mat Ishbia's tweet window dressing for imminent revenge? | Andy Reacts
Anthony Davis scored 23 points and grabbed 15 rebounds and Austin Reaves added 21 points as Los Angeles took a 3-1 lead in the best-of-seven series. Game 5 will be played in San Francisco on Wednesday.
The Lakers improved to 5-0 at home in the playoffs
Los Angeles trailed by as many as 12 points in the third quarter before rallying for the victory behind Walker, who shot 6 of 9 from the field in the final period. Walker had 21 total points in the first three games of the series.
Golden State's Stephen Curry amassed 31 points, 14 assists and 10 rebounds, but Klay Thompson was held to nine points on 3-of-11 shooting from the floor and 3-of-9 success from 3-point range.
Andrew Wiggins scored 17 points and surprise starter Gary Payton II added 15 for the Warriors, who did reel off three consecutive victories in the first round against the Sacramento Kings, but none of those contests was an elimination game
Turnovers by Draymond Green and Curry in the final 10 seconds doomed Golden State's chances. Walker made two free throws with 15 seconds remaining for the game's final points.
The Warriors pushed in front 52-49 at halftime and looked to take control when they went on a 16-2 run in the third quarter to take a 73-61 lead. However, Los Angeles withstood the burst and trailed just 84-77 after three quarters
A 9-0 run to start the fourth quarter gave the Lakers an 86-84 lead with 9:27 remaining after a layup from Walker, their first advantage since early in the second half
Thompson drained a 3-pointer from the corner for a 99-96 lead with 3:01 remaining, but a 6-0 run by the Lakers on four James free throws and a Walker basket put the hosts up 102-99 with 1:19 left
The Warriors continued to get limited minutes from Kevon Looney following an illness, while Payton headed to the locker room once in each half with an undisclosed ailment. Payton started for the Warriors for the first time this season
–Field Level Media