By Lambert Strether of Corrente.
Bird Song of the Day
Great Eared-Nightjar, Parambikulam Tiger Reserve– Pulickal, Palakkad, Kerala, India.
* * *
Politics
"So many of the social reactions that strike us as psychological are in fact a rational management of symbolic capital." –Pierre Bourdieu, Classification Struggles
Biden Administration
"Debt anxiety falls a little on the Hill. It might not be enough." [Politico]. "President Joe Biden and Speaker Kevin McCarthy are still very much in the finger-pointing stage of the economy-rattling debt crisis. Yet some possible signs of life have begun to emerge. Senior Hill aides have agreed to start more in-depth talks on government spending — though Democrats insist those are on a separate track from raising the nation's debt limit. Biden has said he'd take a 'hard look' at unspent Covid aid money in the talks. A top White House advisor is laying out ideas for energy permitting reform — one of the GOP's biggest debt limit priorities. It's all far short of a compromise to bridge the mile-wide gap between party leaders, who have retreated to their corners since their Oval Office sit-down on Tuesday. Top Democrats are still refusing to entertain the GOP's spending cut demands, with Senate Majority Leader Chuck Schumer castigating McCarthy in a bid to split him from Senate Minority Leader Mitch McConnell. And Republicans are complaining that Biden is running out the clock. So the minor signs of progress that are visible in the Capitol are leaving some lawmakers to wonder whether they're meaningful or more of a mirage as the deadline to avoid a full-blown economic crisis draws nearer." • I wonder if any of that unspent Covid money was going to go to nasal vaccine development. I'm guessing yes.
The Supremes
"Clarence Thomas Reversed Position After Gifts And Family Payments" [The Lever]. "The so-called 'Chevron deference' doctrine stipulates that the executive branch — not the federal courts — has the power to interpret laws passed by Congress in certain circumstances. Conservatives for years have fought to overturn the doctrine, a move that would empower legal challenges to federal agency regulations on everything from climate policy to workplace safety to overtime pay. Thomas wrote a landmark Supreme Court opinion upholding the doctrine in 2005, but began questioning it a decade later, before eventually renouncing his past opinion in 2020 and claiming that the doctrine itself might be unconstitutional. Now, Thomas could help overturn the doctrine in a new case the high court just agreed to hear next term. nGroups within the conservative legal movement funded by Leonard Leo's dark money network and affiliated with Thomas' billionaire benefactor Harlan Crow have organized a concerted effort in recent years to overturn Chevron. That campaign unfolded as they delivered gifts and cash to Thomas and his family in the lead-up to his shift on the doctrine."
2024
I guess it's time for the Countdown Clock!

Christmas music in the stores on Halloween, but here we are…

* * *

"Trump attacks 'biased' judge and will appeal after jury finds he sexually abused writer E Jean Carroll in changing room" [Sky News]. "The former US president was also found to have defamed E Jean Carroll, but the civil trial rejected her claim she was raped during the encounter. Trump must pay the former Elle magazine advice columnist $5m (£4m) in damages." • The drumbeat for many years is that Trump was rapist. As it turns out, he's not, but that's not the story. It looks to me like Trump was slapped with $5 million in damages for being a [glassbowl]; which, truth to tell, he is.

"Why some in new poll still want Trump in 2024 even if he's criminally charged" [ABC]. The deck: "'He might be a bad person, but he is a good president,' one person said." More: "Trump's backers include those who think he broke the law, with 18% of respondents who said Trump should face criminal charges in investigations of his efforts to overturn the 2020 election results also saying they would be inclined to vote for him."
Democrats en Déshabillé
Patient readers, it seems that people are actually reading the back-dated post! But I have not updated it, and there are many updates. So I will have to do that. –lambert

I have moved my standing remarks on the Democrat Party ("the Democrat Party is a rotting corpse that can't bury itself") to a separate, back-dated post, to which I will periodically add material, summarizing the addition here in a "live" Water Cooler. (Hopefully, some Bourdieu.) It turns out that defining the Democrat Party is, in fact, a hard problem. I do think the paragraph that follows is on point all the way back to 2016, if not before:

The Democrat Party is the political expression of the class power of PMC, their base (lucidly explained by Thomas Frank in Listen, Liberal!). ; if the Democrat Party did not exist, the PMC would have to invent it. . ("PMC" modulo "class expatriates," of course.) Second, all the working parts of the Party reinforce each other. Leave aside characterizing the relationships between elements of the Party (ka-ching, but not entirely) those elements comprise a network — a Flex Net? An iron octagon? — of funders, vendors, apparatchiks, electeds, NGOs, and miscellaneous mercenaries, with assets in the press and the intelligence community.

Note, of course, that the class power of the PMC both expresses and is limited by other classes; oligarchs and American gentry (see 'industrial model' of Ferguson, Jorgensen, and Jie) and the working class spring to mind. Suck up, kick down.

* * *

"USE YOUR VOICE. REPORT HATE" [California Civil Rights Department]. From the FAQ:

[1] Insanely vague. "Expression or action" (note the typical conflation with "act"), "may be motivated", "actual or perceived." Of course the sacred "identity" concept is not defined. This all looks highly gameable, to me, especially by conservatives. One might consider the public use of "ammosexual" or "gun-humper" as an assault on those who "identify as" gun-owners, for example. The whole document is worthy of study.

[2] Note that hate incidents — to be reported — are not hate crimes. The definition of incidents is much broader.

[3] A nation of snitches. How attractive.

[4] And to the heart of the matter: A jobs guarantee for identity politics operatives (as if there weren't enough already).
Realignment and Legitimacy
#COVID19
"I am in earnest — I will not equivocate — I will not excuse — I will not retreat a single inch — AND I WILL BE HEARD." –William Lloyd Garrison
Resources, United States (National): Transmission (CDC); Wastewater (CDC, Biobot; includes many counties); Variants (CDC; Walgreens); "Iowa COVID-19 Tracker" (in IA, but national data).
Lambert here: Readers, thanks for the collective effort. We are now up to 50/50 states (100%). This is really great! (It occurs to me that there are uses to which this data might be put, beyond helping people with "personal risk assessments" appropriate to their state. For example, thinking pessimistically, we might maintain the list and see which states go dark and when. We might also tabulate the properties of each site and look for differences and commonalities, for example the use of GIS (an exercise in Federalism). I do not that CA remains a little sketchy; it feels a little odd that there's no statewide site, but I've never been able to find one. Also, my working assumption was that each state would have one site. That's turned out not to be true; see e.g. ID. Trivially, it means I need to punctuate this list properly. Less trivially, there may be more local sites that should be added. NY city in NY state springs to mind, but I'm sure there are others. FL also springs to mind as a special case, because DeSantis will most probably be a Presidental candidate, and IIRC there was some foofra about their state dashboard. Thanks again!
Resources, United States (Local): AK (dashboard); AL (dashboard); AR (dashboard); AZ (dashboard); CA (dashboard; Marin); CO (dashboard; wastewater); CT (dashboard); DE (dashboard); FL (wastewater); GA (wastewater); HI (dashboard); IA (wastewater reports); ID (dashboard, Boise; dashboard, wastewater, Central Idaho; wastewater, Coeur d'Alene; dashboard, Spokane County); IL (wastewater); IN (dashboard); KS (dashboard; wastewater, Lawrence); KY (dashboard, Louisville); LA (dashboard); MA (wastewater); MD (dashboard); ME (dashboard); MI (wastewater; wastewater); MN (dashboard); MO (wastewater); MS (dashboard); MT (dashboard); NC (dashboard); ND (dashboard; wastewater); NE (dashboard); NH (wastewater); NJ (dashboard); NM (dashboard); NV (dashboard; wastewater, Southern NV); NY (dashboard); OH (dashboard); OK (dashboard); OR (dashboard); PA (dashboard); RI (dashboard); SC (dashboard); SD (dashboard); TN (dashboard); TX (dashboard); UT (wastewater); VA (dashboard); VT (dashboard); WA (dashboard; dashboard); WI (wastewater); WV (wastewater); WY (wastewater).
Resources, Canada (National): Wastewater (Government of Canada).
Resources, Canada (Provincial): ON (wastewater); QC (les eaux usées); BC, Vancouver (wastewater).
Hat tips to helpful readers: Art_DogCT, B24S, CanCyn, ChiGal, Chuck L, Festoonic, FM, FreeMarketApologist (4), Gumbo, hop2it, JB, JEHR, JF, JL Joe, John, JM (9), JW, KatieBird, LL, Michael King, KF, LaRuse, mrsyk, MT, MT_Wild, otisyves, Petal (5), RK (2), RL, RM, Rod, square coats (11), tennesseewaltzer, Utah, Bob White (3).
* * *
Covid Is Airborne
"No Evidence of Induced Skin Cancer or Other Skin Abnormalities after Long-Term (66 week) Chronic Exposure to 222-nm Far-UVC Radiation" [Photochemistry and Photobiology]. "Far-UVC radiation, typically defined as 200-235 nm, has similar or greater anti-microbial efficacy compared with conventional 254-nm germicidal radiation. In addition, biophysical considerations of the interaction of far-UVC with tissue, as well as multiple short-term safety studies in animal models and humans, suggest that far-UVC exposure may be safe for skin and eye tissue. Nevertheless, the potential for skin cancer after chronic long-term exposure to far-UVC has not been studied. … No evidence for increased skin cancer, abnormal skin growths or incidental skin pathology findings was observed in the far-UVC-exposed mice. In addition, there were no significant changes in morbidity or mortality. The findings from this study support the long-term safety of long-term chronic exposure to far-UVC radiation, and therefore its potential suitability as a practical anti-microbial approach to reduce airborne viral and bacterial loads in occupied indoor settings." • I've gotta say, and I know this isn't entirely rational, that I'm still skeptical. I know filters work and are no risk. I can't bring myself to say "no risk" with UV. I would be a lot more comfortable with UV in spaces through which people moved rapidly, like hallways or entrances, as opposed to spaces where people remain for minutes at a time. Sorry, UV advocates!
Maskstravaganza
Universal masking as an ADA accommodation?! Hmm:

Important life-saving info: if you have a condition on the CDC's list of risk factors for COVID-19 you can get universal masking as an ADA accommodation.

Here's some helpful info on how this applies to healthcare from @PeoplesCDC : https://t.co/4Y0tPrUng1

— Anna Pakman (@Annatated) May 9, 2023

If correct, this minimizes my reservations about an ADA-based approach, expressed here.

"ADA+ Rights Workshop" [People's CDC]. This is really good. People's CDC doesn't mess around. On Accommodations:

I would imagine the various "mood disorders" created by past Covid infection are well-documented. More:

This all looks good to me. Readers? ADA mavens?
Sequelae
"How lockdowns turned us into antisocial goblins – and why it matters" [New Scientist]. "Recently, some colleagues of mine put on a public health conference. More than 80 people registered for the in-person-only event, and we ordered coffees and snacks for a little under that number – assuming, as is the norm, that 20 to 30 per cent of people would drop out. Surprisingly, it was closer to 90 per cent. Only a handful of people showed up. We were shocked and distressed, and started speculating about why the turnout was so bad. Then someone mentioned that this kind of thing is more common after the covid-19 lockdowns: people just don't like leaving their homes….The behaviours we have seen –

and continue to see, if our recent conference failure reflects wider trends – indicate that covid-19 lockdowns forced a kind of reverse cultural evolutionary process. We are social animals who need regular interaction, and depriving us of socialising releases a culturally primitive, largely antisocial goblin. " • Or perhaps potential attendees made a personal risk assessment, and decided that the social and symbolic capital to be accumulated from the conference wasn't worth the risk of cumulative neurological and vascular damage. Certainly the quality of this paper lends support to that hypothesis.

"Long Covid: clues about causes" [European Respiratory Journal]. "Given the growing evidence that different patterns of symptoms might be driven by distinct pathophysiological pathways (figure 1), it is essential that rigorous and evidence-based classifications of disease are used to design trials of specific interventions based on this knowledge. Many clinical trials are underway to identify potential treatments [8] but there is a risk that these trials will show no benefits if patients with different pathogenic pathways are not differentiated." • Here is Figure 1:

"Post COVID-19 condition after delta infection and omicron reinfection in children and adolescents" [The Lancet]. "In our prospective paediatric study, we showed that older age, having acute symptoms, and higher antibody titres are associated with long-term symptoms after SARS-CoV-2 delta infection. The association between antibody titres and long-term symptoms previously described in adults,8,9,15 can in this study be extended to children. Hence, an immune dysfunction may also be involved in maintaining symptoms in children,17 as observed in adolescents after other viral infections. The three most common long-term symptoms after delta infection in our cohort were fatigue, dyspnoea and cognitive impairment, with higher frequencies in adolescents than in children. These three were recently confirmed as the common clusters of long-term COVID symptoms,18 and frequently reported as persisting paediatric symptoms.3,11,19,20 We observed that adolescents more frequently reported persistent and long-term symptoms than children, confirming the association between symptoms and age post-puberty,5 despite high vaccination rates in adolescents. When comparing groups of vaccinated and unvaccinated adolescents, we found no significant differences in reported acute and persistent symptoms…."
Elite Maleficence
"Go to work with a cold – cough on a colleague" [Henrik Widegren, Sweden Posts English]. I thought that was only for Americans. Guess not. Framed as a "debate," so I assume deliberately controversial: "Sweden, I have news: Covid-19 is no longer a disease dangerous to the public and society! I repeat: Covid-19 is under control! Now some may think that I have been living under a rock and have missed that the pandemic has subsided in the last year, but I am writing this because many people are still behaving as if we had a dangerous pandemic. In recent months, I've had acquaintances who canceled dinners, colleagues who complained that the preschool didn't want to accept their snotty children, and patients who canceled appointments. Reason: Cold. Cold?! A cold has now become a reason to cancel anything: A meeting, a coffee in town, an on-call, a fiftieth birthday party. And it's always with the altruistic explanation: 'I don't want to infect others with my cold.;… The Covid-19 pandemic was an excellent exercise for future serious pandemics, but now the exercise is over and we can return to virus everyday life. Relax and embrace your cold! It shows that you are alive! Take two Alvedon, nasal spray and go to work. Cough on a colleague, sneeze on a friend, and sneeze on a child! (Because they still snitch on you.)" • The author is an ear, nose and throat doctor at Skåne University Hospital.
* * *
Lambert here: I'm getting the feeling that the "Something Awful" might be a sawtooth pattern — variant after variant — that averages out to a permanently high plateau. Lots of exceptionally nasty sequelae, most likely deriving from immune dysregulation (says this layperson).
Case Data
NOT UPDATED From BioBot wastewater data from May 8: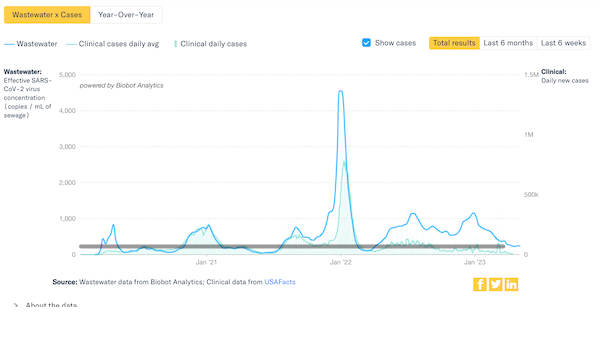 Lambert here: Unless the United States is completely, er, exceptional, we should be seeing an increase here soon. UPDATE Indeed, a slight uptick. Still on the high plateau.
For now, I'm going to use this national wastewater data as the best proxy for case data (ignoring the clinical case data portion of this chart, which in my view "goes bad" after March 2022, for reasons as yet unexplained). At least we can spot trends, and compare current levels to equivalent past levels.
Variants
NOT UPDATED From CDC, May 6, 2023. Here we go again: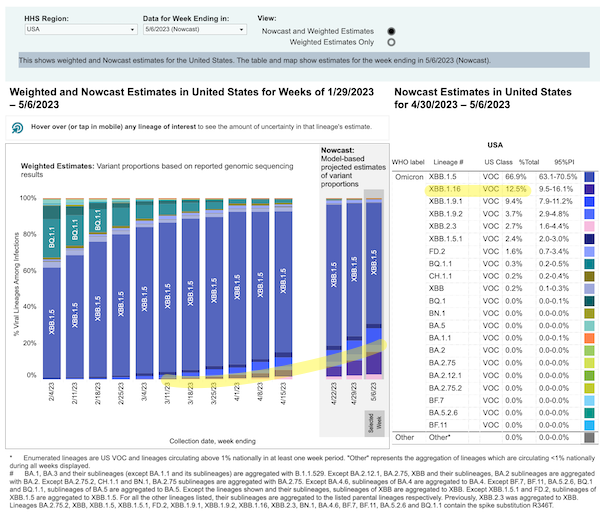 Lambert here: Looks like XBB.1.16 is rolling right along. Though XBB 1.9.1 is in the race as well.
Covid Emergency Room Visits
NOT UPDATED From CDC NCIRD Surveillance, from May 6: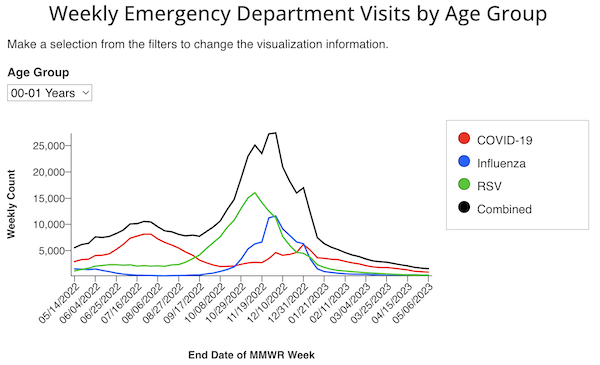 NOTE "Charts and data provided by CDC, updates Wednesday by 8am. For the past year, using a rolling 52-week period." So not the entire pandemic, FFS (the implicit message here being that Covid is "just like the flu," which is why the seasonal "rolling 52-week period" is appropriate for bothMR SUBLIMINAL I hate these people so much. Notice also that this chart shows, at least for its time period, that Covid is not seasonal, even though CDC is trying to get us to believe that it is, presumably so they can piggyback on the existing institutional apparatus for injections.
Positivity
NOT UPDATED From Walgreens, May 8: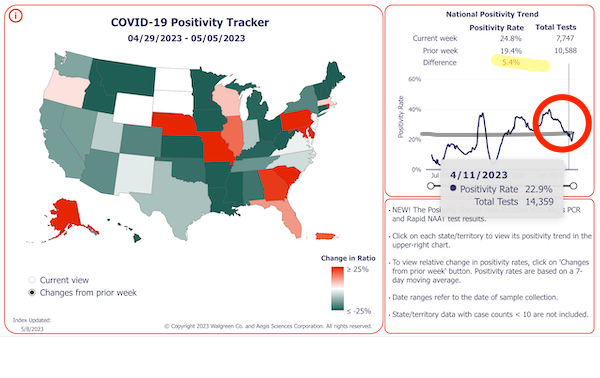 Lambert here: Walgreens is back up (hat tip, alert reader ChrisRUEcon). Hoorary! (I assume this also means you can still get test kits at Walgreens. It looks like you can order free test kits until May 11. What happens after that is not clear to me. Readers? (I would also be very happy if the site continued live after May 11.)
Lambert here: 4%. That's a lot. Though I don't know how whether they reported, or are interpolating, the data from April 11, the last day I recorded, until today.
Deaths
Death rate (Our World in Data), from April 30: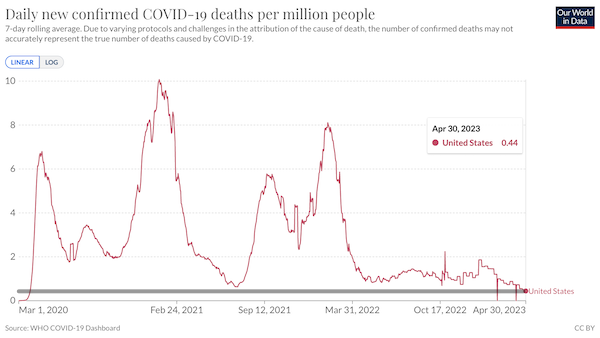 Lambert here: So this data feed, er, came alive again.
Total: 1,162,474 – 1,162,471 – 1,162,403 = 3 (2 * 365 = 730 deaths per year, today's YouGenicist™ number for "living with" Covid (quite a bit higher than the minimizers would like, though they can talk themselves into anything. If the YouGenicist™ metric keeps chugging along like this, I may just have to decide this is what the powers-that-be consider "mission accomplished" for this particular tranche of death and disease).
Lambert here: 3 seems low.
Excess Deaths
NOT UPDATED Excess deaths (The Economist), published May 9: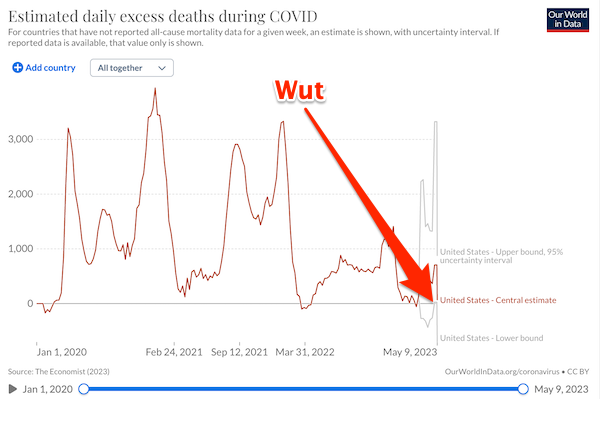 Lambert here: I don't like sudden drops to zero much. The same thing also happened with the death rate data after WHO took over the feed.
Lambert here: Based on a machine-learning model. (The CDC has an excess estimate too, but since it ran forever with a massive typo in the Legend, I figured nobody was really looking at it, so I got rid it. )
• These two mortality sites seem to be telling very different stories, both from each other and from the Economist's chart above. I'm not a mortality maven. Can readers clarify?
Mortality Watch (fjallstrom):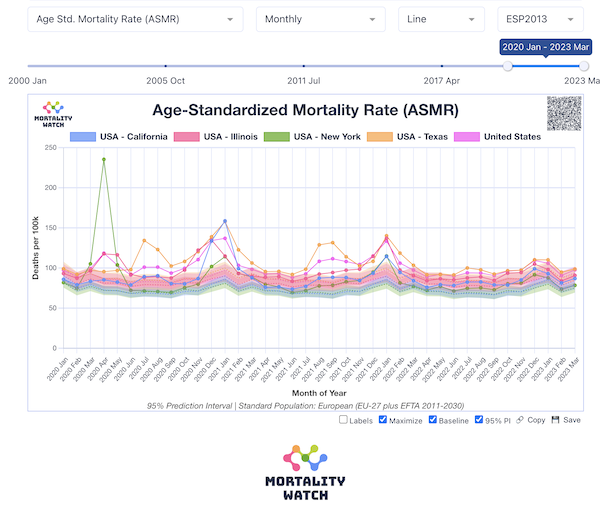 US Mortality (aleric):

Stats Watch
Inflation: "United States Consumer Price Index (CPI)" [Trading Economics]. "The Consumer Price Index for All Urban Consumers (CPI-U) increased 4.9 percent over the last 12 months to an index level of 303.363 (1982-84=100). For the month, the index increased 0.5 percent prior to seasonal adjustment."
* * *
Tech: "RIP Metaverse" [Business Insider]. "The Metaverse is now headed to the tech industry's graveyard of failed ideas. But the short life and ignominious death of the Metaverse offers a glaring indictment of the tech industry that birthed it…. The Metaverse also suffered from an acute identity crisis. A functional business proposition requires a few things to thrive and grow: a clear use case, a target audience, and the willingness of customers to adopt the product. Zuckerberg waxed poetic about the Metaverse as "a vision that spans many companies" and "the successor to the mobile internet," but he failed to articulate the basic business problems that the Metaverse would address. The concept of virtual worlds where users interact with each other using digital avatars is an old one, going back as far as the late 1990s with massively multiplayer online role-player games, such as "Meridian 59," "Ultima Online," and "EverQuest." And while the Metaverse supposedly built on these ideas with new technology, Zuckerberg's one actual product — the VR platform Horizon Worlds, which required the use of an incredibly clunky Oculus headset — failed to suggest anything approaching a road map or a genuine vision. In spite of the Metaverse's arrested conceptual development, a pliant press published statements about the future of the technology that were somewhere between unrealistic and outright irresponsible. The CNBC host Jim Cramer nodded approvingly when Zuckerberg claimed that 1 billion people would use the Metaverse and spend hundreds of dollars there, despite the Meta CEO's inability to say what people would receive in exchange for their cash or why anyone would want to strap a clunky headset to their face to attend a low-quality, cartoon concert." • Play stupid games, win stupid prizes. So why do we think the money behind Generative AI is any smarter?
Tech: "Wendy's Turns to AI-Powered Chatbots for Drive-Thru Orders" [Bloomberg]. From the deck: "Restaurant chains are pushing into AI to reduce labor costs." • Everything's going according to plan! And just wait until one of chatbots gets blasted by a not-entirely-gruntled ammosexual customer.
* * *
Today's Fear & Greed Index: 59 Greed (previous close: 60 Greed) [CNN]. One week ago: 57 (Neutral). (0 is Extreme Fear; 100 is Extreme Greed). Last updated May 10 at 1:37 PM.
Groves of Academe
"Jeff Ettinger, former Hormel Foods CEO, named UMN interim president" [Pioneer Press]. "The University of Minnesota Board of Regents picked an outsider over a crop of academics Monday in making former Hormel Foods CEO Jeff Ettinger the U's next president on an interim basis…. 'I just think we're ready for a very different point of view that embraces the mission, yet brings us something fresh and different that we can build on,' Regent Mary Davenport said. Ettinger, who ran for Congress last year, described himself in his application as a potential 'bridge builderwith the U's stakeholders." • Lord knows I have no love for university administators, but is educating students really like canning spam?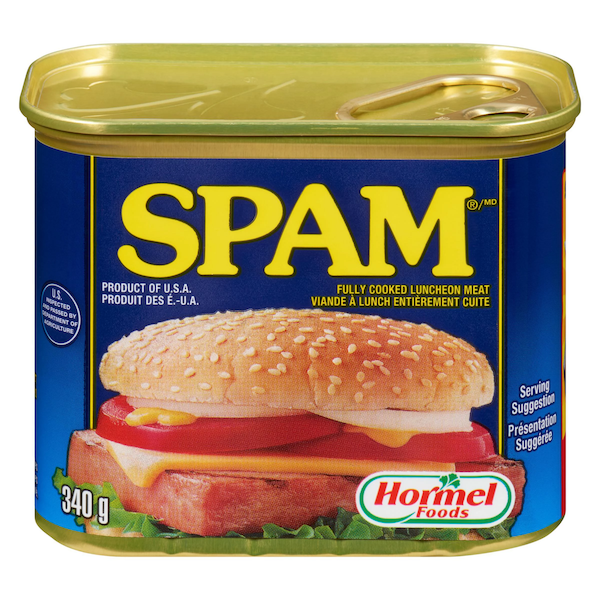 News of the Wired
It's only Hump Day but nevertheless:
Let's end the weekend on a cartoon that cannot offend and is perfect. pic.twitter.com/0P6sF3mZjg

— Jonny Geller (@JonnyGeller) April 30, 2023
* * *
Contact information for plants: Readers, feel free to contact me at lambert [UNDERSCORE] strether [DOT] corrente [AT] yahoo [DOT] com, to (a) find out how to send me a check if you are allergic to PayPal and (b) to find out how to send me images of plants. Vegetables are fine! Fungi and coral are deemed to be honorary plants! If you want your handle to appear as a credit, please place it at the start of your mail in parentheses: (thus). Otherwise, I will anonymize by using your initials. See the previous Water Cooler (with plant) here. From Lee: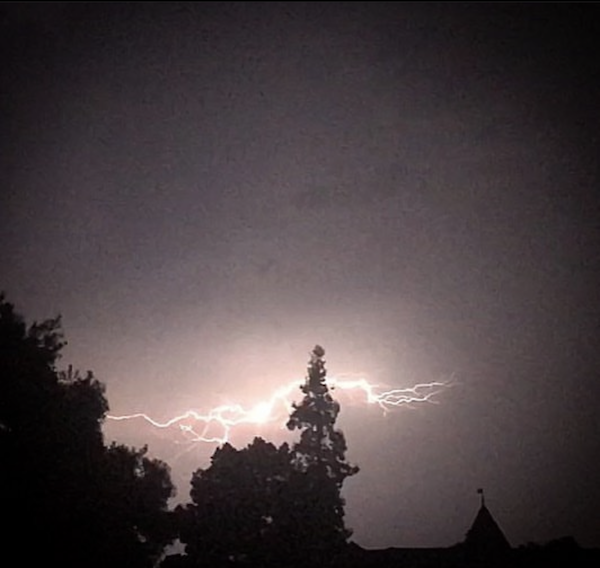 Lee writes: "Trees in silhouette, during and after a storm. Taken by my son from his window overlooking neighbors' back yards."
* * *
Readers: Water Cooler is a standalone entity not covered by the annual NC fundraiser. So if you see a link you especially like, or an item you wouldn't see anywhere else, please do not hesitate to express your appreciation in tangible form. Remember, a tip jar is for tipping! Regular positive feedback both makes me feel good and lets me know I'm on the right track with coverage. When I get no donations for five or ten days I get worried. More tangibly, a constant trickle of donations helps me with expenses, and I factor in that trickle when setting fundraising goals:
Here is the screen that will appear, which I have helpfully annotated: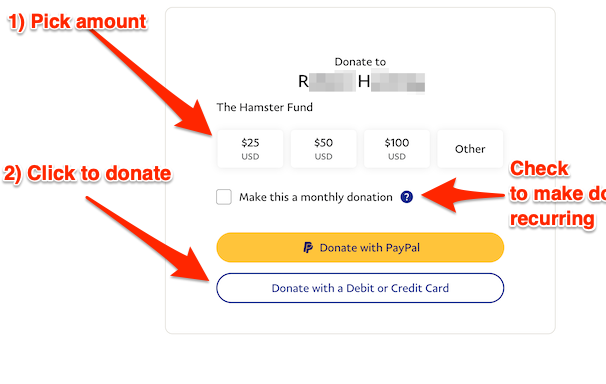 If you hate PayPal, you can email me at lambert [UNDERSCORE] strether [DOT] corrente [AT] yahoo [DOT] com, and I will give you directions on how to send a check. Thank you!