By Lambert Strether of Corrente.
Bird Song of the Day
Madagascar Nightjar, Jardin Botanique A, Ampijoroa Forestry Station, Mahajanga, Madagascar.
* * *
Politics
"So many of the social reactions that strike us as psychological are in fact a rational management of symbolic capital." –Pierre Bourdieu, Classification Struggles
Biden Administration
A Pathetically Small Bargain:

Not a ton of specificity here, but it increasingly seems like the White House has decided to cave and is trying to slowly acclimate people to it, so there's no abrupt blink followed by shock and outrage. Just slowly increasing resignation. Pretty pathetic. https://t.co/PcBlORpAys pic.twitter.com/ADtwkFogtC

— Brian Beutler (@brianbeutler) May 12, 2023
2024
I guess it's time for the Countdown Clock!

* * *

When they tell you who they are — authoritians and authoritarian followers — believe them:

.@SymoneDSanders: "The Democratic National Committee will not facilitate a primary process. There will be no debate stage for @RobertKennedyJr, @marwilliamson, or anyone else." pic.twitter.com/zt25JYVu7k

— Tom Elliott (@tomselliott) May 5, 2023

It's almost as if they think they can keep Biden under wraps for [checks clock] 542 days; seems dubious. But not to them. (See If You Want to Know What the Democratic Party Is, Just Ask Their Lawyer; "we could have voluntarily decided that, Look, we're gonna go into back rooms like they used to and smoke cigars and pick the candidate that way." And that's what they're doing, isn't it? Just like Obama's Night of the Long Knives, which happened three years after this post was written).

"Or anyone else" is, I think, the most important part. They don't want anyone emerging!

* * *

Trump dominating the news cycle once more. Like old times:

"Trump's defiance at the CNN town hall may scare off many voters — but not the GOP base" [Associated Press]. "Trump's defiant performance at the CNN town hall on Wednesday may ultimately hurt his standing with key groups of voters in next fall's general election, especially women, suburbanites and independents. But the reaction of those who attended also demonstrated his extraordinary grip on the conservative voters who will soon decide the fight for the GOP presidential nomination." • Bourdieu would love the self-appointed power relation presumed by "defiance."

"The Worst Thing to Come Out of Trump's Town Hall Didn't Come From Trump" [The Atlantic]. "You know it because you know Donald Trump. Performative cruelty, preening selfishness, bluster, hatred, insults, lies—it was a grotesque display made even worse by the fact that the grotesquerie was entirely predictable. Trump is, in the strictest sense, old news. He is a known quantity. He is no longer capable of revealing anything new, about himself or his movement. Because of that, only one piece of relevant news emerged from the town hall. It came not from the event itself, but from the speech that CNN's CEO, Chris Licht, delivered in a network-wide editorial call this morning. Licht congratulated the town hall's moderator, Kaitlan Collins, on her effort to coax truth out of Trump's lies. And he did so in particular terms: 'Kaitlan pressed him again and again and made news,' Licht said, according to the media reporter (and former CNN anchor) Brian Stelter. 'Made a lot of news.' And 'that is our job.'" • Trump on Ukraine wasn't news? These people have lost their minds. Commentary:

What Donald Trump says and thinks is an important part of our political discourse. It's news. How isn't this obvious?

— Matt Stoller (@matthewstoller) May 12, 2023

"The next Trump: younger and to the right" [Axios]. "Vivek Ramaswamy — the little-known biotech multimillionaire who jumped into the '24 GOP presidential race — is auditioning to be the party's next Donald Trump, with hyper-Trumpian positions on the border, voting, culture wars and more…. By running to the right of Trump, the 37-year-old entrepreneur seems to be positioning himself as heir apparent to the former president, 76. Ramaswamy is an understudy in plain sight — and already mentioned as a plausible V.P. pick for Trump." • But can Ramaswamy own the libs? Certainly Trump owns the libs; he's beein living rent free in their heads for 2023 – 2016 = seven years now, and it looks like the lease is permanent.

"Two high-profile Iowa Republicans endorse Ron DeSantis in 2024 Iowa caucuses" [Des Moines Register]. "Two high-profile Iowa Republicans — Senate President Amy Sinclair and House Majority Leader Matt Windschitl — are endorsing Florida Gov. Ron DeSantis' potential presidential bid as he returns to the state this weekend ahead of a likely presidential run. DeSantis is scheduled to hold a pair of events Saturday in Sioux Center and Cedar Rapids — the same day former President Donald Trump is set to appear at a rally in Des Moines."

"Scoop: Manchin flirts with Iowa voters" [Axios]. "Sen. Joe Manchin (D-W.Va.) may not have announced that he's running as a third-party candidate for president. But he's acting like it. Manchin took time from his busy Senate schedule to tell a gathering of Iowa business and community leaders Wednesday in D.C. that he's "fiscally responsible and socially compassionate" — another hint that he's considering a potential third-party presidential bid. Back in the Senate, he released a statement vowing to oppose all President Biden's EPA nominees over the administration's "radical climate agenda."

Manchin's recent no-mercy campaign against Biden could be related to his potential re-election bid in deep-red West Virginia — but it's also a sign of just how far he's willing to go to blow up the president's plans. Iowa Democrats are furious with their national party for stripping their first-in-the-nation status on the presidential calendar. But Iowa voters still pride themselves on their ability — if not their right — to judge candidates up close and in-person." • It's a shame the Iowa Democrats got nothing for screwing Sanders. Shows you how gratitude works in the Democrat Party.

* * *
Democrats en Déshabillé
Patient readers, it seems that people are actually reading the back-dated post! But I have not updated it, and there are many updates. So I will have to do that. –lambert

I have moved my standing remarks on the Democrat Party ("the Democrat Party is a rotting corpse that can't bury itself") to a separate, back-dated post, to which I will periodically add material, summarizing the addition here in a "live" Water Cooler. (Hopefully, some Bourdieu.) It turns out that defining the Democrat Party is, in fact, a hard problem. I do think the paragraph that follows is on point all the way back to 2016, if not before:

The Democrat Party is the political expression of the class power of PMC, their base (lucidly explained by Thomas Frank in Listen, Liberal!). ; if the Democrat Party did not exist, the PMC would have to invent it. . ("PMC" modulo "class expatriates," of course.) Second, all the working parts of the Party reinforce each other. Leave aside characterizing the relationships between elements of the Party (ka-ching, but not entirely) those elements comprise a network — a Flex Net? An iron octagon? — of funders, vendors, apparatchiks, electeds, NGOs, and miscellaneous mercenaries, with assets in the press and the intelligence community.

Note, of course, that the class power of the PMC both expresses and is limited by other classes; oligarchs and American gentry (see 'industrial model' of Ferguson, Jorgensen, and Jie) and the working class spring to mind. Suck up, kick down.

* * *
Realignment and Legitimacy
"Interview with the Classical Republican" [Equality by Lot]. "I was interviewed some time ago about sortition for the Classical Republican. It was a wide-ranging conversation that included discussion of this blog. The interview is now on Youtube, and can be viewed here. Note that the Classical Republican has an entire Youtube playlist devoted to sortition which features, in addition to my interview, an extended conversation with longtime sortition advocate Oliver Dowlen and other interesting videos. The playlist can be found here." • I don't normally link to bare video links, but sortition is important, so here ya go.
#COVID19
"I am in earnest — I will not equivocate — I will not excuse — I will not retreat a single inch — AND I WILL BE HEARD." –William Lloyd Garrison
Resources, United States (National): Transmission (CDC); Wastewater (CDC, Biobot; includes many counties); Variants (CDC; Walgreens); "Iowa COVID-19 Tracker" (in IA, but national data).
Lambert here: Readers, thanks for the collective effort. We are now up to 50/50 states (100%). This is really great! (It occurs to me that there are uses to which this data might be put, beyond helping people with "personal risk assessments" appropriate to their state. For example, thinking pessimistically, we might maintain the list and see which states go dark and when. We might also tabulate the properties of each site and look for differences and commonalities, for example the use of GIS (an exercise in Federalism). I do not that CA remains a little sketchy; it feels a little odd that there's no statewide site, but I've never been able to find one. Also, my working assumption was that each state would have one site. That's turned out not to be true; see e.g. ID. Trivially, it means I need to punctuate this list properly. Less trivially, there may be more local sites that should be added. NY city in NY state springs to mind, but I'm sure there are others. FL also springs to mind as a special case, because DeSantis will most probably be a Presidental candidate, and IIRC there was some foofra about their state dashboard. Thanks again!
Resources, United States (Local): AK (dashboard); AL (dashboard); AR (dashboard); AZ (dashboard); CA (dashboard; Marin); CO (dashboard; wastewater); CT (dashboard); DE (dashboard); FL (wastewater); GA (wastewater); HI (dashboard); IA (wastewater reports); ID (dashboard, Boise; dashboard, wastewater, Central Idaho; wastewater, Coeur d'Alene; dashboard, Spokane County); IL (wastewater); IN (dashboard); KS (dashboard; wastewater, Lawrence); KY (dashboard, Louisville); LA (dashboard); MA (wastewater); MD (dashboard); ME (dashboard); MI (wastewater; wastewater); MN (dashboard); MO (wastewater); MS (dashboard); MT (dashboard); NC (dashboard); ND (dashboard; wastewater); NE (dashboard); NH (wastewater); NJ (dashboard); NM (dashboard); NV (dashboard; wastewater, Southern NV); NY (dashboard); OH (dashboard); OK (dashboard); OR (dashboard); PA (dashboard); RI (dashboard); SC (dashboard); SD (dashboard); TN (dashboard); TX (dashboard); UT (wastewater); VA (dashboard); VT (dashboard); WA (dashboard; dashboard); WI (wastewater); WV (wastewater); WY (wastewater).
Resources, Canada (National): Wastewater (Government of Canada).
Resources, Canada (Provincial): ON (wastewater); QC (les eaux usées); BC, Vancouver (wastewater).
Hat tips to helpful readers: Art_DogCT, B24S, CanCyn, ChiGal, Chuck L, Festoonic, FM, FreeMarketApologist (4), Gumbo, hop2it, JB, JEHR, JF, JL Joe, John, JM (9), JustAnotherVolunteer, JW, KatieBird, LL, Michael King, KF, LaRuse, mrsyk, MT, MT_Wild, otisyves, Petal (5), RK (2), RL, RM, Rod, square coats (11), tennesseewaltzer, Utah, Bob White (3).
* * *
Look for the Helpers
Helpful autotweet:

This is my weekly auto tweet that reminds that elastomeric (mask with rubber/silicone edge) respirators completely stopped all transmission of tuberculosis at a hospital in the United States.#COVIDIsAirbornehttps://t.co/ZANz6gEA2R

— Jonathan Mesiano-Crookston 🌬️🔅#COV1DisAirborne (@jmcrookston) May 5, 2023
Covid Is Airborne
"An overview of SARS-CoV-2 transmission and engineering strategies to mitigate risk" [Journal of Building Engineering]. "The successful applications of engineering approaches in reducing the spread of SARS-CoV-2 are lacking. In this review, the environmental factors that influence the transmission risk of SARS-CoV-2, such as ventilation flow rates, humidity, and temperature, are discussed. Besides, additional macro and micro weather factors, regional and global transmission, and the variants of the spread of SARS-CoV-2 are also reviewed. Engineering approaches that practically reduce the risks of SARS-CoV-2 transmissions are reported. Given the complex human behavior, environmental properties, and dynamic nature of the SARS-CoV-2 virus, it is reasonable to summarize that SARS-CoV-2 may not be eradicated even with the timely implementation of interventions. Therefore, more research exploring the potential cost-effective ways to control the transmission rate of SARS-CoV-2 may be a worthwhile pursuit to moderate the current crisis." • Masking is an engineering approach, and successful (though the social engineering aspect has been less successful). I think we have some HVAC mavens in the readership; perhaps they can comment.
Maskstravaganza
"Disposable Masks Market- Share, Size & Forecast 2033" [Future Market Insights]. "The disposable masks market is likely to record a [Compound Annual Growth Rate (CAGR)] of 7.4% during the forecast period. The market is expected to hold a market share of US$ 5.3 billion in 2023 while it is anticipated to cross a value of US$ 10.8 billion by 2033…. Rising awareness regarding airborne infections among consumers is spurring demand for disposable masks for personal use. The increasing incidence of viral outbreaks such as COVID-19 will propel the usage of disposable masks in the coming years…. Growing emphasis on personal safety and protection from airborne diseases and air pollution in the United States is anticipated to create opportunities for growth in the coming years." And: "Increasing consumer inclination towards sustainable products is spurring demand for disposable face masks made from biodegradable materials…. In response to this, manufacturers are producing disposable masks using natural polymers. Few biodegradable materials used in disposable face masks are cellulose, starch, and lignin. Such developments are expected to bode well for the disposable masks market in the forthcoming years." • I hesitate to say anything as grandiose as "history is on the side of maskers." Nevertheless, I can say that maskers should hang tough; there's a market for masks. This is, of course, quite different from the situation as portrayed in the press, Big Hospital, and the political class, but one expects that.

"Covid Cautions Continue for Some, Even as Federal Emergency Ends" [New York Times]. "For millions of Americans, the Covid-19 emergency, that disorienting stretch of lockdowns, mandates, free-floating anxiety and exhaustion came to a muted end sometime during the past couple of years, brought about by vaccines and antiviral drugs. The expiration of the federal public health emergency on Thursday was a barely noticed formality. But signs remain everywhere of a changed country: in the many thousands of families quietly grieving a loss, in the struggles of those suffering from long Covid and in the continued reliance by many Americans on one of the pandemic's most hotly debated tools: the humble mask." • With yesterday's news from MGH and Stanford, the market study above, and now this hange in tone — no shaming and insults this time around — perhaps "the end of the beginning"? =

Another straw in the wind:

Join the National Week of Action to Keep Masks in Healthcare, May 15-2023!

We are looking for more individuals and groups to get involved and organize actions. Please check out the toolkit below with more info! #MaskWeekOfAction #KeepMasksInHealthCare pic.twitter.com/nd4X9gC8lB

— COVID Advocacy Initiative and Mandate Masks US (@mandatemasksus) May 11, 2023

And another:

I had a dental appointment yesterday. She came out (masked) to the reception area and the first thing out of her mouth was, "Hi. Good to see you. Did you bring the Aranet? I want to check my numbers."

❤️

— Chemical Holly🍀 🇨🇦🇬🇧 (@ChemicalHolly) May 12, 2023

I do think that dentists tend, as a rule, to be more sane about masking, simply because most dentistry is an aerosol-generating procedure.
Celebrity Watch
Another canary hits the bottom of its cage:

Former Guess Who drummer on life support, family calls for return to mask requirements at health-care centres

The 77-year-old internationally recognized musician is on life support in ICU, after contracting COVID-19 inside a health-care centre. https://t.co/IP422f7VTE

— Jess (@MeetJess) May 12, 2023

One again, celebrity sightings is one of the few reliable proxies we have left.

More canaries:

"Living" with #Covid in Germany:
"Gardiner performed with the Royal Concertgebouw Orchestra two evenings in the Hamburg Elbphilharmonie and was so annoyed by coughing in the audience at the first concert that he even threatened to stop the performance." https://t.co/vErbS6vEzz

— CaliforniaHeartBavariaHome 📯 (@lgoshen) May 12, 2023

Another proxy. I'd love to see an aggregation of reports on coughing from classical music venues (cf. "Why Do People Cough at Concerts?", Ludwig Van Daily. 2023, and no mention of Covid!)
Sequelae
"Risk of post-acute sequelae of SARS-CoV-2 infection associated with pre-coronavirus disease obstructive sleep apnea diagnoses: an electronic health record-based analysis from the RECOVER initiative" [Sleep]. From the Abstract: "Adults with preexisting [Obstructive sleep apnea (OSA)] were found to have significantly elevated odds of probable PASC. This finding was consistent across data sources, approaches for identifying COVID-19-positive patients, and definitions of PASC [Long Covid]. Patients with OSA may be at elevated risk for PASC after SARS-CoV-2 infection and should be monitored for post-acute sequelae." "[P]art of the NIH Researching COVID to Enhance Recovery (RECOVER) Initiative, which seeks to understand, treat, and prevent the post-acute sequelae of SARS-CoV-2 infection (PASC)."
Elite Maleficence
What on earth does CDC think it is doing:

The @CDCgov has rolled out its new post-emergency COVID-19 Data Tracker

Among changes, COVID now visualized as % of deaths via @NCHStats data from around country

Most states this past week are between "minimal" to "low" COVID-19 deathshttps://t.co/wDnRv15RgB https://t.co/W9GaROzjig pic.twitter.com/lbTE1pxEUV

— Alexander Tin (@Alexander_Tin) May 12, 2023

So, if deaths from automobile crashes go up, and the percentage of Covid deaths goes down in proportion, the map becomes more green? Really?

"Take a green magic marker, color in an outline of the US, and label it covid"—top officers @CDCgov—"Here America, we fixed it". In response to @POTUS yelling-out in closed-door meeting, "I need a map that looks green, and stays green, because green means go, god damn it"

— Justin Lee (@DailyJLee) May 12, 2023

The incongruities:

Some of the folks here work in offices which demand "scent-free" employees, but the bosses don't give a durn if there's daily over-exposure to a level 3 biohazard virus.
🤦

— AnnieRN (@ann_mcnitt) May 11, 2023

Where are the lawsuits?

These are the kinds of ads we need to start seeing here, but for injuries due to hospital-acquired COVID.
Go at it @SchmidtLawGroup . pic.twitter.com/yOInxfG33R

— Lee Altenberg, Ph.D. (@AltenbergLee) May 11, 2023
* * *
Lambert here: I'm getting the feeling that the "Something Awful" might be a sawtooth pattern — variant after variant — that averages out to a permanently high plateau. Lots of exceptionally nasty sequelae, most likely deriving from immune dysregulation (says this layperson).
Case Data
From BioBot wastewater data from May 11: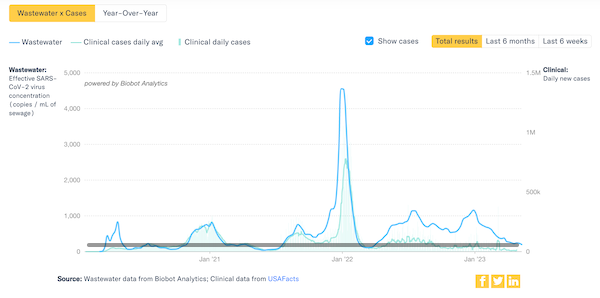 Lambert here: Unless the United States is completely, er, exceptional, we should be seeing an increase here soon. UPDATE Still on the high plateau.
For now, I'm going to use this national wastewater data as the best proxy for case data (ignoring the clinical case data portion of this chart, which in my view "goes bad" after March 2022, for reasons as yet unexplained). At least we can spot trends, and compare current levels to equivalent past levels.
• This data stream is safe, at least for the present:
Today, the Public Health Emergency (PHE) for COVID comes to an end. This will impact data being gathered and reported. Importantly, #wastewater data will be unaffected—becoming one of the best (and only) ways to understand disease burden, trends, and monitor for new variants. 1/2

— Biobot Analytics (@BiobotAnalytics) May 11, 2023
Variants
From CDC, May 13, 2023: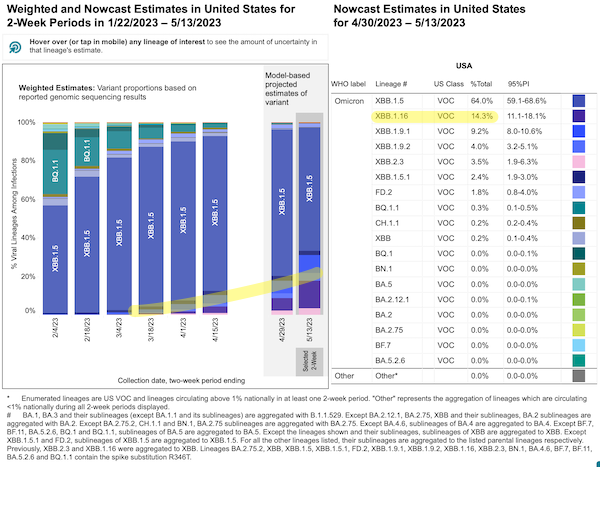 Lambert here: Looks like XBB.1.16 is rolling right along. Though XBB 1.9.1 is in the race as well.
Covid Emergency Room Visits
NOT UPDATED From CDC NCIRD Surveillance, from May 6: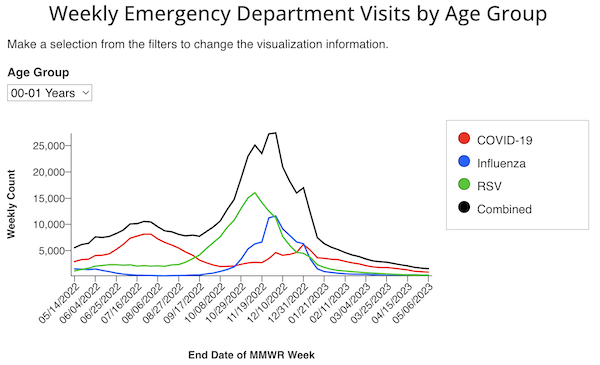 NOTE "Charts and data provided by CDC, updates Wednesday by 8am. For the past year, using a rolling 52-week period." So not the entire pandemic, FFS (the implicit message here being that Covid is "just like the flu," which is why the seasonal "rolling 52-week period" is appropriate for bothMR SUBLIMINAL I hate these people so much. Notice also that this chart shows, at least for its time period, that Covid is not seasonal, even though CDC is trying to get us to believe that it is, presumably so they can piggyback on the existing institutional apparatus for injections.
Positivity
NOT UPDATED From Walgreens, May 8: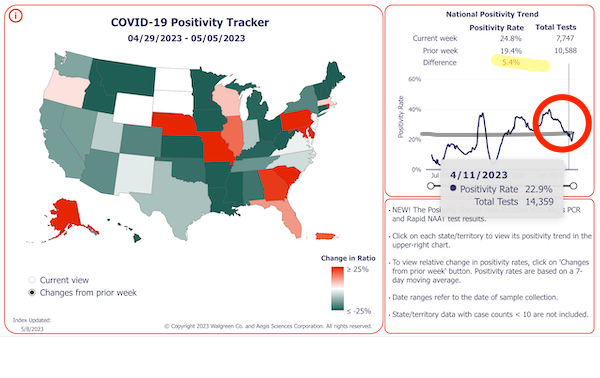 Lambert here: Walgreens is back up (hat tip, alert reader ChrisRUEcon). Hoorary! (I assume this also means you can still get test kits at Walgreens. It looks like you can order free test kits until May 11. What happens after that is not clear to me. Readers? UPDATE Something's going on, because the date remains 5/8, but the difference percentage is now 5.4% (up).
Lambert here: 4%. That's a lot. Though I don't know how whether they reported, or are interpolating, the data from April 11, the last day I recorded, until today.
Deaths
Death rate (Our World in Data), from April 30: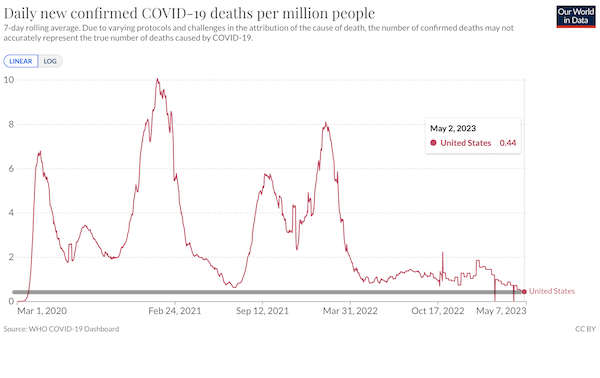 Lambert here: So this data feed, er, came alive again.
Total: 1,162,693 – 1,162,662 = 31 (31 * 365 = 11,315 deaths per year, today's YouGenicist™ number for "living with" Covid (quite a bit higher than the minimizers would like, though they can talk themselves into anything. If the YouGenicist™ metric keeps chugging along like this, I may just have to decide this is what the powers-that-be consider "mission accomplished" for this particular tranche of death and disease).
Excess Deaths
NOT UPDATED Excess deaths (The Economist), published May 9: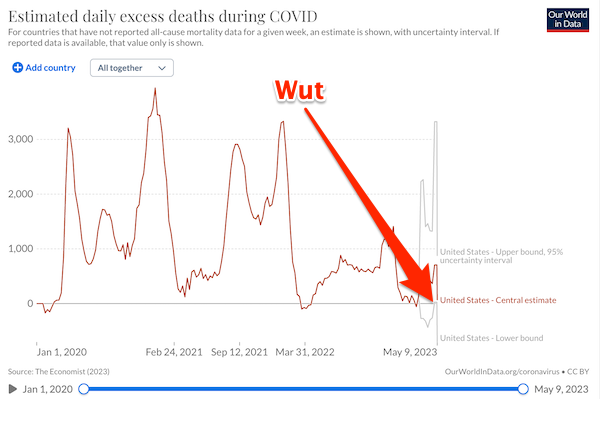 Lambert here: I don't like sudden drops to zero much. The same thing also happened with the death rate data after WHO took over the feed.
Lambert here: Based on a machine-learning model. (The CDC has an excess estimate too, but since it ran forever with a massive typo in the Legend, I figured nobody was really looking at it, so I got rid it. )
• Just like the flu? Not!
Just a reminder that if COVID-19 was 'just like the flu' and the people dying were 'gonna die anyway' there wouldn't be a WORLDWIDE, unprecedented in modern times, DROP in LIFE EXPECTANCY. pic.twitter.com/SkOHgAf2G2

— Pedro Lérias (@RPLerias) May 11, 2023
• These two mortality sites seem to be telling very different stories, both from each other and from the Economist's chart above. I'm not a mortality maven. Can readers clarify?
Mortality Watch (fjallstrom):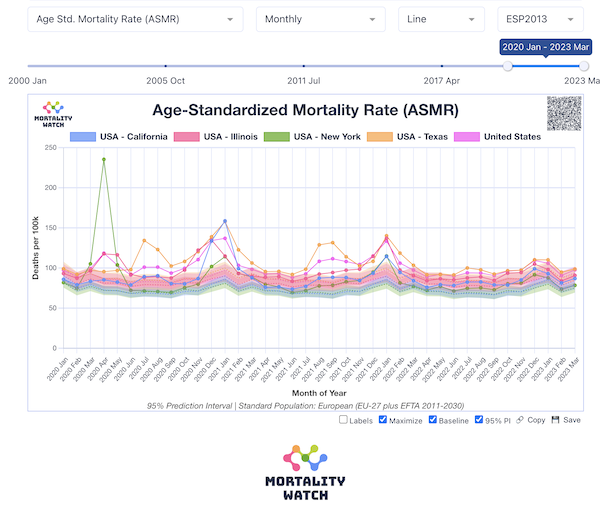 US Mortality (aleric):

Stats Watch
There are no offical statistics of interest today.
* * *
Climate: "Carbon Capture Is Hard. This Plant Shows Why" [Wall Street Journal]. "Only one commercial power plant in North America is currently operating with carbon capture. Its experience hasn't been as smooth—or climate-friendly—as proponents of the rules might hope. That plant, the Boundary Dam Power Station Unit 3 in Canada's Saskatchewan province, turns locally mined coal into enough electricity for 100,000 homes…. One of the plant's generating units is outfitted with a $1.1 billion carbon-capture system, which utility officials say is now collecting around 80% of the unit's carbon-dioxide emissions—some 875,000 metric tons in the past year…. The destination for all that captured carbon dioxide isn't particularly green. Three-quarters of it is pumped underground to squeeze more oil out of a field 36 miles away operated by a different company—a solution that only adds to the problem of global greenhouse emissions. The rest of the captured carbon is stored nearby in an underground geologic formation. The unit is designed to operate until 2044, but Boundary Dam's owner, SaskPower, says the benefits of operating a coal-fired power unit using carbon-capture technology are becoming less apparent. 'Utility operators in the United States will be in the same boat as we are,' said Rupen Pandya, president and chief executive of SaskPower. "
The Bezzle: "Music Streaming Has a $2 Billion Fraud Problem That Goes Beyond AI" [Bloomberg]. "Taking advantage of the loose restrictions in an age of automated music distribution, such scammers have learned how to rake in money from mainstream music platforms, either by circulating minimally altered, copycat versions of popular songs and collecting the resulting per-stream payouts or by getting listeners to inadvertently consume their own music or ads by mislabeling uploaded content. … Worse yet, nobody at the major services appear[s] to be doing anything effective to stop the spread of the knockoffs." • Just like Amazon.
The Fed: "Is the Fed data-driven or data-ridden?" [Claudia Sahm, Stay-at-Home Macro]. "The data do not tell us what they mean. We must always draw inferences. We must decide which data deserve attention, which models to feed them into, and how they should help inform decisions. Data are not and must not be driving. Hyping a handful of data points, especially preliminary ones, is the path to bad decisions. Judgment is always in charge at the Fed. I worked for a decade at the Fed on the staff's forecast. It's the one getting attention now for saying a recession is likely in the second half of this year. How did a recession make it into the forecast? The senior staff made the call and put it in. No one data point, frankly, no constellation of data points, tells us affirmatively that a recession is the most likely outcome. In the end, it is about judgment. And not everyone agrees. Chair Powell told us he looked at the same data and came to a different conclusion."
* * *
Today's Fear & Greed Index: 56 Greed (previous close: 58 Greed) [CNN]. One week ago: 59 (Greed). (0 is Extreme Fear; 100 is Extreme Greed). Last updated May 12 at 1:06 PM ET.
The Gallery
"Hannah Gadsby Addresses Sackler Ties to Their Brooklyn Museum Show: 'There's a Problem with Money in the Art World'" [ARTnews]. "Last month, the Brooklyn Museum announced that comedian Hannah Gadsby, whose 2018 Netflix special memorably skewered the male-centric art canon, had been tapped to co-curate an exhibition on Pablo Picasso. This week, Gadsby addressed a controversy trailing the upcoming show—the museum's lingering ties to the infamous Sackler family. 'I'm doing a show at the Brooklyn Museum. There's one Sackler on the board [trustee emerita Elizabeth A. Sackler]. We vetted this. Apparently, they've separated their earning streams from the problematic one,' Gadsby told Variety. 'I mean, take that with a grain of salt. Doesn't matter what cultural institution you work with in America, you're going to be working with billionaires and there's not a billionaire on this planet that is not fucked up. It is just morally reprehensible.' Gadsby, who uses they/them pronouns, added, 'I was assured that they'd separated from the opioids strain. That's where it lands. I don't see it as a clean win-win. That's for sure, but I'm not sure how to navigate this world.'" More: "They continued: "There's an elephant in the room [with Elizabeth A. Sackler], yeah. There's a problem with money in the art world, generally. That also is part of my perspective on Picasso. Like, is he a hero, or is he just worth a lot of money?'" • Well….
Still life in front of a Window overlooking the Eglise St. Augustin, 1919 #pablopicasso #picasso https://t.co/6gCgc7AZgL pic.twitter.com/esNxf4Vxkw

— Pablo Picasso (@pablocubist) March 31, 2023
Incidentally, Musk nuking the artbots was a stupid and retrograde decision, and I hope the new CEO has a different policy. The artbots are utterly harmless, aren't in it for the money, and make Twitter a much more pleasant place to be. (This Picasso is just a little but too easy on the eyes, perhaps, because of the iconic — touristy — church tower. But Picasso is clearly not "just worth a lot of money." What a vacuous statement from such a putatively bold curator.)
Class Warfare
"Column: Your boss wants AI to replace you. The writers' strike shows how to fight back" [Los Angeles Times]. "One of those workers put it to me bluntly on the picket line, where screenwriters were protesting, among other things, the entertainment industry's openness to using artificial intelligence to churn out scripts: 'F— ChatGPT.' But it's not just screenwriters — the movement includes illustrators, freelance writers and digital content creators of every stripe. 'Every day,' the artist and activist Molly Crabapple tells me, 'another place that used to hire human artists has filled the spot with schlock from [AI image generator] Midjourney. If illustrators want to remain illustrators in two years, they have to fight now.' Each week brings more companies announcing they will replace jobs with AI, Twitter threads about departments that have been laid off, and pseudo-academic reports about how vulnerable millions of livelihoods are to AI. So, from labor organizing to class-action lawsuits to campaigns to assert the immorality of using AI-generated works, there's an increasingly aggressive effort taking shape to protect jobs from being subsumed or degraded by AI. Their core strategies include refusing to submit to the idea that AI content generation is "the future," mobilizing union power against AI exploitation, targeting copyright violations with lawsuits and pushing for industrywide bans against the use of cheap AI material. They're just getting started. And for the sake of everyone who is not a corporate executive, a middle manager or an AI startup founder, we'd better hope it works. Whose future does AI really serve? The answer to that is 'Big Tech' and, to a lesser degree, your boss.'" • Yes, those are the antagonists, and those are the stakes. It's not a coincidence that workers are being replaced immediately after depopulation, disproportionately of the working class, from Covid.
News of the Wired
"Something Awful is racing to save the best and worst of web history" [The Verge]. "Ubiquitous image host Imgur announced it would be deleting nudity and pornography starting in mid-May and, along with it, 'old, unused, and inactive content' not linked to an account. The wording was so vague nobody knew exactly what that meant. But the worst-case scenario was obvious: an unceremonious purge of images from one of the longest-running communities on the web. A frantic discussion thread commenced, and soon, the solution seemed obvious, too. Using a spreadsheet as a home base, with a tight deadline of May 15th, Something Awful's members had to help download the source images of as many Imgur links as possible — ideally, anything ever posted to the site. A few weeks later, Something Awful's owner — who goes by Jeffrey of YOSPOS — is feeling confident. "We're rock-solid," Jeffrey told The Verge via forum direct message. Though there's still plenty of work to do, he says site members have secured multiple copies of a roughly three-terabyte collection of pictures and short videos, now held on both users' hard drives and Something Awful's own. He plans to have them hosted by the end of May, leaving a minimal gap if anything's deleted. But what's been internally dubbed the Great Imgur Download Caper isn't a one-time averted crisis. It's part of a constant struggle to shore up digital culture and to convince people that it matters."
* * *
Contact information for plants: Readers, feel free to contact me at lambert [UNDERSCORE] strether [DOT] corrente [AT] yahoo [DOT] com, to (a) find out how to send me a check if you are allergic to PayPal and (b) to find out how to send me images of plants. Vegetables are fine! Fungi and coral are deemed to be honorary plants! If you want your handle to appear as a credit, please place it at the start of your mail in parentheses: (thus). Otherwise, I will anonymize by using your initials. See the previous Water Cooler (with plant) here. From RM: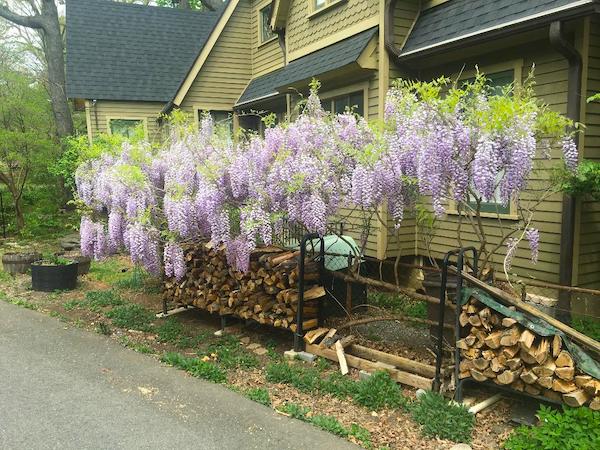 RM writes: "Firewood and flowers winter is over."
* * *
Readers: Water Cooler is a standalone entity not covered by the annual NC fundraiser. So if you see a link you especially like, or an item you wouldn't see anywhere else, please do not hesitate to express your appreciation in tangible form. Remember, a tip jar is for tipping! Regular positive feedback both makes me feel good and lets me know I'm on the right track with coverage. When I get no donations for five or ten days I get worried. More tangibly, a constant trickle of donations helps me with expenses, and I factor in that trickle when setting fundraising goals:
Here is the screen that will appear, which I have helpfully annotated: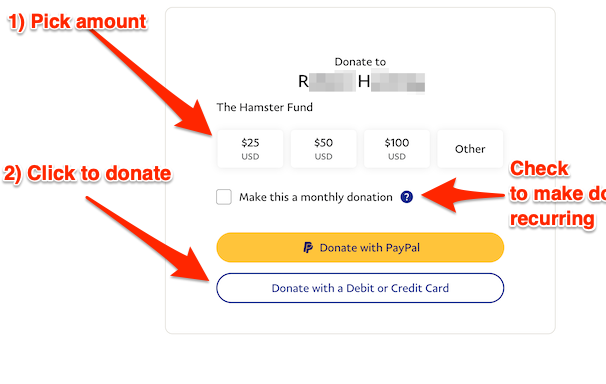 If you hate PayPal, you can email me at lambert [UNDERSCORE] strether [DOT] corrente [AT] yahoo [DOT] com, and I will give you directions on how to send a check. Thank you!