Have you ever had the urge to put your fitness to the test and sign up for a run of sorts? Like the Plus Strut 5K? If you went ahead and signed up, I am so proud of you! If you're anything like me, you were overcome with anxious thoughts of people judging your body and your right to even be at said event. Plus size women have these same thoughts more often than not.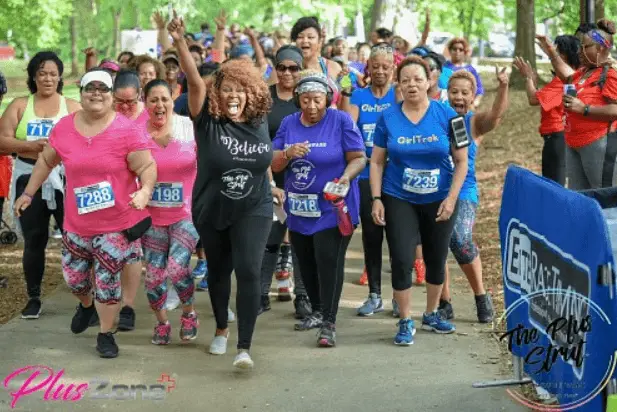 If you are unfamiliar with The Plus Strut™, it is the first ever 5k run/walk for plus size women in North America. Back like it never left, The Plus Strut™ is making its post-pandemic return in Atlanta, GA on Saturday, May 6th.  
The Plus Strut™ was birthed to be a safe space for women to embrace and support each other on their active lifestyle journey regardless of size and fitness level.
There is nothing like being cheered on to push past limits you didn't even know you could break through. The only feeling better than reaching the finish line is having the love and support of your tribe.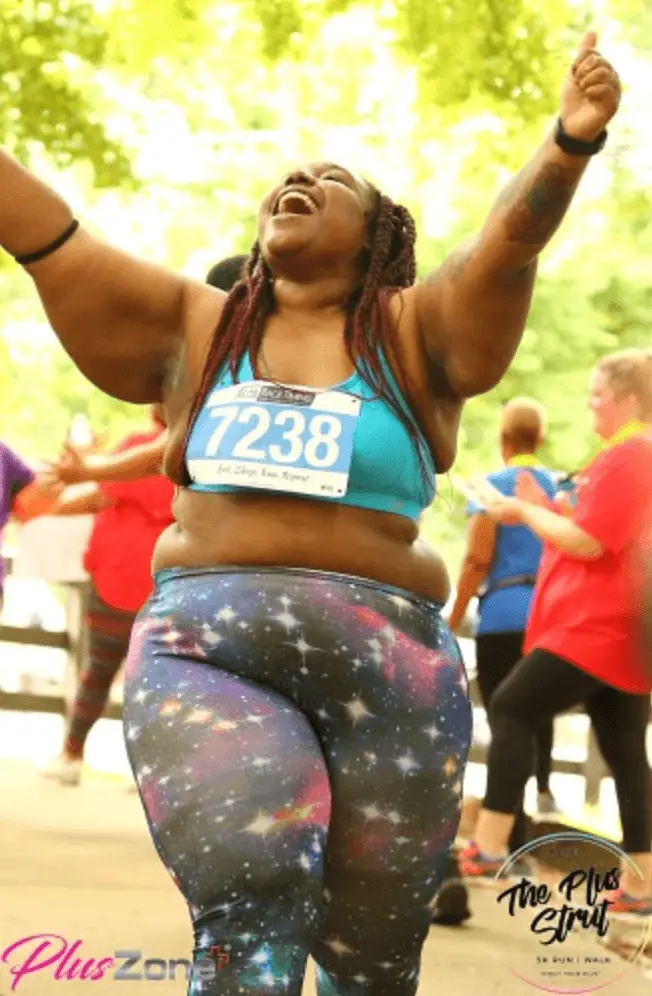 There is power in unity. Standing amongst other full-figured women, cheering each other on toward a common goal is empowering for both the runner and the spectator.
As we all know, during the pandemic there was a serious drought of social recreation.  We lost the sense of community and sisterhood we usually obtain from attending events.
The Plus Strut™ founder, Joy Tribble said best, "COVID silenced us, and to a demographic that has been marginalized for so long, it was a major blow, but our exciting return to the pavement is even more major than what tried to take us out! We're back and we are, once again, free to 'take up space,' unapologetically!"
The Plus Strut™ 5k connects plus size women from across the country. This event taking place in May is no coincidence, as it is the beginning of the spring season, and the ladies are itching to get outside! This event is not about losing weight, but about celebrating and appreciating our bodies.
This body-positive wellness event will be packed full of activities, fitness and fun. This year's sponsors include 2T Water, The Atlanta Fibroid Center, Pearson Consulting Group, The Business Lounge, Lush Body Fitness, Business Blazers Academy, Atlanta Curves Therapeutic Massage, Girls on the Run, Remedy to Wellness and CNBetter Media.
The Plus Strut™ will take place in Atlanta, Georgia, from 7:30AM – 1:00PM at Chastain Park (216 W. Wieuca, Atlanta 30342 on Saturday, May 6th– located in the playground area at the corner of W. Wieuca and Dudley).
This is an event you don't want to miss. Come out and strut your stuff!