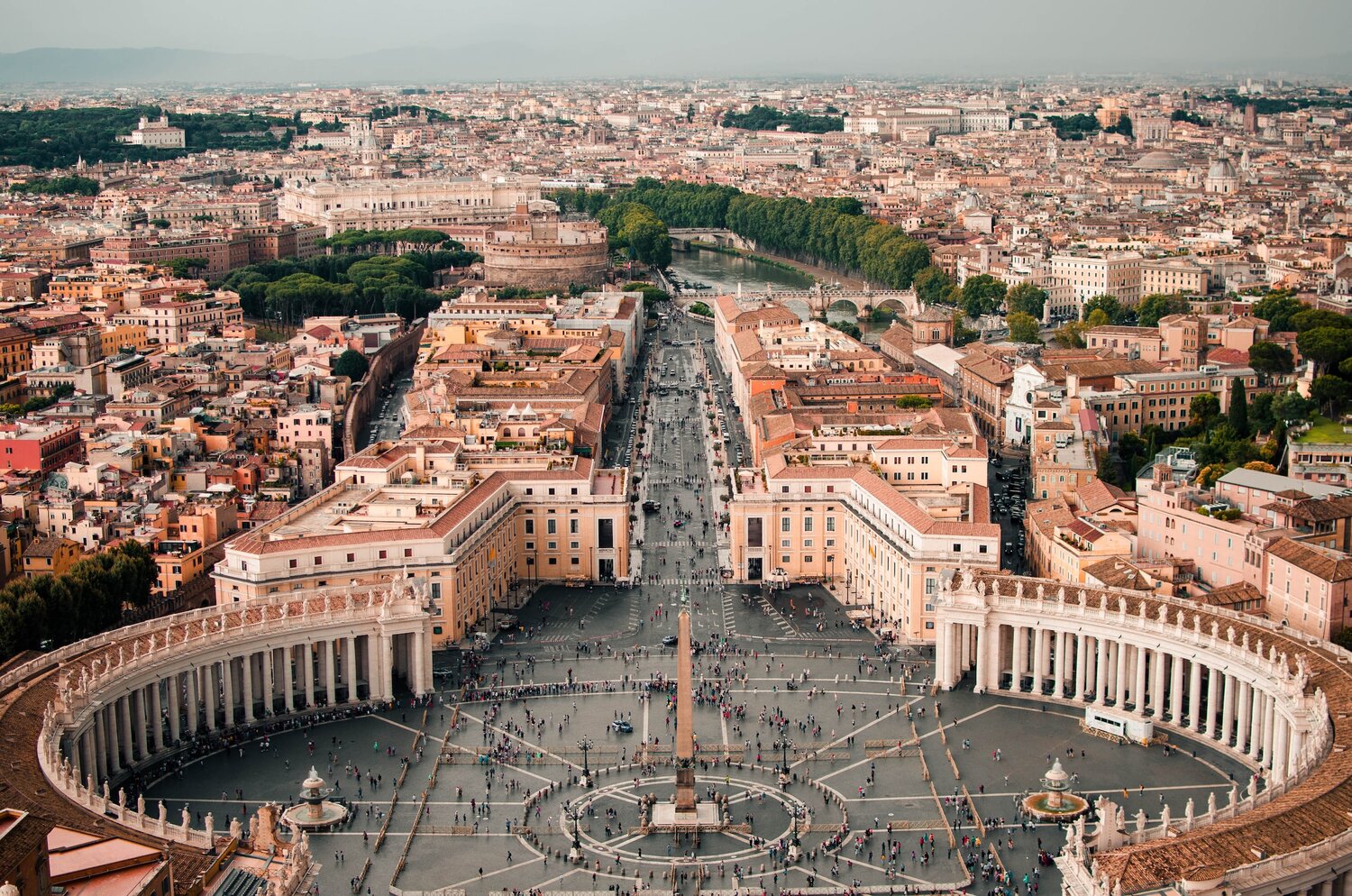 There's nothing like walking down Via della Conciliazione in Rome. It's a very long street, bustling with cars and tourists, that feeds into St. Peter's Square at the Vatican. It's a reminder of how big and imposing the Vatican can be, at least physically, in the increasingly secular West.
Italy, however, remains a Catholic nation, at least culturally, with reminders everywhere you look.
I am back in Italy for the first time since 2018. Unable to visit in recent years because of the pandemic, I am happy to be back to visit family and watch some soccer.   
My return to Italy also gives me the chance to observe how Italian journalists cover the Vatican and Pope Francis. What this close look reveals is a press fixated less on the doctrinal battles and culture-war issues we see in the American press. Instead, it's all about international politics, the disappearance of a young girl (more on that later) and banking scandals.  
Let me explain. Italian media very much cover the papacy as a political force (it still very much is in this part of the world) and less of a religious one. As we say here at religion, many journalists believe religion is news to the degree that if affects politics.
Scandals involving the Holy See, even ones that are decades old and unsolved, continue to intrigue readers. It's true that culture war issues were increasingly a factor in Italy's elections that led to Giorgia Meloni becoming the country's first female prime minister. It's also true that Italian newspapers are not objective — many belong to political parties — but they don't hide that fact from readers. That's how the press works in Europe.
The big stories the Italian press have covered lately are the pope's recent meeting with Ukraine's President Vladimir Zelensky at the Vatican, the unsolved "Vatican Girl" scandal from 1983 and an ongoing trial that has revealed a series of financial scandals. Another big issue for the Vatican and Italy is falling birth rates, a story with strong religious overtones.
These stories transcend whatever political bias Italian newspapers bring to the table. They are seen as important to the country's geo-political situation (in the case of Ukraine and birth rates).
The other stories reveal a Vatican that is very much involved in shadowy behavior — a corrupt institution that makes for attention-grabbing headlines meant to get clicks and sell newspapers. A murder mystery and alleged financial wrongdoing on the part of bishops will do that.
Yes, it's true that many Italians still read printed newspapers. Scan any piazza or sidewalk café and you will see just that.   
Italy's top newspaper, both when it comes to readers and reputation, is La Repubblica. The newspaper ran five stories on May 13 alone regarding Pope Francis. Much of the coverage focused on his meeting with Zelensky. It framed the pope as someone who was trying to become a bigger player in brokering a deal between Russia and Ukraine, an angle that has certainly not been a part of the U.S. media's coverage of the ongoing conflict.
The other big story involving Pope Francis was birth rates, an issue that is of great concern in Italy. While popes have traditionally been very much involved in Italian politics, laws and policies given the Holy See's location, it has been less so since the last three pontiffs — from John Paul II to Benedict XVI to Francis — have all been non-Italians.
Nevertheless, they do address concerns that matter to Italians and the country's parliament, known as Palazzo Chigi — located just 12 minutes by car to St. Peter's Basilica — are forced to listen.
Italy has one of the lowest birthrates on the planet. Couples averaged 1.24 children, according to 2020 figures. While demographics can often take on a culture-war tone, very little of the coverage in Italy did so. Instead, it focused heavily on the pope's meeting with Meloni, a populist right-wing candidate. This pope has often spoken out against populism.
Furthermore, Pope Francis grabbed much of the headlines when he urged families to have more children, as opposed to pets. Italy, it should be noted, is a Catholic nation where Sunday Mass attendance is at 34%, higher than most of Europe, but lower when compared to parts of Africa and South America. 
Sky News had this headline on its website to accompany its 24-hour news coverage on May 12: "Pope Francis: I scolded a woman who wanted me to bless a dog." This is how the post opened:
Opening his speech, which followed that of Prime Minister Giorgia Meloni, the pontiff spoke of a 50-year-old woman he met who asked him to "bless her child," referring to her dog, which she had in her purse.  

"I had no patience and scolded the lady. Many children are hungry and she is with the dog … These are scenes from the present, but if we are not careful this will be the future" said the pontiff in recalling the episode.
The statement received international attention because of the pope's bluntness. It also made for a good headline on an issue that many people, unfortunately, care very little about.  
But even La Repubblica couldn't help but fall into the tabloid trap regarding the pope's appearance with Meloni. In a May 12 story, the newspaper ran this headline: "Giorgia Meloni wears white alongside the pope: Was this a dress code error?"
Here is the key section:
Prime Minister Giorgia Meloni showed off a long white coat, structured and minimal, to sit next to Pope Francis, who wore the traditional cassock. The result was a strange, coordinated effect: at a quick glance, the president and the pontiff appeared to be dressed alike. Not surprisingly, even the pontiff pointed this out with a joke about the prime minister's outfit: "Today we are dressed the same", he declared in a joking tone at the end of the conference.

Focusing on white to meet the Pope is not a particularly happy choice: even if you are not in the Vatican, where there is a dress code that requires you to opt for a precise color range, white clothing in front of the pontiff is a possibility that belongs only to queens and consorts of Catholic kings.

It's called the privilege to wear white and it's a protocol that, while optional since the 1980s, is traditionally respected. Currently, only seven women in the world are allowed to wear white before the pope: Queen Letizia of Spain and former Queen Sofia of Spain, Queen Mathilde of Belgium and former Sovereign Paola of Belgium, Grand Duchess Maria Teresa of Luxembourg, Princess Charlène of Monaco and Princess Marina of Savoy. All the others, non-Catholic queens, heads of state or wives of heads of state, do not enjoy this privilege, and should, by protocol, dress in dark and even better in black, complete with a veil on their heads (as Melania did impeccably with Trump, and, before her, Lady Diana).
OK, so a country obsessed with food, football (soccer to Americans) and fashion fell into the trap of critiquing what a female head of state was wearing. I'm not so sure it would happen to a man.
The bottom line: Even when covering an important meeting and topic, the tabloid-style urge can't be quelled, not even by a major broadsheet.
Let's focus now on two more issues: "Vatican Girl" and what's been called "the trial of the century." Both are loaded with mystery, intrigue and corruption. In other words, catnip for Italian reporters.    
I have alluded to the 1983 disappearance of Emanuela Orlandi in a previous post. It is a story that has received little coverage by the American press (but was the subject of a binge-worthy series on Netflix).
In Italy, this drama is almost a daily story. The 40 anniversary of her disappearance on June 22 is almost here, prompting the Italian media to revive a series of conspiracy stories that the teen's disappearance involved one or more of the following: international terrorism, Italian organized crime, the Banco Ambrosiano scandal and a plot inside the Vatican to cover up a sex scandal.
While Vatican investigators continue probe what happened, leaks to various newspapers have caused an avalanche of news reports in recent months and weeks. All of this has been very hard to follow, but John L. Allen, Jr., at Crux has done a good job explaining the Italian media's obsession with this story. I'd recommend reading him. His April 18 podcast episode of "Last Week in the Church" is a good place to start.
The other big scandal involves an ongoing trial that is actually looking into three different investigations: The now-infamous investment into a London building, something the Italian press has dubbed the "Sardinia scandal" which involves the alleged embezzlement by Cardinal Angelo Becciu by way of donations made to charities and a look into Cecilia Marogna, a self-proclaimed intelligence expert who says she was "hired" by the Holy See and allegedly involved in negotiations for the release of hostages.
There's much to unpack there — but once again it's the salacious that Italians prefer. That would be the coverage around Marogna. While she was covered extensively in the Italian press for much of 2022, the US media paid her very little mind.
Once again, the Catholic press did cover her. I recommend reading a story by Aleteia dating back to May 2022. This is how the piece opens:
At the end of the 15th hearing of the London building trial – May 19, 2022 – during which the interrogation of Cardinal Angelo Becciu concluded, Cecilia Marogna's lawyer asked to read a note from her client, which was refused by Judge Giuseppe Pignatone. The 22-page testimony of the woman who presents herself as an "expert in informal diplomacy" was, however, formally filed and transmitted to the press.

Cecilia Marogna is the only woman among the accused; curiously, her indictment is not directly related to the London building case. From 2018 to 2019, she received, according to the Vatican Promoter of Justice, nearly 600,000 euros from the Secretariat of State to conduct intelligence activities, at the recommendation of Cardinal Becciu. The sums allocated for missions supposed to allow the liberation of hostages in the Sahel were "used, in almost all cases, to make purchases that are not compatible and therefore not justifiable" with the purpose of her mission, according to the Promoter of Justice. She is accused of embezzlement via a company based in Slovenia.
Those are some spicy details packed into those two paragraphs.
The trial is ongoing — Vatican justice may be even slower than in Italy — but one thing is for certain. Even in a nation of falling church attendance and skepticism about the Vatican, the Italian press has always been fixated on covering scandals at the Vatican and that won't change anytime soon.
FIRST IMAGE: Aerial view of Vatican City. Photo via Wikipedia Commons.