Global semiconductor industry sales for July fell 11.8% year-over -year to $43.2 billion, according to data from The Semiconductor Industry Association (SIA).
Sales rose 2.3%, compared to the June 2023 total of $42.2 billion, SIA said.
"The global semiconductor market has experienced modest but steady month-to-month growth this year, with sales increasing for the fourth consecutive month in July," said John Neuffer, SIA president and CEO.
However, Neuffer added that year-to-year decrease in July "was the smallest gap of the year to date, providing reason for optimism over the remainder of 2023 and beyond."
According to SIA, region-wise Y/Y sales: Americas -7.1%, Europe +5.9%, Japan -4.3%, China -18.7% and Asia Pacific/all other -16.2%.
Region-wise M/M sales: Americas +6.3%, China +2.6%, Europe +0.5% and Asia Pacific/all other +0.3%. Japan decreased slightly by 1%.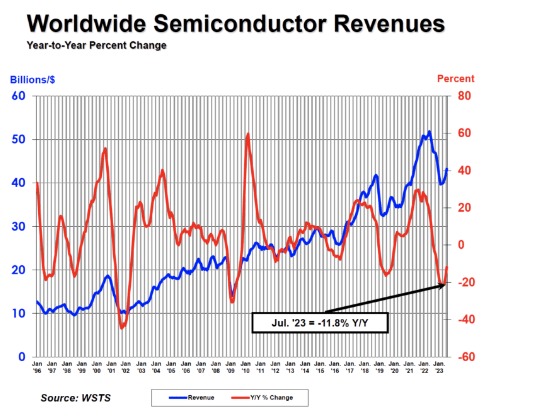 Top semiconductor ETFs include : VanEck Semiconductor ETF (NASDAQ:SMH); iShares Semiconductor ETF (NASDAQ:SOXX); SPDR S&P Semiconductor ETF (NYSEARCA:XSD); Invesco Dynamic Semiconductors ETF (NYSEARCA:PSI); ProShares Ultra Semiconductors (NYSEARCA:USD); First Trust Nasdaq Semiconductor ETF (NASDAQ:FTXL).
Top semiconductor names : Intel (NASDAQ:INTC), Micron Technology (NASDAQ:MU); Texas Instruments (NASDAQ:TXN); Qualcomm (NASDAQ:QCOM); NXP Semiconductors (NASDAQ:NXPI); Applied Materials (NASDAQ:AMAT).