Rethinking Healthcare Onboarding For New Hire Success
Have you ever wondered if you're doing your best to welcome new healthcare employees into the fold? Healthcare onboarding programs aren't just about filling out forms and getting a tour of the hospital or clinic. It's about preparing new hires for success in a high-stakes environment where patients' well-being is on the line. However, there's always the danger of your new members feeling isolated or disconnected from the work environment. A solid onboarding process ensures that all employees understand the organization's values and procedures, as well as their role in providing top-notch care. So, let's explore the ins and outs of designing a successful onboarding program for your healthcare new hires while realizing the process's importance.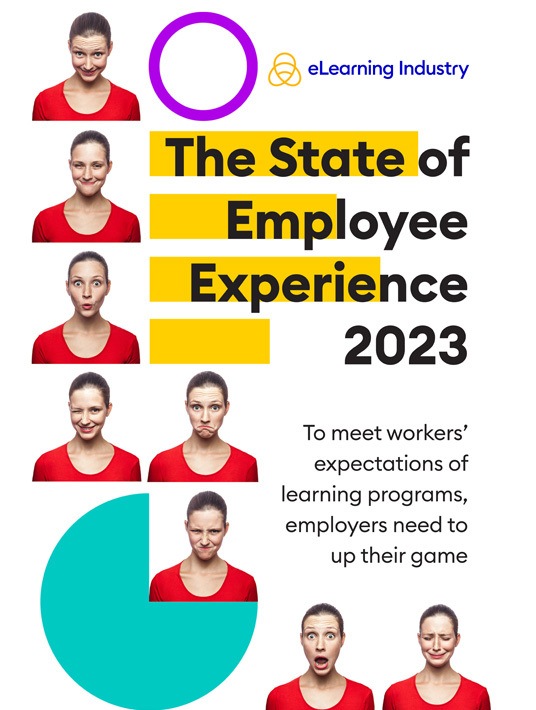 eBook Release
The State Of Employee Experience 2023
Explore upcoming corporate culture trends and how employee experience can be improved via improving onboarding, training, and employee engagement.
What Causes Alienation During Onboarding?
Alienation is the awkward feeling of being left out and not fitting in anywhere in a new environment. During onboarding, it happens when new hires can't see themselves clicking with their colleagues, bosses, or the whole workplace atmosphere. Maybe they're struggling to wrap their heads around new information or are unsure of what's expected of them. This can hurt their motivation and job satisfaction, which, in turn, hinders engagement and innovation at an organization-wide level. But what causes this phenomenon?
When new employees aren't appropriately informed about what their role entails and what their day-to-day tasks are, they can feel uncertain. No matter how enthusiastic they initially were, a complex work environment might confuse them. Similarly, not having enough training materials can cause the same effect. Without a mentor or proper training, new hires may feel overwhelmed and unprepared. Social and cultural integration are equally important, though. If you don't welcome your new members warmly and instead throw them in a meeting room with a group of people they don't know, the most likely scenario is that they'll struggle to blend in.
How To Design A Successful Onboarding Program For Healthcare New Hires
Leadership Involvement
Effective leadership involvement in onboarding is the beacon that guides new hires through their first days in a new workplace. It sets the tone for their experience while showing how committed the organization is to their growth and success. To help new employees feel comfortable during their first day, the leader can welcome them personally, which expresses the upper management's excitement to have a new member onboard. Most importantly, though, they should oversee the entire onboarding process and regularly check in with the new hires to learn about their experiences, answer their questions, and listen to their concerns.
Preparation
Getting new healthcare employees up to speed needs careful preparation for the process to fit their needs. First, do a needs assessment to help you determine what your new hires need to learn and understand about their role. Are they going to be working directly with patients or handling administrative tasks? Additionally, you need to set clear goals for the onboarding process. These will help you ensure that all new hires have completed their training, can prove their skills, understand company policies, etc. Lastly, identify which people play a significant role in the onboarding process—supervisors, mentors, training professionals, and others. Then, you can make certain that everyone's on the same page, knowing exactly what their responsibilities are in the program.
Tailor Training Content
As you'll notice from the needs assessment, one size doesn't fit all when it comes to onboarding. Each role requires different skills and has its own tasks and responsibilities. So, when designing the training program, tailor it for different healthcare roles. For instance, you can't train doctors and surgeons just from videos, seminars, or eLearning courses; you need to enroll them in clinical and procedural training, where they'll learn everything from handling medical equipment to practicing CPR. However, don't sleep on soft skills and communication. As a nurse, for example, doing injections is one thing, but calming down a patient who is afraid of needles is equally important.
Pay Attention To Learning Preferences
Not everyone learns the same way, and this doesn't have to do with their job role. This is why you need to recognize different learning preferences when creating a training plan for the onboarding of new healthcare hires. Some people are visual learners, soaking up information quicker when it's represented with images or videos. Others thrive when they can hear instructions and explanations. So, your training material should be adaptable, meaning that your new members will not miss out on anything, no matter which learning method they choose.
Leverage Technology
The healthcare industry continuously embraces technology to create more engaging, effective, and interactive onboarding experiences for new hires. eLearning platforms can often be as intuitive as a social media app, engaging employees and creating a fun training process. These platforms offer bite-sized modules that are accessible anytime, anywhere, and can cover various topics in the medical field. VR training can also create an engaging experience, offering new hires the chance to train on various aspects of their job in a realistic and risk-free environment. Technology offers reliable progress tracking, too. eLearning platforms gather data to help training managers see their new hires' progress and areas they need to improve, ensuring every employee has the necessary skills to perform at their best.
Cross-Departmental Collaboration
Every team in a hospital needs to come together and collaborate at some point. HR handles paperwork, clinical teams are experts on how everything works, and admin teams provide professionals with the necessary tools to get their job done. Everyone contributes their expertise, so it's crucial to have their schedules coordinated. You wouldn't want your new hires to arrive for their first day without anyone knowing they were coming. When every team is in perfect harmony, your new employees will get a consistent message about the work culture and what's expected of them. They'll know exactly who's the right person to help them and with whom they'll need to work together regularly.
Compliance And Safety Training
To prevent your newest workforce additions from overstepping legal and ethical boundaries when interacting with patients, provide them with the necessary training. This can cover the basics, from consent and patient rights to confidentiality and privacy. Start by incorporating courses that explain everything about Health Insurance Portability and Accountability (HIPAA). Topics like electronic health records, disclosing patient information, and the dangers of security breaches are critical. Similarly, infection control and safety protocols are topics that your employees should be experts at. Proper hand hygiene, personal protective equipment, and guidelines for hazardous materials should be the first things your new hire learns as they step foot in the workplace. This training not only keeps everyone safe but also contributes to a smoother workflow.
Conclusion
A successful onboarding program for your new hires sets them up for success and creates a positive environment for the whole healthcare team. When staffers get top-notch healthcare training, they're ready to excel in their roles, thus providing their patients with the best care. After all, there's nothing more beneficial for patients than a hospital where nurses, doctors, and staff work together in sync. So, encourage development while supporting your fresh recruits to boost their careers and contribute to a better healthcare system.