By Lambert Strether of Corrente.
Bird Song of the Day
Plain Mountain Finch, Lokat Bangus (Little Bangus Valley), Kupwara, Jammu and Kashmir, India. "Several cuts of song and one of what may be calls, or possibly another song type, from a bird perched on a medium-height spruce tree just above treeline."
* * *
Politics
"So many of the social reactions that strike us as psychological are in fact a rational management of symbolic capital." –Pierre Bourdieu, Classification Struggles
The Constitutional Order
"Trump sues over efforts to keep him off Michigan ballot" [The Hill]. "Former President Trump's attorneys have filed a lawsuit seeking to prevent Michigan Secretary of State Jocelyn Benson from refusing to put him on the ballot for the state's 2024 presidential primary and general elections. The lawsuit was filed Monday and asks the court to affirm that Benson (D) lacks the authority to decide whether Trump can be disqualified from the ballot under an interpretation of the 14th Amendment. The lawsuit asks the court to enter an injunction stopping her from barring Trump from the ballot…. Benson has said she will not try to keep Trump off the ballot in Michigan. Trump's attorneys said the former president has sent Benson a letter asking her to confirm him as one of the official candidates and that she has not responded to that letter.. The disagreement began after a lawsuit was filed by Free Speech for People, the same group that filed in Minnesota."

"Minnesota justices appear skeptical that states should decide Trump's eligibility for the ballot" [Associated Press]. "Minnesota Supreme Court justices appeared skeptical Thursday that states have the authority to block former President Donald Trump from the ballot, with some suggesting that Congress is best positioned to decide whether his role in the January 2021 attack on the U.S. Capitol should prevent him from running. Justices sharply questioned an attorney representing Minnesota voters who had sued to keep Trump off the state ballot under the rarely used 'insurrection' clause of the U.S. Constitution. Citing Congress' role in certifying presidential electors and its ability to impeach, several justices said it seemed as if questions of eligibility should be settled there. 'And those all seem to suggest there is a fundamental role for Congress to play and not the states because of that,' Chief Justice Natalie E. Hudson said. 'It's that interrelation that I think is troubling, that suggests that this is a national matter for Congress to decide.'"

"Interesting Standing Dispute in Fourteenth Amendment Section 3 Case Against Trump" [Reason]. From Castro v. Warner, a pro se Fourteenth Amendment Filing, the court writes: "In several filings, Mr. Castro has attacked the character or intelligence of opposing counsel, as well as judges and court staff. The Court's docket is not a social media feed, and any future filing with ad hominem attacks, inappropriate statements about individuals involved in this litigation, or other snide and malicious comments will be stricken from the record."
Biden Administration
"Israel-Gaza war: US House rejects effort to censure Rashida Tlaib" [Al Jazeera]. "The US House of Representatives has rejected an effort to censure Palestinian American Congresswoman Rashida Tlaib, a Democrat who has been advocating for Palestinian rights amid Israel's war on Gaza. The measure, which was introduced by far-right Congresswoman Marjorie Taylor Greene, was halted in a 222 to 186 vote on Wednesday, with 23 Republicans joining the Democrats in opposing it. A Democratic effort to in turn censure Greene was called off in response."

"31 Democrats vote to keep Santos in Congress" [The Hill]. "A total of 31 Democrats joined 182 Republicans in voting to keep Rep. George Santos (R-N.Y.) in Congress on Wednesday, killing a Republican-led effort to oust the embattled lawmaker. The lower chamber voted 213-179-19 against a resolution to expel Santos, marking the second unsuccessful attempt this year to eject the first-term lawmaker from the House. A two-thirds threshold is needed to expel a member of Congress… The effort to oust Santos was spearheaded by a group of fellow first-term New York Republicans — led by Rep. Anthony D'Esposito — who moved last week to force a vote to expel Santos in the wake of his mounting legal battles. D'Esposito called the legislation to the floor as a privileged resolution, a procedural gambit that forces leadership to set a vote within two legislative days." • Cf. John 8:7.
2024
Time for the Countdown Clock!

Only four more days until a full year to election day!

* * *




* * *

""Your Money's in Joe's House": The Biden Family's Version of 'It's a Wonderful Life'" [Jonathan Turley]. The headline is deceptive; it doesn't refer to Joe Biden, but to the movie It's a Wonderful Life. Nevertheless. "What is new now, according to House Republicans, is an emerging pattern of how the Bidens turned influence-peddling into the equivalent of the family's personal savings & loan operation. Money moving between key family members was labeled as a 'loan' in at least one instance, and Hunter has claimed other money as 'loans' — a framing that not only offered plausible deniability but non-taxable income.Two IRS whistleblowers, who testified before House investigators in July, highlighted the use of a loan allegedly to evade public disclosure and taxation. Hunter allegedly took large payments from dubious foreign sources and listed them as 'loans,' despite no evidence of repayment or any standard loan agreement. This month, House investigators discovered that, in 2018, the president's brother James received two loans totaling $600,000 from Americore Health, which they described as 'a financially distressed and failing rural hospital operator.' According to the company's bankruptcy proceedings, it made the loans 'based upon representations that his last name, 'Biden,' could 'open doors'" to new overseas investors. On the day he received the second loan transfer, James Biden sent a check for the same amount — $200,000 — to Joe Biden as a 'loan reimbursement.' Recently, the House Oversight Committee revealed that just after Joe Biden announced his 2020 presidential candidacy, Hunter Biden received a $250,000 loan from a Chinese businessman using the address of his father's Delaware home. The generous transfer of funds was from Xiangsheng 'Jonathan' Li, a Chinese businessman connected to the investment fund Bohai Harvest RST. (President Biden reportedly later wrote a college-admission recommendation for Li's daughter). What happened next was vintage Biden family: A Hollywood lawyer, who had just met Hunter at a political gathering, reportedly suddenly took over the repayment of that loan, with no explanation, and later reportedly paid for some of Hunter's tax bills and living expenses as well. So, it appears that $250,000 went to Hunter, but the loan obligation was shifted to a Democratic political donor." • Nice people being nice to each other!

"Arab American support for Biden, Democrats plummets over Israel, poll shows" [Reuters]. "- President Joe Biden's support among Arab Americans, who are crucial voters in battleground election states, has plunged from a comfortable majority in 2020 to just 17%, a new poll shows, amid growing anger over the Democratic president's support for Israel's attacks on Gaza. Arab American support for Biden, at 59% in 2020, fell even before the outbreak of violence in the Middle East to 35%, the poll commissioned by the Arab American Institute showed, but has halved since. The poll, released Tuesday, marks the first time since its inception in 1997 that a majority of Arab Americans did not identify as Democrats – 32% now identify as Republicans and 31% as independents. Forty percent of those polled said they would vote for former President Donald Trump, the likely Republican candidate in 2024, up 5 percentage points from 2020. The poll was conducted by John Zogby Strategies of 500 Arab Americans with some answering online only. The poll has a margin of error of 4.9 percentage points." • Not a superexcellent poll, but surely directionally correct.

MI: "Democrats fear that Biden's Israel-Hamas war stance could cost him reelection in Michigan" [Associated Press]. "Michigan was a critical component of the so-called blue wall of states that includes Wisconsin and Pennsylvania that Biden returned to the Democratic column, helping him win the White House in 2020. Since then, Democrats have felt more confident about their standing in Michigan, particularly after Gov. Gretchen Whitmer notched a commanding 10-point reelection victory last year." Whitmer, of course, had a nice little tailwind from the spooks, what with a typical FBI entrapment scheme. More: "Michigan holds the largest concentration of Arab Americans in the nation and over 310,000 residents are of Middle Eastern or North African ancestry. Many in the community are pledging to coalesce against Biden's reelection campaign unless he calls for a ceasefire in the war. Anger over Democrats' response to the war was on full display this past weekend in Wayne County, home to the largest bloc of Democratic votes in the state and the source of much of the pushback. A day after thousands of people gathered in downtown Detroit to call for a ceasefire, Gov. Whitmer had a Sunday appearance in Dearborn canceled after a protest was planned outside the event. Whitmer, a co-chair of Biden's reelection campaign, said in a statement that her appearance would have 'distracted' from the event."

* * *

"Democrats quietly move to succeed Biden" [Axios]. "Democratic governors and senators are quietly moving to boost their national profiles and position themselves to run for president in 2028 — or in 2024, if President Biden unexpectedly drops out…. In recent months, more than half a dozen Democratic lawmakers have established national political organizations, embarked on resume-building foreign trips, and visited states that traditionally hold early presidential primaries." Booker, Pritzker, Whitmer, Harris, Newsom are the big ones; Phil Murphy, Ro Khanna (see below), Mark Kelly, and Josh Shapiro are also mentioned. More: "If Biden were to leave the race before the end of this year, there likely would be time for candidates to get on enough state ballots to determine the nomination. But if he were to exit after Jan. 1, the nomination fight more likely would go to the Democrats' convention in Chicago because candidates wouldn't be able to get on the ballot in enough states, according to a recent analysis by the Brookings Institution's Elaine Kamarck, who has been on the DNC's Rules Committee since 1997. In that case, Biden likely would have some delegates and could ask them to support a candidate — but the delegates would be free to support who they want." • Hot take, worth what you paid for it: Pritzker is the pick of the litter, even though Newsom thinks he is. UPDATE On Newsom, I got too glib, and forgot his dyslexia issues, which are serious. He may want oligarchical power as a Pacific Rim state, and not in Washington at all. Let's wait and see.

"What happens if a presidential candidate cannot take office due to death or incapacitation before January 2025?" [Elaine Kamarck, Brookings Institution]. "The authority of the national parties to choose their nominee in the event the nominee can't run comes as a surprise to many in this day of wall-to-wall primaries. And yet, it is a reminder that the choice of a nominee is party business — not state law, not federal law, and not constitutional law." • Yep. For the Democrats, see NC here. Once again — and we're seeing this come into even sharper focus with the Fourteenth Amendment controversy — control of the ballot is the distinctive competence of the modern political party.

* * *

"Brazile pans Dean Phillips run against Biden: 'Have fun out there'" [The Hill]. "Brazile said she wasn't sure what Phillips's 'game plan' was, noting the uphill challenge that Phillips would have in order to launch any real challenge to unseat the incumbent president. 'This is 2023, and the last time I looked at the calendar, there are at least six states that you have to be on the ballot by the end of next month, 22 states before the end of the year. The race for delegates is not a popularity contest. It is a race where you have to actually go out and identify, recruit people,' she said on ABC's 'This Week' on Sunday, where she serves as a panelist. 'So good luck, Mr. Phillips. Have fun out there. But, guess what? I will not be seeing him in Chicago unless he's an automatic superdelegate,' she said, referring to the city hosting the Democratic National Convention."

"The real threat Dean Phillips poses to Biden" [Politico]. "Even Biden's backers in New Hampshire, where Phillips is counting on an early upset, are worried about his age. A 63 percent majority of Democratic primary voters supporting Biden in a CNN/University of New Hampshire poll last month said age was their biggest concern about the president. Already, the Minnesota congressmember is signaling this will be a central part of his argument. And he is perhaps a better messenger than Trump, who is only three years younger than Biden." • As I said, I think "exhausted majority" isn't a bad message–

"Minnesota's Phillips sees 'exhausted majority' as his path to the White House" [MPR News]. "The kickoff has been highly orchestrated, with long-form profiles and national television interviews built in around it. Phillips is also facing scrutiny on a scale he did not receive as a congressional candidate with his finances, past comments and more under the microscope. But he does have some presidential campaign veterans surrounding him. Steve Schmidt, who helped Republican Sen. John McCain to the nomination in 2008, is a top Phillips strategist." • Schmidt is a Lincoln Project veteran, if "veteran" is the word I want. Here is the origin of the phrase–

"The Hidden Tribes of America" (PDF) [More in Common]. Dates from 2018. Funding. From this diagram, "exhausted majority" is another way of saying [genuflects] "centrists."

And in prose, from page 117:

America's tribal politics, from social media trolling to debates in the halls of Congress, are repelling a majority of Americans. The Exhausted Majority is uncomfortable with the ideological conformity and the outrage culture that have taken hold in the most highly engaged tribes. Americans in the Exhausted Majority are often hesitant to weigh in for fear of saying the wrong thing. This contributes to the detachment of the 41 percent of Americans who belong to the Passive Liberal and Politically Disengaged tribes. Public issues have always engaged some individuals more strongly than others. What is striking now is the widening gulf between those who are highly engaged in America's polarized political debates and the Exhausted Majority of Americans, who find the relentless ideological conflict dispiriting. They feel unrepresented in today's polarized politics. The views of the Exhausted Majority are grounds for hope as well as concern. On the one hand, they reject ideological purity and recognize the necessity of compromise in politics as in all areas of life. On the other hand, their detachment (and the media's preference for conflict) allows the opposing wings of the spectrum to dominate public debate. This contributes to the misperception that America is made up of just two groups who are hell-bent on defeating each other at all costs. A new understanding of the American political landscape is needed, one that no longer airbrushes this Exhausted Majority out of the picture, but puts them in the center.

Look, I'm exhausted because people are dropping like flies, whether from "Democrat wars" or the Biden administration's stochastic eugenicism on Covid. But I'm not sure I'm, well, represented in this framework. (Also, I think "tribalism" isn't sociology, even sloppy sociology; it's just market segmentation applied to political views based on surveys; see page 5.)

"An exhausted majority in America is tired of polarization, wants those governing to seek common ground" [Cleveland.com]. From January 2023: "A term used by Rep. Tim Ryan in his Senate campaign, this majority of Americans is what we call, the 'Exhausted Majority'— those that generally are more flexible in their political views, fed up with polarization, believe we can find common ground, and are less active in our political discourse. Nationwide, they represent two-thirds of the population, yet are not as present in our public debates. While Ryan didn't win, there's evidence that the 'exhausted majority' voice is one that we should start listening to more closely… Despite the portrayal of a "divided" nation, we don't have to choose this story of polarization and division. But in order to do that we must resist the temptation to view our fellow Americans' views through the narrow lens of the divisive voices we hear in our public arenas." • From a More in Common staffer. Note that Tim Ryan had Steve Schmidt as an advisor, as does Phillips.

* * *

"Spoiler alert? Poll has RFK Jr. grabbing 22 percent against Biden and Trump" [Politico]. "Running with a promise to 'spoil' the 2024 presidential contest, Robert F. Kennedy Jr. just received a sign that he might be making good on that pitch: A recent poll shows him with 22 percent support in a hypothetical three-way race against President Joe Biden and former President Donald Trump. Biden, by contrast, would take 39 percent of the vote, and Trump would come away with 36 percent, according to the Quinnipiac University's survey. In another positive sign for Kennedy, he came away with the backing of a plurality of independents: 36 percent chose him, compared with 31 percent for Trump and 30 percent for Biden. The overall 22 percent does not suggest he can yet break through the two-party system and put his name on the Electoral College map next year as an independent. But the bigger threat his candidacy poses to Biden and Trump is the possibility of siphoning just enough votes from one of them to swing an otherwise coin-flip state in November." • Yep. Though it's early, I haven't seen any evidence that RFK is concentrating on this or that swing state.

* * *

"Backing Biden in 2024, this Democrat congressman sparks 2028 speculation" [FOX]. "'I do whatever the president tells me when it comes to 2024 and his team,' Khanna said during a Fox News Digital interview. 'I'm a foot soldier when it comes to making sure he gets reelected.' But that mission may pay dividends for Khanna in 2028, when 47-year-old politician from California may have national aspirations."

* * *

GA: "The Trump era has changed the politics of local elections in Georgia, a pivotal 2024 battleground" [Associated Press]. "Going into the 2024 presidential election, the dynamics in Johns Creek and other nearby Atlanta suburbs reflect how partisan and cultural divisions that intensified since Trump's 2016 run have trickled down to local campaigns. Some activists and voters now view these nominally nonpartisan contests as critical fronts in shaping the nation's identity. 'People have a right to know who they're voting for,' said Betsy Kramer, a Republican Party volunteer who is backing [Stacy] Skinner in Johns Creek, which is about 30 miles north of downtown Atlanta in Fulton County. 'I'm not voting for a Democrat,' Kramer said. 'I'm concerned that if Democrats start taking over north Fulton, the whole area is going to change dramatically.' The suburbs of Georgia's largest city once anchored the state's Republican establishment. Today, they play a prime role in determining the outcomes of statewide races. In 2020, they were pivotal in Democrat Joe Biden's close victory over Trump, the Republican incumbent, in the president election. This swath of the metro area has become more demographically and politically diverse over recent decades, with growth among Asian American, Black and Hispanic populations that help boost Democrats' vote totals. The share of Georgia residents who identify as white and non-Hispanic fell in the most recent census to 50.1%, the lowest on record. Additionally, some Republicans who still make up north Fulton County's electoral majority have never marched in lockstep with Trump and the tea party, a movement that opposes the Washington political establishment and espouses conservative and libertarian philosophy. In 2020, Trump underperformed historical Republican advantages in the area on his way to losing Georgia by fewer than 12,000 votes out of 5 million cast. And the region once elected Brad Raffensperger, Georgia's secretary of state who bucked Trump's efforts to overturn his defeat, to the state Senate."

VA: "Why a 2023 Virginia Election Is a Proving Ground for 2024" [Wall Street Journal]. "THE PLAINS, Va.—For clues about the strength of both parties' messages heading into 2024, look no further than this suburban Northern Virginia enclave…. The Nov. 7 contest pits Republican Juan Pablo Segura, a 35-year-old entrepreneur, against Democrat Russet Perry, 39, a former Central Intelligence Agency officer and prosecutor." Awesome. Another CIA Democrat. More: "The seat is key to Democrats' bid to keep their slim edge in the 40-seat Senate, where they have squared off against Youngkin and Republicans who narrowly lead the House…. The battle for the newly drawn seat covering parts of affluent Loudoun and Fauquier counties is shaping up as the state's most expensive Senate race this year, with more than $11 million raised through Oct. 26. If Republicans flip the Senate and hold the House, the GOP will have a trifecta with Youngkin in the governor's office."

VA: "Virginia's Election Could Decide Fate of Youngkin's Education Agenda" [The 74]. "Virginia, where Republican Gov. Glenn Youngkin still has two years left in his term [is] a true battleground whose outcome could serve as a bellwether for the national mood. And in few other states have education debates played such a prominent role in recent political history…. Control over the State Assembly will be decided by just a handful of swing seats, but the range of possibilities for governance is huge. If Democrats maintain their 22-18 lead in the state Senate — and perhaps win a majority in the House of Delegates, where Republicans currently hold a four-seat edge — they will retain the ability to check Youngkin's ambitions and escape the rightward thrust that has brought expanded school choice and anti-critical race theory legislation to states like Florida. But if the governor's party is able to capture both chambers, he could ride his conservative record and electoral victories to an enviable perch in the Republican presidential primary." • New source for me that quotes Emily Oster approvingly, so Handle with Care. Nonetheless, on the politics, they're right.
Republican Funhouse
"Speaker Johnson: Decision on Biden impeachment articles coming 'very soon'" [The Hill]. "Asked during a press conference if he believes there is enough evidence to move on articles of impeachment against Biden, Johnson said: 'I do believe that very soon we are coming to a point of decision on it.' He later added, 'We're gonna follow the evidence where it leads and we'll see, and I'm not gonna pre-determine it this morning.' The newly minted Speaker, who has a constitutional law background, emphasized the importance of due process."

"Speaker Johnson taps veteran GOP operative as chief spokesperson" [Politico]. "Speaker Mike Johnson has tapped veteran Republican operative Raj Shah to build and oversee his communications operation, according to a person familiar with the move…. Shah previously spent four years as senior vice president for public affairs at Fox Corporation. Before that, he served as a top communications official in the Trump White House, and was research director at the Republican National Committee during the 2016 campaign."

"Does New Speaker of the House Mike Johnson Have a Bank Account?' [Daily Beast]. "Newly elected Speaker of the House Mike Johnson (R-LA) does not have a bank account. At least, that's what Johnson reports on years of personal financial disclosures, which date back to 2016 and reveal a financial life that, in the context of his role as a congressman and now speaker, appears extraordinarily precarious. Over the course of seven years, Johnson has never reported a checking or savings account in his name, nor in the name of his wife or any of his children, disclosures show. In fact, he doesn't appear to have money stashed in any investments, with his latest filing—covering 2022—showing no assets whatsoever. Of course, it's unlikely Johnson doesn't actually have a bank account. What's more likely is Johnson lives paycheck to paycheck—so much so that he doesn't have enough money in his bank account to trigger the checking account disclosure rules for members of Congress." • Speaks well of him, actually.
Democrats en Déshabillé
Patient readers, it seems that people are actually reading the back-dated post! But I have not updated it, and there are many updates. So I will have to do that. –lambert

I have moved my standing remarks on the Democrat Party ("the Democrat Party is a rotting corpse that can't bury itself") to a separate, back-dated post, to which I will periodically add material, summarizing the addition here in a "live" Water Cooler. (Hopefully, some Bourdieu.) It turns out that defining the Democrat Party is, in fact, a hard problem. I do think the paragraph that follows is on point all the way back to 2016, if not before:

The Democrat Party is the political expression of the class power of PMC, their base (lucidly explained by Thomas Frank in Listen, Liberal!). ; if the Democrat Party did not exist, the PMC would have to invent it. . ("PMC" modulo "class expatriates," of course.) Second, all the working parts of the Party reinforce each other. Leave aside characterizing the relationships between elements of the Party (ka-ching, but not entirely) those elements comprise a network — a Flex Net? An iron octagon? — of funders, vendors, apparatchiks, electeds, NGOs, and miscellaneous mercenaries, with assets in the press and the intelligence community.

Note, of course, that the class power of the PMC both expresses and is limited by other classes; oligarchs and American gentry (see 'industrial model' of Ferguson, Jorgensen, and Jie) and the working class spring to mind. Suck up, kick down.

* * *
Realignment and Legitimacy
#COVID19
"I am in earnest — I will not equivocate — I will not excuse — I will not retreat a single inch — AND I WILL BE HEARD." –William Lloyd Garrison
Resources, United States (National): Transmission (CDC); Wastewater (CDC, Biobot; includes many counties; Wastewater Scan, includes drilldown by zip); Variants (CDC; Walgreens); "Iowa COVID-19 Tracker" (in IA, but national data). "Infection Control, Emergency Management, Safety, and General Thoughts" (especially on hospitalization by city).
Lambert here: Readers, thanks for the collective effort. To update any entry, do feel free to contact me at the address given with the plants. Please put "COVID" in the subject line. Thank you!
Resources, United States (Local): AK (dashboard); AL (dashboard); AR (dashboard); AZ (dashboard); CA (dashboard; Marin, dashboard; Stanford, wastewater; Oakland, wastewater); CO (dashboard; wastewater); CT (dashboard); DE (dashboard); FL (wastewater); GA (wastewater); HI (dashboard); IA (wastewater reports); ID (dashboard, Boise; dashboard, wastewater, Central Idaho; wastewater, Coeur d'Alene; dashboard, Spokane County); IL (wastewater); IN (dashboard); KS (dashboard; wastewater, Lawrence); KY (dashboard, Louisville); LA (dashboard); MA (wastewater); MD (dashboard); ME (dashboard); MI (wastewater; wastewater); MN (dashboard); MO (wastewater); MS (dashboard); MT (dashboard); NC (dashboard); ND (dashboard; wastewater); NE (dashboard); NH (wastewater); NJ (dashboard); NM (dashboard); NV (dashboard; wastewater, Southern NV); NY (dashboard); OH (dashboard); OK (dashboard); OR (dashboard); PA (dashboard); RI (dashboard); SC (dashboard); SD (dashboard); TN (dashboard); TX (dashboard); UT (wastewater); VA (dashboard); VT (dashboard); WA (dashboard; dashboard); WI (wastewater); WV (wastewater); WY (wastewater).
Resources, Canada (National): Wastewater (Government of Canada).
Resources, Canada (Provincial): ON (wastewater); QC (les eaux usées); BC, Vancouver (wastewater).
Hat tips to helpful readers: anon (2), Art_DogCT, B24S, CanCyn, ChiGal, Chuck L, Festoonic, FM, FreeMarketApologist (4), Gumbo, hop2it, JB, JEHR, JF, JL Joe, John, JM (10), JustAnotherVolunteer, JW, KatieBird, LL, Michael King, KF, LaRuse, mrsyk, MT, MT_Wild, otisyves, Petal (6), RK (2), RL, RM, Rod, square coats (11), tennesseewaltzer, Utah, Bob White (3).
Stay safe out there!
* * *
Maskstravaganza
Censorship and Propaganda
"COVID Lockdowns Were a Giant Experiment. It Was a Failure" [New York Magazine]. • Right, that's why 1.9 million Chinese died after Xi kowtowed to capital and abandoned Zero Covid. Oh well, they had it coming would have died anyhow.
"Something Awful"
Lambert here: I'm getting the feeling that the "Something Awful" might be a sawtooth pattern — variant after variant — that averages out to a permanently high plateau. Lots of exceptionally nasty sequelae, most likely deriving from immune dysregulation (says this layperson). To which we might add brain damage, including personality changes therefrom.

* * *
Elite Maleficence
HICPAC is meeting today:

"Healthcare Personnel Use of N95 Respirators or Medical/ Surgical Masks for Protection Against Respiratory Infections: A Systematic Review and MetaAnalysis" (PDF) (draft) [CDC]. Weirdly, this garbage barge draft — better than a PowerPoint, at least! — has no cover sheet giving the author(s). Also, all the material that went into the creation of this draft should be public for CDC to be in compliance with the Federal Advisory Committee Act (FACA). It's not. A cursory reading yields this footnote on page two. The text, at 1-5:

And note 2, within the 1-5 range:

Note 2 refers to the long-discredited, shamelessly tendentious, bungled, and Brownnose Institute-driven Cochrane Report. So we're only two pages in, and we already know the unknown producers of this dreck deliverable are not only sloppy copy editors — I have helpfully highlighted the subject verb-agreement issue; one can only wonder what else is wrong — but lacking in scientific judgment (one can only hope that none of the authors were adversely affected by the superspreading event that CDC sponsored for its "infection detectives" in April).

And reading further:

At [1]: I guess we'll have to see about that. Quoting from the JAMA article linked in yesterday's Water Cooler: "The higher filtration efficiency of N95 respirators compared with surgical masks provides further evidence of efficacy—essentially, a dose-response association of the intervention with the outcome." Yes, this is a community setting, but I'd be hard-pressed to see why engineering that works in a community settings doesn't work in a hospital. Also, I note that the natural RCT mask study from BanglaDesh was excluded, given its conclusion that surgical masks were better than cloth masks; IOW, the better the engineering, the better the protection.

At [2]: Doesn't this boil down to saying that all existing studies are enormously confounded?

I hope to have more on this emissionvile screed document over the weekend. (I remember the word "robust" from my consulting days; for deliverables, "robust" meant several honkin' big binders. This steamer draft is clearly "robust"; it's a ginormous Gish Gallop, and so I'll need to find an angle of attack that a simple blogger can execute.

Instant karma:

watching the HICPAC stream and someone just sneezed loudly into their mic lol

— covidwormy/commiewormy (@99_n0va) November 2, 2023

Now, this really implies droplet tranmission, so the joke reinforces droplet dogma, but there is something delicious about HICPAC members spraying SARS-CoV-2-laded loogies in each other. No one can say they didn't earn it!

By their fruits shall ye know them:

I'm appalled that the many people in the CDC auditorium for the HICPAC meeting today aren't wearing respirators, or even masks. HEPA air filters aren't in evidence, either.https://t.co/gJKeNaxCXX#CovidIsntOver #COVIDisAirborne

— Roselie Bright, ScD, MS (@RoselieBright) November 2, 2023

No filtration, very few masks.

Right now the Committee members are infecting each other at lunch:

HICPAC stream on YouTube: https://t.co/C7TkLPJhPK

HICPAC website: you can submit a public comment for the meetings minutes. Open for a few days. https://t.co/ERSKZSXjL1

— NB citizen Covid Updates #COVIDisAirborne (@nb_covid_info) November 2, 2023

Maybe some kind reader will take a listen…
* * *
Case Data
NOT UPDATED From BioBot wastewater data, October 30: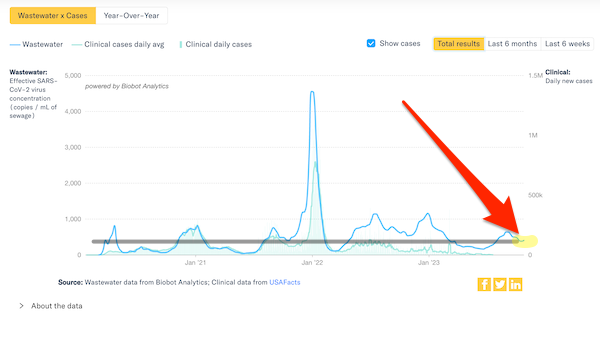 Lambert here: Cases leveling out to a high plateau wasn't on my Bingo card. And Thanksgiving is coming up.
Regional data: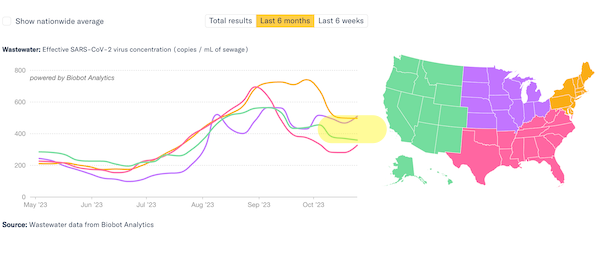 Variants
NOT UPDATED From CDC, October 28: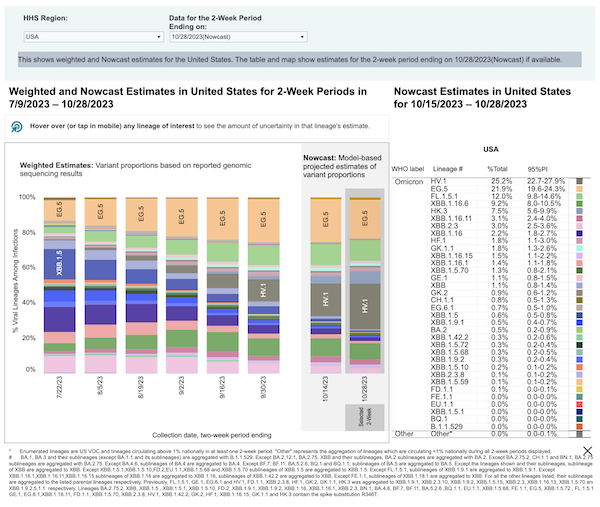 Lambert here: Top of the leaderboard: HV.1, EG.5 a strong second, with FL.1.15.1 and XBB.1.1.16.6 trailing. No BA.2.86 (although that has showed up in CDC's airport testing). Still a Bouillabaisse…
From CDC, October 14: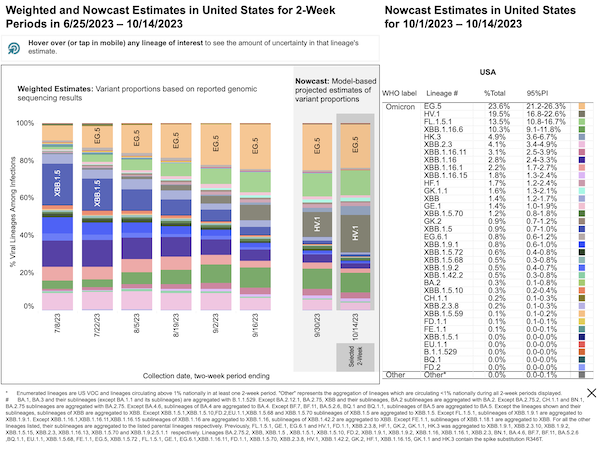 Lambert here: I sure hope the volunteers doing Pangolin, on which this chart depends, don't all move on the green fields and pastures new (or have their access to facilities cut by administrators of ill intent).
CDC: "As of May 11, genomic surveillance data will be reported biweekly, based on the availability of positive test specimens." "Biweeekly: 1. occurring every two weeks. 2. occurring twice a week; semiweekly." Looks like CDC has chosen sense #1. In essence, they're telling us variants are nothing to worry about. Time will tell.
Covid Emergency Room Visits
NOT UPDATED From CDC NCIRD Surveillance, October 28: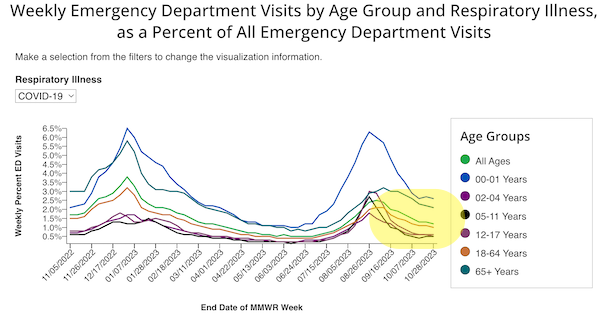 Lambert here: Flattening. Only a week's lag, so this may be our best current nationwide, current indicator until Verily gets its house in order (and working class-centric, since I would doubt the upper crust goes to the ER).
NOTE "Charts and data provided by CDC, updates Wednesday by 8am. For the past year, using a rolling 52-week period." So not the entire pandemic, FFS (the implicit message here being that Covid is "just like the flu," which is why the seasonal "rolling 52-week period" is appropriate for bothMR SUBLIMINAL I hate these people so much. Notice also that this chart shows, at least for its time period, that Covid is not seasonal, even though CDC is trying to get us to believe that it is, presumably so they can piggyback on the existing institutional apparatus for injections.
Hospitalization
Bellwether New York City, data as of November 2: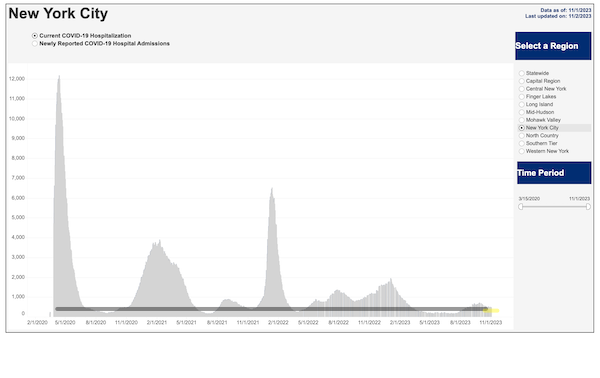 Flattened, (I hate this metric because the lag makes it deceptive, although the hospital-centric public health establishment loves it, hospitalization and deaths being the only metrics that matter [snort]).
NOT UPDATED Here's a different CDC visualization on hospitalization, nationwide, not by state, but with a date, at least. October 30: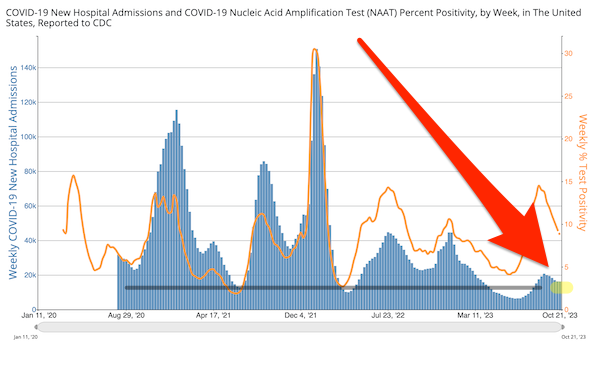 Lambert here: "Maps, charts, and data provided by CDC, updates weekly for the previous MMWR week (Sunday-Saturday) on Thursdays (Deaths, Emergency Department Visits, Test Positivity) and weekly the following Mondays (Hospitalizations) by 8 pm ET†". So where the heck is the update, CDC?
Positivity
NOT UPDATED From Walgreens, October 30: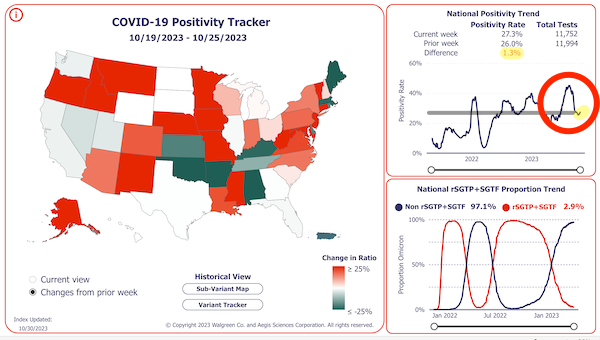 1.3%. Increase. (It would be interesting to survey this population generally; these are people who, despite a tsunami of official propaganda and enormous peer pressure, went and got tested anyhow.)
NOT UPDATED From Cleveland Clinic, October 28: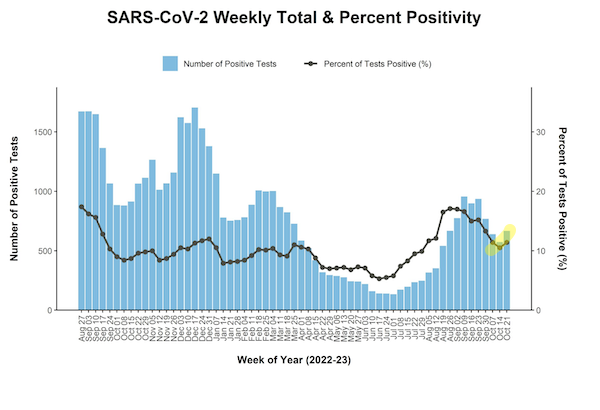 Lambert here: Slight increase. I know this is just Ohio, but the Cleveland Clinic is good*, and we're starved for data, so…. NOTE * Even if hospital infection control is trying to kill patients by eliminating universal masking with N95s.
NOT UPDATED From CDC, traveler's data, October 9: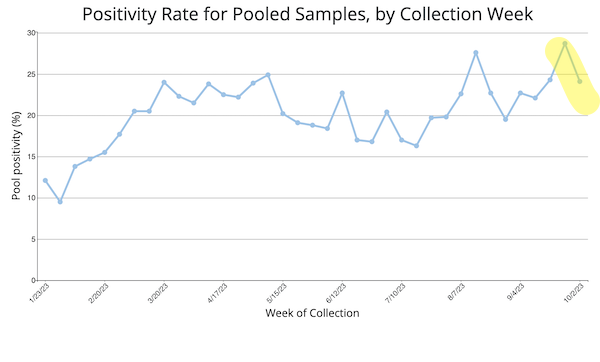 Down, albeit in the rear view mirror. And here are the variants for travelers: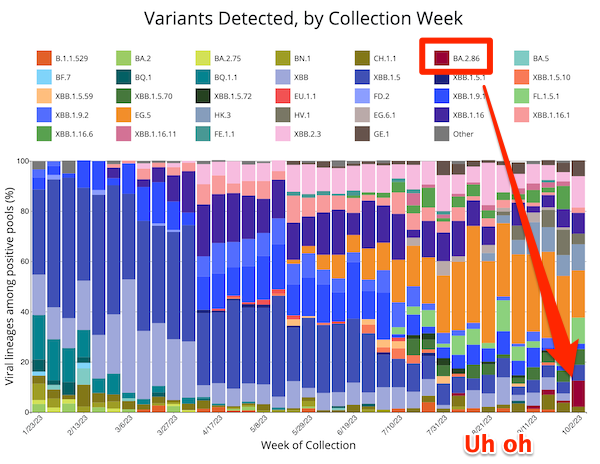 Sudden big BA.2.86 appearance.
Deaths
NOT UPDATED Iowa COVID-19 Tracker, September 27: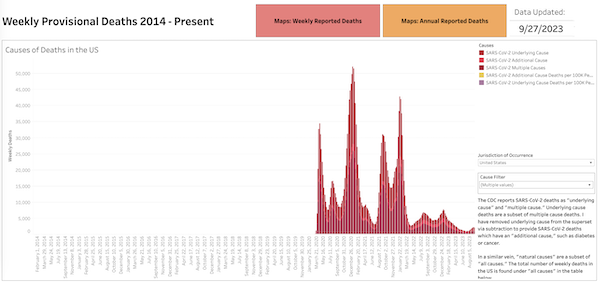 Lambert here: Dunno why no updates. I may have to drop this one, with great reluctance; I like my sources non-CDC.
Total: 1,181,151 – 1,180,669 = 482 (482 * 365 = 175,930 deaths per year, today's YouGenicist™ number for "living with" Covid (quite a bit higher than the minimizers would like, though they can talk themselves into anything. If the YouGenicist™ metric keeps chugging along like this, I may just have to decide this is what the powers-that-be consider "mission accomplished" for this particular tranche of death and disease). 
Excess Deaths
The Economist, October 27: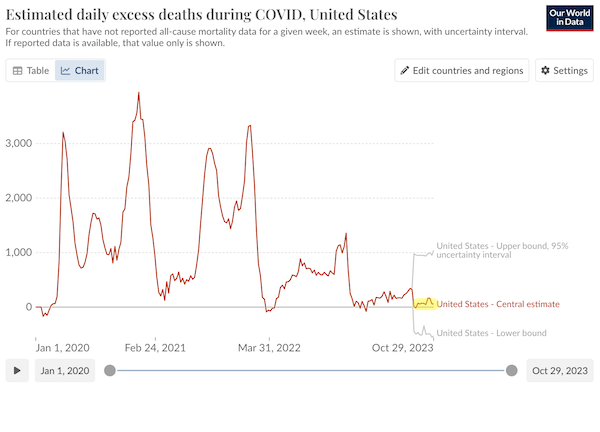 Lambert here: Based on a machine-learning model.
Stats Watch
Employment Situation: "United States Initial Jobless Claims" [Trading Economics]. "The number of Americans filing for unemployment benefits rose by 5,000 to 217,000 on the week ending October 28th, above market expectations of 210,000, to mark the highest amount of claims in nearly two months. In the meantime, continuing claims rose by 35,000 to 1,818,000 in the previous week, the highest since April and above market expectations of 1,800,000, suggesting that the unemployed are having greater difficulties finding employment. The data aligned with signals from the Federal Reserve that labor market conditions are going through some softening, despite remaining at historically tight levels."
Employment Situation: "United States Challenger Job Cuts" [Trading Economics]. "US-based employers announced plans to cut 36,836 jobs in October 2023, the least in three months, and after 47,457 redundancies in September. The tech sector led all industries with 6,524 cuts, the most since May, followed by warehousing (4,138), financial companies (3,419), and insurers (2,752). 'Job cut plans have slowed significantly since the first half of the year, and consumers have continued to spend, even in the face of high inflation. Pandemic savings and higher wages have gotten many workers through economic uncertainty,' said Andy Challenger."
Manufacturing: "United States Factory Orders" [Trading Economics]. "New orders for manufactured goods in the US advanced 2.8 percent from the previous month to $601.5 in September 2023, the most since January 2021, more than market expectations of a 2.4 percent rise and after a 1 percent increase."
* * *
The Bezzle: "WeWork plans to file for bankruptcy as early as next week, source says" [Reuters]. " WeWork (WE.N) plans to file for bankruptcy as early as next week, a source familiar with the matter said on Tuesday, as the SoftBank Group-backed company struggles with a massive debt pile and hefty losses. Shares of the flexible workspace provider fell 32% in extended trading after the Wall Street Journal first reported the news. They have fallen roughly 96% this year. New York-based WeWork is considering filing a Chapter 11 petition in New Jersey, the WSJ reported, citing people familiar with the matter. WeWork declined to comment. Earlier on Tuesday, WeWork said it had entered into an agreement with creditors for temporary postponement of payments for some of its debt, with the grace period nearing an end."
Media: "US media veterans back new trading firm with financial news arm" [Financial Times]. "The business, founded by investor Nathaniel Brooks Horwitz and writer Sam Koppelman, would comprise two entities: a trading fund and a group of analysts and journalists producing stories based on publicly available material, according to several people familiar with the matter. The fund would place trades before articles were published, and then publish its research and trading thesis, they said, but would not trade on information that was not publicly available. The start-up, called Hunterbrook, had raised $10mn in seed funding and is targeting a $100mn launch for its fund, according to two people involved. 'Watchdog' was a name floated early on for the news arm. Matt Murray, the former editor-in-chief of The Wall Street Journal, is acting as an adviser through his role with Outside the Box Investments, one of the company's investors. Hunterbrook and Murray declined to comment. The venture capital arm of Emerson Collective, the philanthropic organisation run by Laurene Powell Jobs that is the majority owner of The Atlantic magazine, is also an investor. Representatives for Emerson did not immediately respond to a request for comment. In an early message to potential investors, seen by the Financial Times, Horwitz said the investment fund would get 'unique access' to articles before they are published. 'Rather than try to predict or react to events, we time trades on news we break ourselves,' he wrote, styling the venture as ." • Hmm.
* * *
Today's Fear & Greed Index: 33 Fear (previous close: 32 Fear) [CNN]. One week ago: 28 (Fear). (0 is Extreme Fear; 100 is Extreme Greed). Last updated Nov 2 at 1:22:25 PM ET.
Zeitgeist Watch
As long as wint is on the Twitter:
its that time of year i say "Hlaloween? Everyday is halloween, in our life. We all wear a mask" and get 300 death threats for being Truthful

— wint (@dril) October 31, 2023
Class Warfare
"An Epidemic of Unhappiness Is Consuming Young Americans. It Could Hobble the Economy" [Barron's]. "In the latest research, I asked this question: Over the past 30 days, what number of those days [were] bad mental health days? If you said "every day of my life is a bad mental health day," that's what I call distress. In 2011, about 5% of women under age 25 reported mental distress. But by 2023, more than 10% said every day of their lives was a bad mental health day. The same thing is happening with young men. It isn't just a young woman's problem. Both young women and young men have seen this uptick, although for women it is worse. So far, we have seen that levels of mental distress vary especially by education—. At first, I thought the Covid-19 pandemic could be the cause, but it isn't just Covid. It is clear in the data that the trend started prior to Covid. You can see that it started roughly in 2011. Covid just extended the trend." • 2011? After it was clear Obama had taken away "hope," perhaps. And that there would be no change. (Education is, of course, a proxy for class.)
News of the Wired
New Beatles song:
* * *
Contact information for plants: Readers, feel free to contact me at lambert [UNDERSCORE] strether [DOT] corrente [AT] yahoo [DOT] com, to (a) find out how to send me a check if you are allergic to PayPal and (b) to find out how to send me images of plants. Vegetables are fine! Fungi and coral are deemed to be honorary plants! If you want your handle to appear as a credit, please place it at the start of your mail in parentheses: (thus). Otherwise, I will anonymize by using your initials. See the previous Water Cooler (with plant) here. From TH: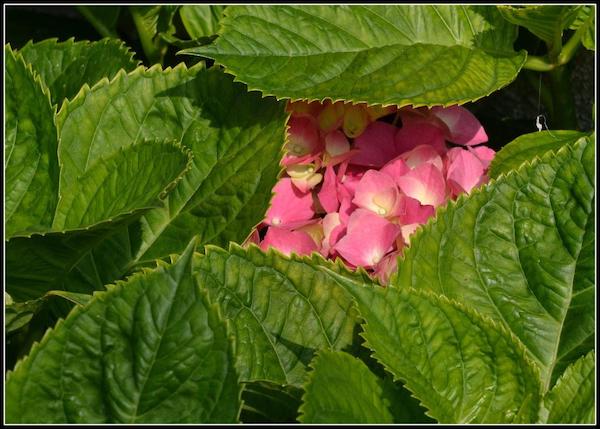 TH writes: "Nikon D3100; Hydrangea; Naples Island, Long Beach, California."
.
* * *
Readers: Water Cooler is a standalone entity not covered by the annual NC fundraiser. So if you see a link you especially like, or an item you wouldn't see anywhere else, please do not hesitate to express your appreciation in tangible form. Remember, a tip jar is for tipping! Regular positive feedback both makes me feel good and lets me know I'm on the right track with coverage. When I get no donations for five or ten days I get worried. More tangibly, a constant trickle of donations helps me with expenses, and I factor in that trickle when setting fundraising goals:
Here is the screen that will appear, which I have helpfully annotated: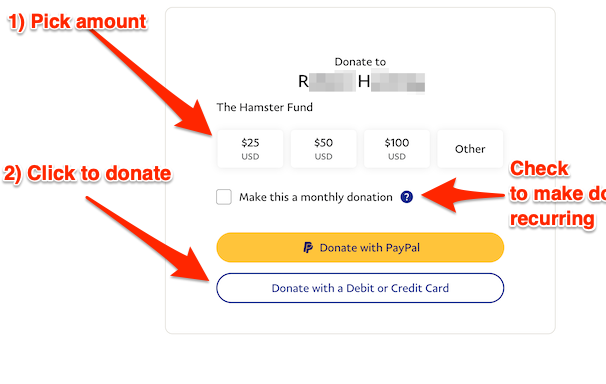 If you hate PayPal, you can email me at lambert [UNDERSCORE] strether [DOT] corrente [AT] yahoo [DOT] com, and I will give you directions on how to send a check. Thank you!