Peloton first took the main stage a few years ago, and it felt like all of the corporate girlies I knew were signing up and doing rides together. I was pretty skeptical of online workouts, and honestly, not seeing that much body diversity in those early days contributed to me steering clear.
Then a few weeks ago, I learned from a friend that there is a THRIVING and dedicated community of plus size Peloton users!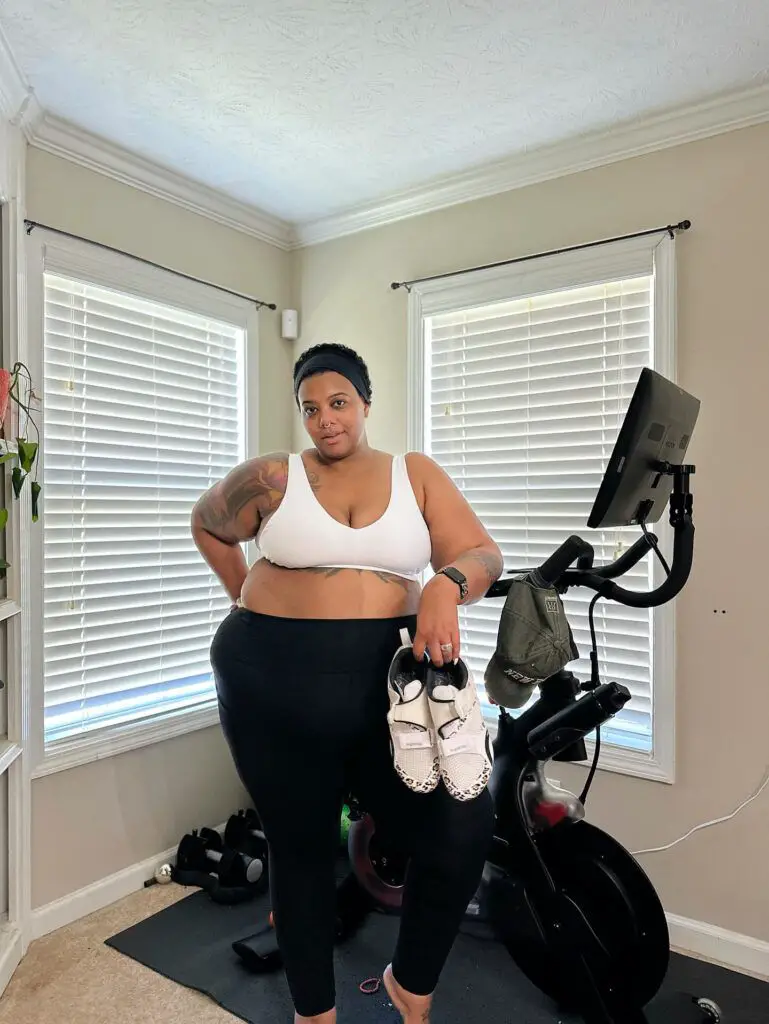 I knew that Peloton said they were doing the work to be more inclusive (like partnering with plus size influencers), but I didn't know how deep that work would be. It feels like a lot of brands are happy to show up and do a quick "fat cash grab," but within a year or so (or less!), they pull marketing and "go in a new direction." And yes, we're still giving them side-eye for having a weight limit of 297 pounds.
Anyway, that conversation with a friend led me to five plus size Peloton users— some who use equipment (the iconic Peloton bike, for example) and some who only use the app.
Below, I've shared the experiences, advice, and tips from those content creators, plus size bloggers, and regular folks who love using Peloton! I hope by sharing this information, you find new ways of moving and feeling good in your body.
Plus Size Peloton User Reviews
1. Aaronica B. Cole – Plus Size Peloton Spin Bike User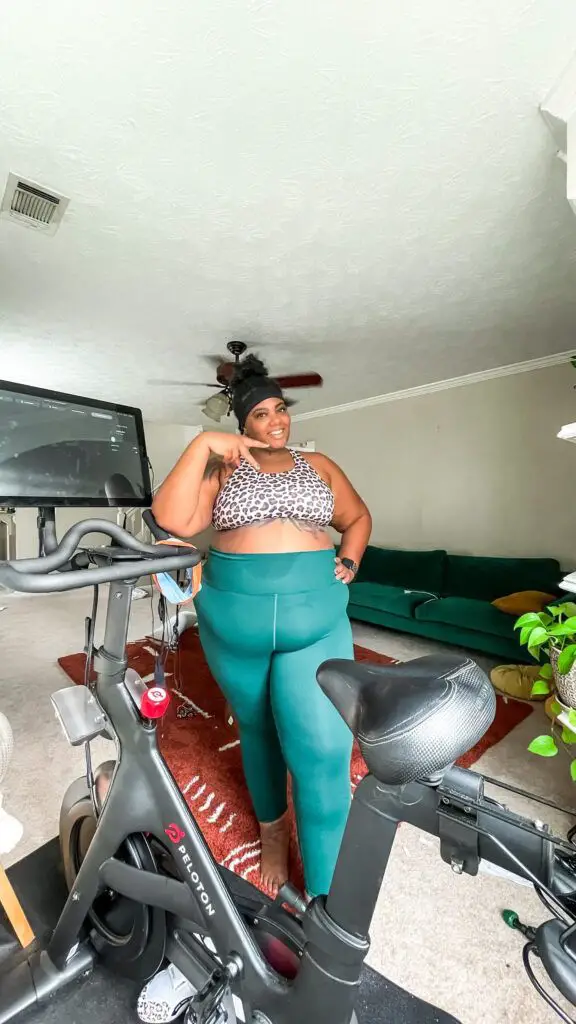 Aaronica is actually the first plus size person I saw talking about and using a Peloton on social media. She's a multi-faceted powerhouse from Atlanta, most likely to be seen at a local JoAnn's, as she sells and makes sewing patterns for plus size people.
Like a lot of folks, Aaronica got her Peloton during the pandemic. "I wanted to work out and have fun and most of my friends have one," she shares. "Peloton offers the ability to video chat with your friends during rides, and I thought that was really cool. Plus: their music library is unmatched."
As someone with besties in (mostly) different time zones, I love that video chat feature.
When asked what she would tell a friend who is interested in Peloton, Aaronica recommended "trying it for the trial period and then deciding. But during the trial period, really use it. Do the workouts. Explore the app. Try things out."
2. Vanessa Young – Plus Size Peloton Bike & Mobile App Experience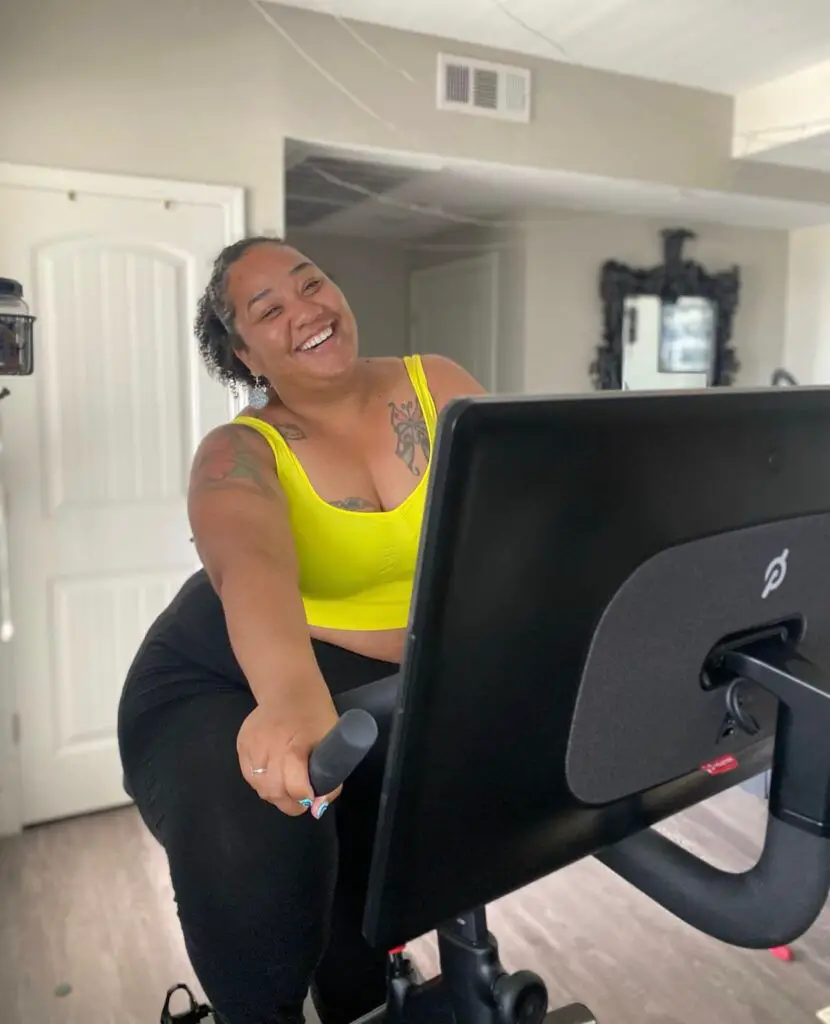 Vanessa was inspired to start trying to use Peloton, "because I had heard of all the amazing features it offered. For example, the meditations and yoga, just to name a few."
The ability to mix things up is what keeps Vanessa coming back for more like "how easy it is to get on and navigate through the library of offerings! It's so fun and keeps me interested. I also LOVE that they offer different options for the [bike] seats!"
Vanessa finished up her recommendation of Peloton, saying, "I'm learning… movement is a direct way for me to show myself… self-love and gratitude."
3. Natalie in The City: Just the Peloton App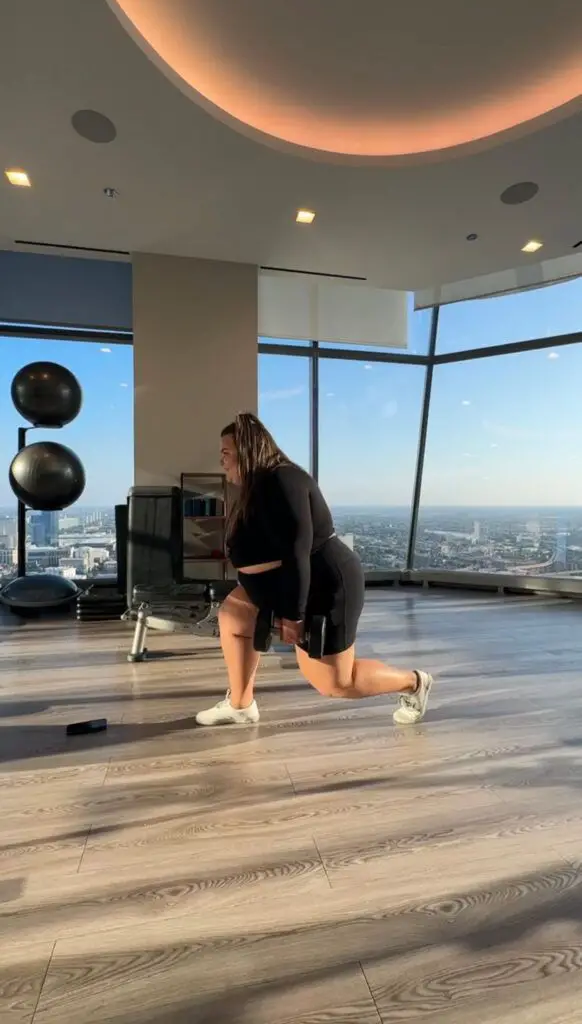 Natalie, one of my fave plus size bloggers, uses only the Peloton app. Her motivation: to learn. She explains, "I was going to the gym every day, and I was just following the exercises that my boyfriend did, which was great, but he had researched those workouts and developed that plan for his own goals. So, I wanted to see if I could expose myself to more workouts and quick classes that I could do on my busiest days."
It's empowering walking into the gym with a plan and also being able to see videos for each exercise that I unfamiliar with so that I can do them right.

Natalie in the City
In particular, Natalie loves the videos and details that the Peloton app has. "I love that whether I choose to do a gym workout plan or an instructor-led class, I get to see videos on how to do each workout. With the gym plans, it gives you the amount of sets and reps you need to do for each workout, and it makes me feel like I have structure. It's empowering walking into the gym with a plan and also being able to see videos for each exercise that I am unfamiliar with so that I can do them right."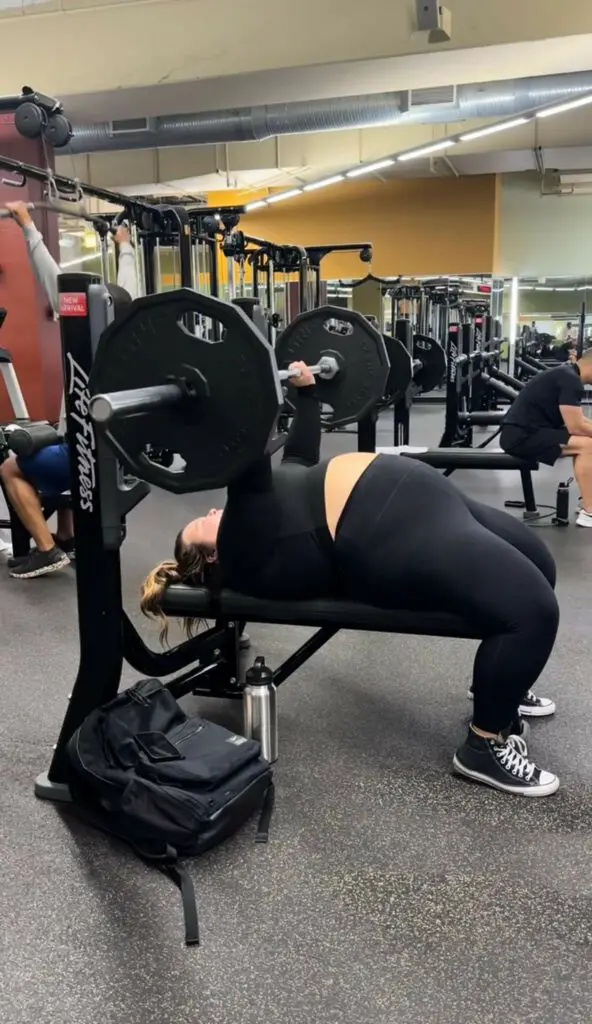 As for what Natalie would say to a plus size friend who is interested in Peloton? "I would say if you wanted to try more group classes from the comfort of your home or home gym, the app is a great tool to have… it allows you to get your body moving no matter where you are. Even if you have a workout routine, the Peloton app can introduce you to new workouts and gym plans. When I talk to people about the app, I always mention the videos that show you how to do each exercise."
4. Melody: Plus Size Peloton Stationary Bike Review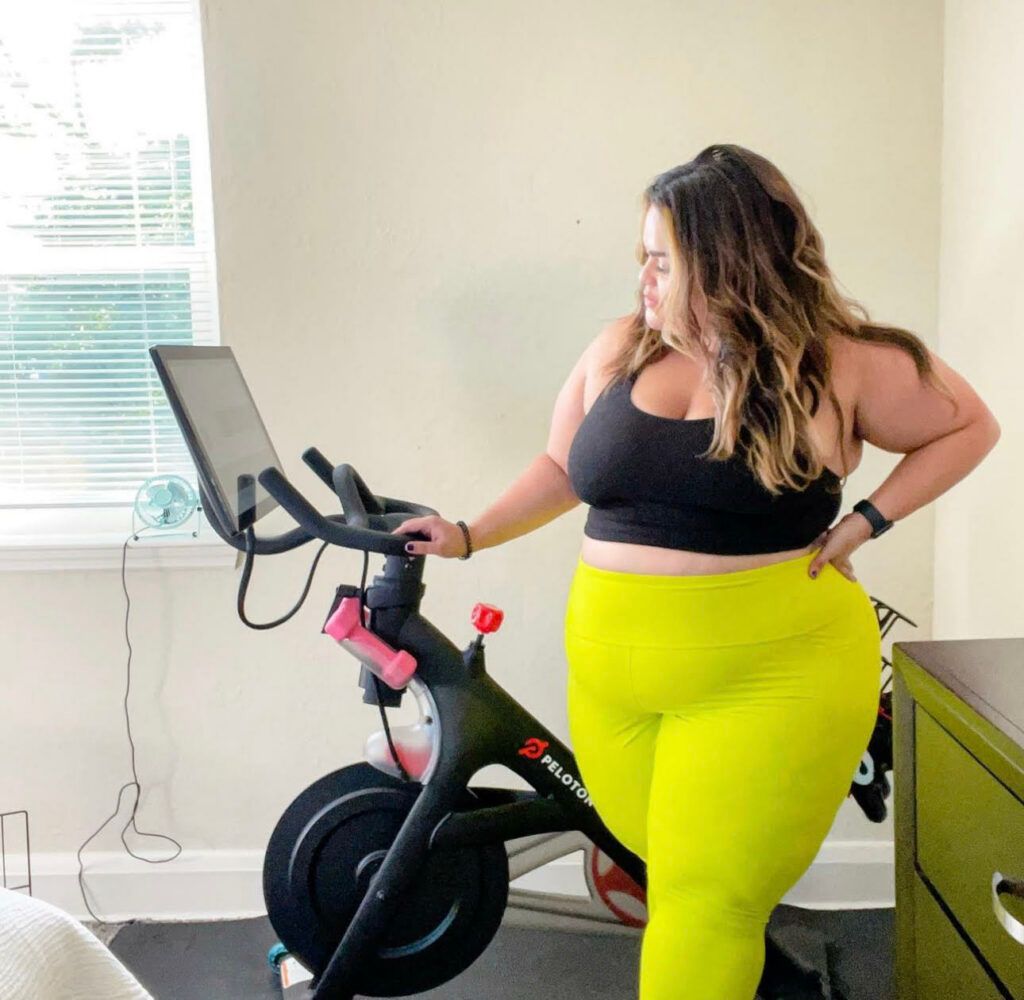 Melody, a licensed manicurist in Virginia, started using the app when she wasn't able to go to the gym in 2020. Like a lot of folks, she was apprehensive about the investment. Melody's solution: solidify the habit, then make the purchase.
She told us, "I had initially purchased a bike for $89 at Aldi and then upgraded to a spin bike, but the dream was always to own a Peloton. I set a goal of 100 rides and when I hit that, I went to a Peloton store and was SOLD!"
[Side note: The Peloton app can be used with any equipment, with some features exclusive to Peloton branded equipment.]
If you ride once a day, 100 rides is about 2-3 months. That's a solid amount of time to decide whether the investment is worth it for you or if you can save some money!
When asked what she'd tell a friend who is thinking about trying Peloton, Melody said, "I would suggest they try the app if they haven't already. But 1000% GO FOR IT. An investment in yourself is the greatest investment you can make. If having something like Peloton easily accessible to you in your space will help you get your activity and self-care time in, it'll be so worth it."
5. Torie: Plus Size Peloton Experience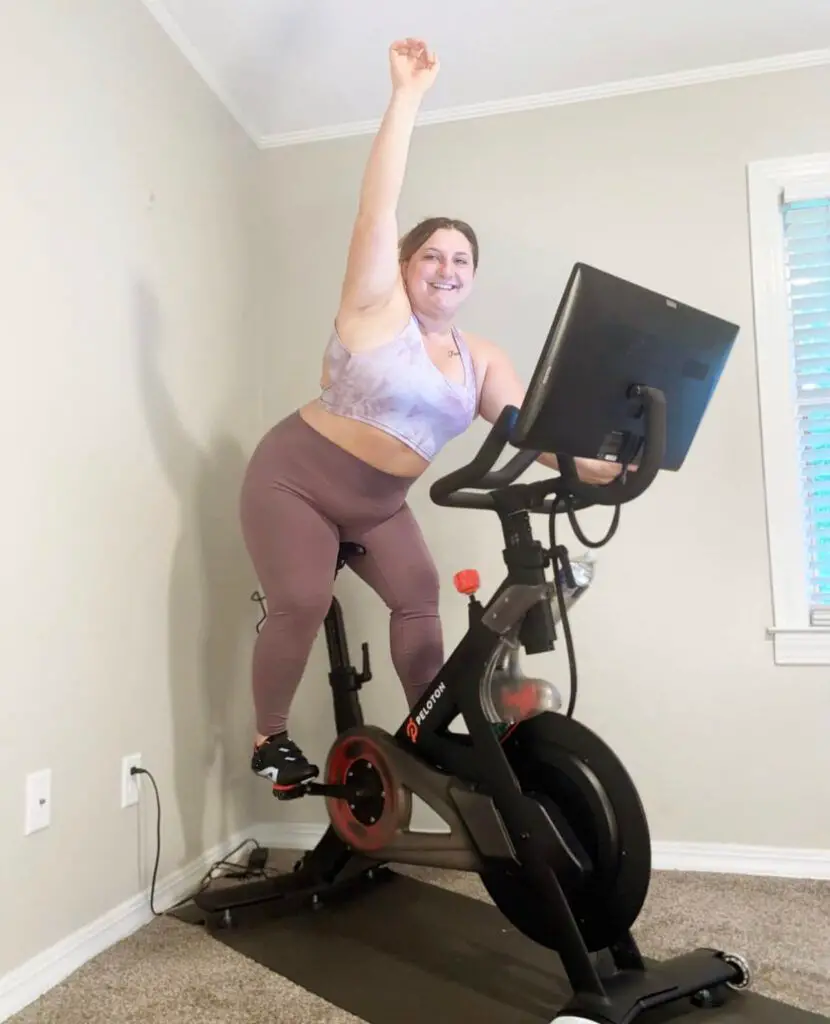 Torie, a Peloton spin bike user, loved the "welcoming atmosphere" of Peloton. "The instructors are amazing and give you some real good advice, cries, and laughter while working out!" she shared.
If you're curious about what the instructors are like, I recommend you check out the social feeds of Peloton and search "Peloton instructor" on Instagram or TikTok. You can see little snippets of the classes and get a pretty good feel for each instructor's personality.