The S&P 500 (SP500) on Friday advanced 5.85% for the week to close at 4,358.33 points, posting gains in five out of five sessions. Its accompanying SPDR S&P 500 Trust ETF (NYSEARCA:SPY) also added 5.85% for the week.
The benchmark index's rally marks a significant reversal from just last Friday, when the gauge slipped into correction territory. This week's advance was the S&P's (SP500) best of the year and its best overall since November 2022. Moreover, its fellow major averages the tech-heavy Nasdaq Composite (COMP.IND) and the blue-chip Dow (DJI) notched their best weekly performance of 2023.
Bespoke Investment Group noted that this was also the first time the S&P (SP500) posted gains on all five trading days since the first week of November 2021.
Some of the primary drivers of this week's gains were the Federal Reserve's decision to hold interest rates steady and a subsequent press conference by Jerome Powell that was perceived as dovish; a favorable U.S. Treasury quarterly refunding announcement; an extended rally in bonds; and a "Goldilocks" non-farm payrolls report.
"Several recent U.S. developments raise hopes for a soft-landing scenario. This week the FOMC remained on hold in the face of a boomy 3Q23 GDP gain and still-elevated inflation. While the recent rise in bond yields loomed large in this decision, Chair Powell also argued that there was 'pretty significant progress' in lowering inflation, which he attributed largely to better supply-side performance," JPMorgan's Bruce Kasman said.
Amid the euphoria this week, it is worth noting that the benchmark index on Halloween closed out the month of October with a 2.20% loss. It was the gauge's third straight monthly decline, its longest such slide since Q1 2020.
Friday's non-farm payrolls report in particular was met with a bullish reaction, after the data showed a much lesser-than-anticipated addition of jobs in October. The reading further bolstered the case that the Fed was done hiking rates.
"I might have liked a somewhat stronger report, but if you had asked the Fed for a dream numbers, these are them. Employment growth is moderating to sustainable levels, labor supply remains robust, and wage growth is moderating to rates consistent with its inflation target," Justin Wolfers, professor at the University of Michigan's economics department, said on X (formerly Twitter).
"If you wrote the script for what a soft landing looks like, we're following the script remarkably closely," Wolfers added.
With the Fed and economic data taking center stage this week, quarterly results took somewhat of a backseat. However, it was one of the busiest stretches of the third quarter earnings season. The most significant report came from Apple (AAPL). The world's largest publicly listed company issued guidance for the all-important holiday quarter that disappointed investors.
Other companies that announced their financial figures this week included fast food giant McDonald's (MCD), industrial bellwether Caterpillar (CAT), pharmaceutical firm Amgen (AMGN), and chip designer Advanced Micro Devices (AMD).
Turning to the weekly performance of the S&P 500 (SP500) sectors, all 11 ended in the green. Real Estate was the top gainer, with the sector ripping more than 8%. Financials and Consumer Discretionary rounded out the top three. Energy gained the least. See below a breakdown of the performance of the sectors as well as their accompanying SPDR Select Sector ETFs from October 27 close to November 3 close:
#1: Real Estate +8.43%, and the Real Estate Select Sector SPDR ETF (XLRE) +8.53%.
#2: Financials +7.35%, and the Financial Select Sector SPDR ETF (XLF) +7.41%.
#3: Consumer Discretionary +7.21%, and the Consumer Discretionary Select Sector SPDR ETF (XLY) +7.11%.
#4: Information Technology +6.84%, and the Technology Select Sector SPDR ETF (XLK) +6.60%.
#5: Communication Services +6.54%, and the Communication Services Select Sector SPDR Fund (XLC) +7.09%.
#6: Industrials +5.29%, and the Industrial Select Sector SPDR ETF (XLI) +5.35%.
#7: Utilities +5.22%, and the Utilities Select Sector SPDR ETF (XLU) +5.33%.
#8: Materials +5.10%, and the Materials Select Sector SPDR ETF (XLB) +5.12%.
#9: Health Care +3.48%, and the Health Care Select Sector SPDR ETF (XLV) +3.46%.
#10: Consumer Staples +3.25%, and the Consumer Staples Select Sector SPDR ETF (XLP) +3.26%.
#11: Energy +2.26%, and the Energy Select Sector SPDR ETF (XLE) +2.42%.
Below is a chart of the 11 sectors' YTD performance and how they fared against the S&P 500 (SP500). For investors looking into the future of what's happening, take a look at the Seeking Alpha Catalyst Watch to see next week's breakdown of actionable events that stand out.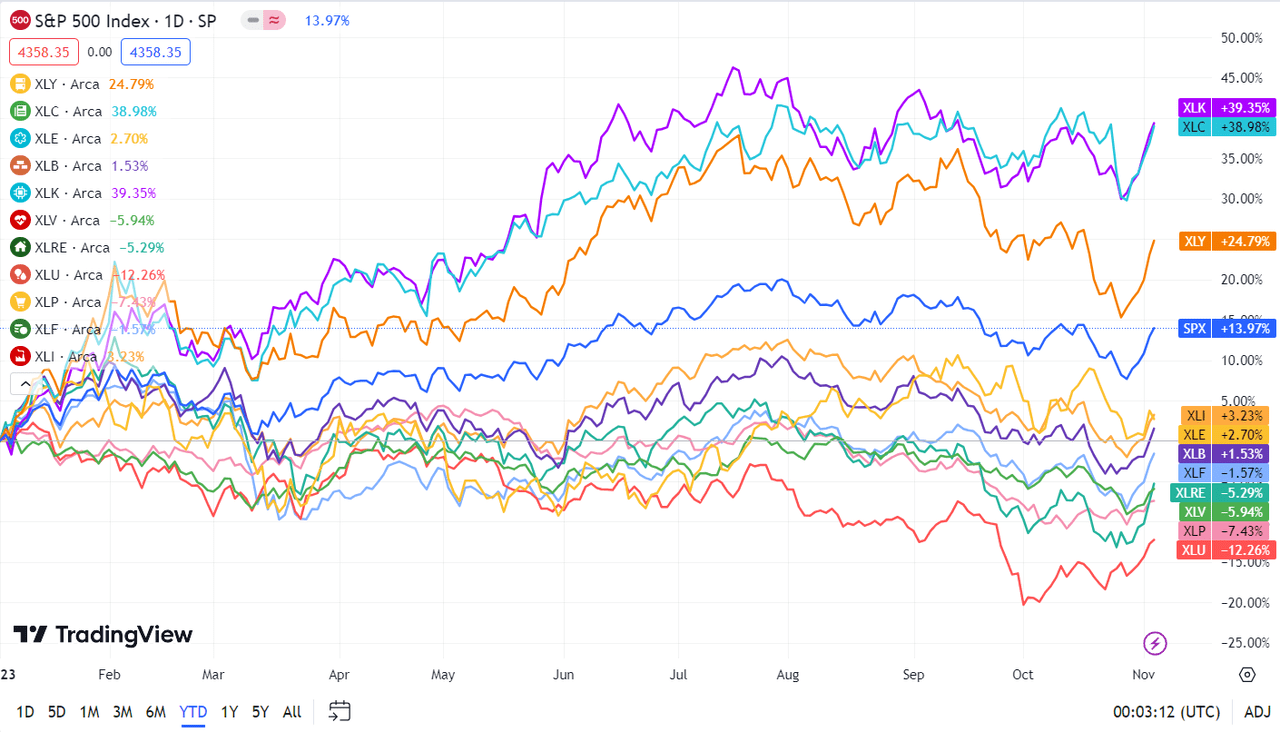 More on the markets