By Lambert Strether of Corrente.
Kind readers, thank you so much for helping me out with my temporary interruption of liquidity. All is well, now. –lambert
Bird Song of the Day
Nightingale Wren, Blancaneaux Cave Trail, Cayo, Belize. Terrific night sounds!
* * *
Politics
"So many of the social reactions that strike us as psychological are in fact a rational management of symbolic capital." –Pierre Bourdieu, Classification Struggles
2024
Time for the Countdown Clock!

* * *

I read a boatload of stories on Trump's fraud trial in New York. Here are some headlines, in no particular order, with one exception: "Former President Donald Trump spars with New York judge in civil fraud trial" [NPR], "Chatty Trump, on the witness stand, is a tangent machine: 'Control him,' judge begs his lawyers" [Business Insider India], "Trump's day in court paints a dark preview of the national ordeal ahead" [CNN], "The moments Trump lost it on the witness stand at his NYC fraud trial" [New York Daily News], "Trump fraud trial judge threatens to throw ex-president out of courtroom if he doesn't stop making 'speeches'" [New York Post], "Trump's Combative Testimony in Fraud Trial Spurs Reprimands From Judge" [Time], "Donald Trump Just Really, Really Annoyed His Judge" [Slate], "Judge Tells Donald Trump's Attorneys to 'Control Him' as Former President Lashes Out in Court" [People], and "Donald Trump delivers heated testimony in New York civil fraud trial" [Financial Times] (which is, of course, the exception).

• Lambert here: I have trouble with the whole trial, beginning with the idea that real estate valuation isn't, well, a complete contradiction in terms. And this is New York real estate, the home, as Yves says, of the "eleven-inch foot." What kind of sense do fraud charges make in an environment riddled with fraud? Further, Judge Arthur Engoron is an elected Democrat, part of the same political machine that's doing the prosecution. (Yeah, yeah, impartiality, no doubt true in many cases, and isn't it pretty to think so. But not when "our democracy" is at stake, of course.)

• Further, readers will recall that when I started coverting Trump back in 2015, the first thing I discovered was that the press never quoted Trump accurately. Never. I always had to go back and check a transcript. In all these stories, the following (an apparent reference to 1 Corinthians 10) appears in the lead, or in the first few paragraphs:

"I beseech you to control him, if you can." —Judge Arthur Engoron on Monday, speaking to attorney Chris Kise as Donald Trump testified in his New York civil fraud trial.

Engoron seems to be a bit of a drama queen himself, eh? And of course "controlling" Trump appeals deeply to liberal Democrats — that is the goal of their lawfare campaign, after all — so Engoron little (scripted?) "beseech" rebuke generated an enormous jouissance of aghastitude, as listed above. However, I haven't seen the transcript, and there's no reason for me to take any of the reporting on trust; in fact, every reason not to. If any readers encounter the trial transcript, will they be good enough to leave a link in comments, or mail me? In any case, I imagine all parties are setting themselves up for appeal (especially given that the real estate business in New York must surely feel its prerogatives threatened).

* * *

"The incredibly shrinking GOP presidential contest" [Stuart Rothenberg, Roll Call]. " [There are] just four interesting candidates, other than frontrunner Donald Trump, worthy of your attention: South Carolina Sen. Tim Scott, former South Carolina Gov. Nikki Haley, Florida Gov. Ron DeSantis, and entrepreneur Vivek Ramaswamy…. Scott has raised enough money to appear in Wednesday's debate, and reporters like his "happy conservative" style and messaging. They keep putting him on TV, but that hasn't boosted his standing in polls dramatically…. Scott's biggest problem isn't Trump. It's Haley, who in addition to serving as chief executive of the Palmetto State governor was also Trump's United Nations ambassador…. DeSantis comes across as too stiff, and he doesn't seem genuine. Of course, he can raise money, and he comes from a state with a lot of delegates at stake. He also echoes Trump's confrontational style and populist views, giving him an opportunity to step into Trump's position should the former president leave the race for any reason. But that is not the same thing as saying that DeSantis can overtake Trump. He can't…. Ramaswamy did have a bit of a boomlet in August. …. The first-time candidate comes off as brash and smug, and while those traits probably are no longer disqualifying, they make him little more than a Trump Mini-Me…. Haley has run an interesting campaign, and her combination of foreign policy experience (as U.N. ambassador) and executive experience (as governor) combine to give her a breadth of experience that few other hopefuls in the race have. Haley and DeSantis could well fight it out for second place in the GOP contest. That might not mean much, but it would be a significant outcome for Haley, who started her presidential bid as a huge question mark. It would also be a disappointing outcome for DeSantis, who hoped to challenge Trump seriously."

"If Trump wins, more voters foresee better finances, staying out of war — CBS News poll" [CBS]. • And why wouldn't they?

* * *

"Biden's stumbles spark concerns about ad strategy and surrogate operation" [Politico]. "In late August, Joe Biden's reelection campaign announced a massive ad buy to run on television and online in key battleground states….. That bet has so far not paid off. Trump has largely skated through the primary without being attacked by his opponents. And Biden's numbers have not budged….. Concerns about the Biden campaign's approach escalated this week among Democrats after a series of polls showed Biden trailing Trump in critical battleground states. Former Barack Obama adviser David Axelrod questioned whether the president is the right person to head the ticket at all. Others said the campaign needs to focus on contrasting Biden with Trump…. 'Well, we spent all this time trying to explain all the good things he did, the bipartisan stuff he did, and it hasn't boosted his numbers. So maybe we ought to go to plan B at this point,' the [major donors or Democrats close to the White House] said, adding, 'I know a lot of people are pissed' because the campaign hasn't hit Trump harder." • You really don't want the donors driving the campaign. They don't know what they're doing, and think they do. For example, why on earth would "good" and "bipartisan" be in the same bucket?

* * *

An Democrat alternative to Oprah:

"Scoop: Newsom, Pritzker signal White House ambitions in donations to S. Carolina candidate" [Axios]. "California Gov. Gavin Newsom and Illinois Gov. J.B. Pritzker both recently cut checks for a candidate in this month's mayoral election in Charleston, S.C., Axios has learned…. The donations to Charleston candidate Clay Middleton signal White House ambitions for both governors, as South Carolina recently moved to the front of the Democratic presidential primary calendar." Newsom is well-known, but readers will recall I've been muttering about Pritzker for some time. More: "The moves by Newsom and Pritzker are part of a larger pattern of ambitious Democrats upping their national profiles ahead of 2028 or even 2024 in the unlikely case President Biden decides not to run for re-election in the face of poor poll numbers. It's also a boon for Middleton — a longtime former aide to South Carolina Rep. James Clyburn and Democratic presidential candidates — as he tries to defeat the incumbent Democratic mayor, John Tecklenburg, in the Nov. 7 election." • Ugh. Gestures of fealty toward Clyburn [my gorge riseth].

* * *

IL: "Questions surround millions meant for Joliet non-citizen care" [The Center Square]. "After the city of Joliet rejected $8.6 million in taxpayer funds to help city officials house and provide food to nearly 1,900 non-citizens, there are questions surrounding what the state should do with the money…. 'I don't believe anyone ever expected that their tax money would ever be spent on non-citizen needs in the state of Illinois,' [State Rep. Martin McLaughlin, R-Barrington Hills] said. 'As a former mayor, if the state of Illinois would have provided me money for services that were never called for in my charter for non-citizens, I would have rejected it as well.' … Last week, Gov. J.B. Pritzker was asked about the amount of taxpayer funds the state is using to provide care and said it is the state's duty to help these arrivals. 'It is an obligation, I think, in a humanitarian crisis for us to step up and make sure that people are not starving and that they have a place to stay and that they get the basic health care that they need,' Pritzker said. In August, Chicago Mayor Brandon Johnson also reaffirmed his support for using taxpayer funds for non-citizen services. 'Here's what I am committed to doing, honoring the law of being a sanctuary city and building systems of care that provide a pathway with dignity for individuals who are seeking refuge here in the city of Chicago,' Johnson said." • I have a bridge to sell you if you think humanitarianism of sanctuary is the driver here. Cheap labor is.

ME: "Maine 2023 Election Ballot Question #6 Fact Sheet" [Maine Indian Tribal-State Commission]. "Do you favor amending the Constitution of Maine to require that all of the provisions of the Constitution be included in the official printed copies of the Constitution prepared by the Secretary of State? A 'yes' vote on Question 6 would restore certain original sections of the Maine Constitution to printed copies. Although these sections have always been part of the Maine Constitution as originally adopted in 1820, an amendment in 1876 prevented those sections from being printed in copies of the Constitution. Part of the redacted material pertained to Maine's treaty obligations to Wabanaki people…. The only legal effect would be that printed copies of the Maine Constitution would henceforth contain the language redacted in 1876, including the full Articles of Separation. Passage of Question 6 would not change the 'duties and obligations' Maine has always had as regards the Wabanaki Nations. Those 'duties and obligations', despite the redaction, remained 'in full force, as part of the Constitution . . . as if contained in said printed copies.' Although there would be no substantive legal changes, passage of Question 6 would give citizens of Maine easy access to the original language in our Constitution." • Talk about erasure! NOTE: I take this opportunity to advocate that if you are involved in fighting pipelines, or landfills, or mountaintop removal, involve your local tribes if you can.

VA: "Youngkin has done everything right in Virginia" [Washington Examiner]. "For Democrats, everything is about abortion. Everything. Spend any time here, and it seems as though every ad supporting Democrats claims Republicans will ban abortions if they gain the majority in the state Senate. Outside liberal groups are dumping millions of dollars of ads making that claim…. For Republicans, the race is about layers of bread-and-butter issues that are less cultural and more focused on concerns that affect Virginian's daily lives. However, through Gov. Glenn Youngkin (R-VA), who has been exhaustively stumping for Republican candidates, they haven't had to play defense on abortion in the way other Republican candidates have found themselves doing in races across the country. Youngkin has been consistent in his stump speeches and in the ad his PAC put out at the onset of the cycle in saying unequivocally, 'Here is the truth, there is no ban. Virginia Republicans support a reasonable 15-week limit.'" • Repeating the word "reasonable" doesn't make it so; many women don't get news about major problems with their pregnancies until 20 weeks (although of course medical science could push that back, at which point I suppose 10 weeks would be the new "reasonable"). Delays also impact the working class disprortionately; money must be raised, time off arranged, etc.
Democrats en Déshabillé
Patient readers, it seems that people are actually reading the back-dated post! But I have not updated it, and there are many updates. So I will have to do that. –lambert

I have moved my standing remarks on the Democrat Party ("the Democrat Party is a rotting corpse that can't bury itself") to a separate, back-dated post, to which I will periodically add material, summarizing the addition here in a "live" Water Cooler. (Hopefully, some Bourdieu.) It turns out that defining the Democrat Party is, in fact, a hard problem. I do think the paragraph that follows is on point all the way back to 2016, if not before:

The Democrat Party is the political expression of the class power of PMC, their base (lucidly explained by Thomas Frank in Listen, Liberal!). ; if the Democrat Party did not exist, the PMC would have to invent it. . ("PMC" modulo "class expatriates," of course.) Second, all the working parts of the Party reinforce each other. Leave aside characterizing the relationships between elements of the Party (ka-ching, but not entirely) those elements comprise a network — a Flex Net? An iron octagon? — of funders, vendors, apparatchiks, electeds, NGOs, and miscellaneous mercenaries, with assets in the press and the intelligence community.

Note, of course, that the class power of the PMC both expresses and is limited by other classes; oligarchs and American gentry (see 'industrial model' of Ferguson, Jorgensen, and Jie) and the working class spring to mind. Suck up, kick down.

* * *
Realignment and Legitimacy
"The Weaponization of 'Disinformation' Pseudo-Experts and Bureaucrats: How the Federal Government Partnered with Universities to Censor Americans' Political Speech" (PDF) [Interim Staff Report of the Committee on the Judiciary and the Select Subcommittee on the Weaponization of the Federal Government U.S. House of Representatives]. The First Amendment to the Constitution rightly limits the government's role in monitoring and censoring Americans' speech, but these disinformation researchers (often funded, at least in part, by taxpayer dollars) were not strictly bound by these constitutional guardrails. What the federal government could not do directly, it effectively outsourced to the newly emerging censorship-industrial complex. Enter the Election Integrity Partnership (EIP), a consortium of "disinformation" academics led by Stanford University's Stanford Internet Observatory (SIO) that worked directly with the Department of Homeland Security and the Global Engagement Center, a multi-agency entity housed within the State Department, to monitor and censor Americans' online speech in advance of the 2020 presidential election. Created in the summer of 2020 "at the request" of the Cybersecurity and Infrastructure Security Agency (CISA),3 the EIP provided a way for the federal government to launder its censorship activities in hopes of bypassing both the First Amendment and public scrutiny… This interim staff report details the federal government's heavy-handed involvement in the creation and operation of the EIP, which facilitated the censorship of Americans' political speech in the weeks and months leading up to the 2020 election. This report also publicly reveals for the first time secret "misinformation" reports from the EIP's centralized reporting system, previously accessible only to select parties, including federal agencies, universities, and Big Tech." • The Committee also published all their data. Good. However:

Dude, the front cover? This is "Gym" Jordan's Committee, so now we see another reason he's not Speaker….

"Where We Lost The Thread On Cancel Culture" [HuffPo]. "No one can offer an opinion or ask a question ― however valid ― about cancel culture without risking being just as quickly canceled…. The calls to boot non-criminal offenders off the island, or maybe to just excommunicate them somehow, are just as loud if not louder than the often appropriate calls for criminal justice. But these cases are not the same. This is when a set of procedures on cancel culture would come in handy. Without it, this all just sounds like noise…. But who gets to decide what is the prominent (or correct) perspective is unclear, which makes cancel culture sound more like fanaticism than anything else. Or, as historian E.P. Thompson once described similar behavior in the 18th century, 'a kind of ritualized hooting or groaning.' And that's a shame." • I've gotta say, E.P. Thompson on cancel culture in HuffPo wasn't on my Bingo card for 2023. I find this very hopeful! (For those who came in late, E.P. Thompson's The Making of the English Working Class is wonderful, and Whigs and Hunters, about the enclosure movement, is also very, very good.)
#COVID19
"I am in earnest — I will not equivocate — I will not excuse — I will not retreat a single inch — AND I WILL BE HEARD." –William Lloyd Garrison
Resources, United States (National): Transmission (CDC); Wastewater (CDC, Biobot; includes many counties; Wastewater Scan, includes drilldown by zip); Variants (CDC; Walgreens); "Iowa COVID-19 Tracker" (in IA, but national data). "Infection Control, Emergency Management, Safety, and General Thoughts" (especially on hospitalization by city).
Lambert here: Readers, thanks for the collective effort. To update any entry, do feel free to contact me at the address given with the plants. Please put "COVID" in the subject line. Thank you!
Resources, United States (Local): AK (dashboard); AL (dashboard); AR (dashboard); AZ (dashboard); CA (dashboard; Marin, dashboard; Stanford, wastewater; Oakland, wastewater); CO (dashboard; wastewater); CT (dashboard); DE (dashboard); FL (wastewater); GA (wastewater); HI (dashboard); IA (wastewater reports); ID (dashboard, Boise; dashboard, wastewater, Central Idaho; wastewater, Coeur d'Alene; dashboard, Spokane County); IL (wastewater); IN (dashboard); KS (dashboard; wastewater, Lawrence); KY (dashboard, Louisville); LA (dashboard); MA (wastewater); MD (dashboard); ME (dashboard); MI (wastewater; wastewater); MN (dashboard); MO (wastewater); MS (dashboard); MT (dashboard); NC (dashboard); ND (dashboard; wastewater); NE (dashboard); NH (wastewater); NJ (dashboard); NM (dashboard); NV (dashboard; wastewater, Southern NV); NY (dashboard); OH (dashboard); OK (dashboard); OR (dashboard); PA (dashboard); RI (dashboard); SC (dashboard); SD (dashboard); TN (dashboard); TX (dashboard); UT (wastewater); VA (dashboard); VT (dashboard); WA (dashboard; dashboard); WI (wastewater); WV (wastewater); WY (wastewater).
Resources, Canada (National): Wastewater (Government of Canada).
Resources, Canada (Provincial): ON (wastewater); QC (les eaux usées); BC, Vancouver (wastewater).
Hat tips to helpful readers: anon (2), Art_DogCT, B24S, CanCyn, ChiGal, Chuck L, Festoonic, FM, FreeMarketApologist (4), Gumbo, hop2it, JB, JEHR, JF, JL Joe, John, JM (10), JustAnotherVolunteer, JW, KatieBird, LL, Michael King, KF, LaRuse, mrsyk, MT, MT_Wild, otisyves, Petal (6), RK (2), RL, RM, Rod, square coats (11), tennesseewaltzer, Utah, Bob White (3).
Stay safe out there!
* * *
"Something Awful"
Lambert here: I'm getting the feeling that the "Something Awful" might be a sawtooth pattern — variant after variant — that averages out to a permanently high plateau. Lots of exceptionally nasty sequelae, most likely deriving from immune dysregulation (says this layperson). To which we might add brain damage, including personality changes therefrom.

* * *
Policy
This is Canada, but homeowners everywhere may want to check for this:

The important question is: has this exclusion made it into the professional liability policies for HOSPITALS and DOCTOR'S OFFICES? Someone needs to take a look.

— Nathanael Nerode ( @neroden@zeroes.ca on Mastodon) (@nerodenc) November 6, 2023

And the follow-up question is very good, too. Do any readers know the answer?
* * *
Case Data
NOT UPDATED From BioBot wastewater data, November 6: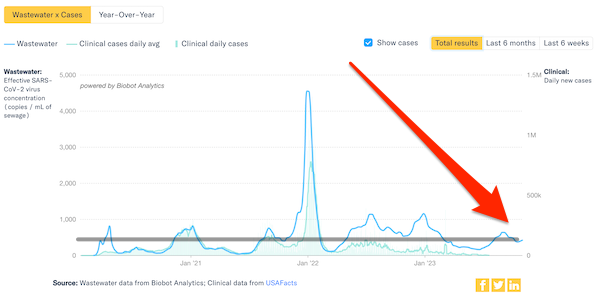 Lambert here: Cases up, just in time for Thanksgiving (and tinfoil hat time: This is the, er, inflection point CDC was trying to conceal when they gave the contract to Verily and didn't ensure a seamless transition).
Regional data: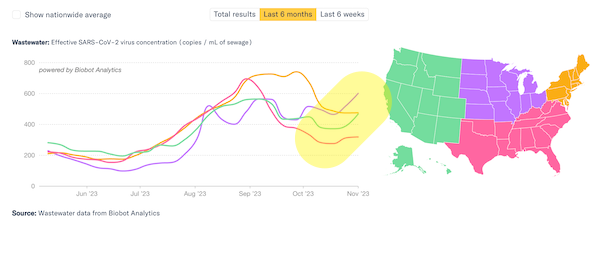 Everywhere!
NOTE I'm so happy to see that Biobot is back. I confess that I have not made a serious comparison of Biobot's sample sets pre- and post-Verily. Nor to my knowledge has anyone. Readers?
Variants
NOT UPDATED From CDC, October 28: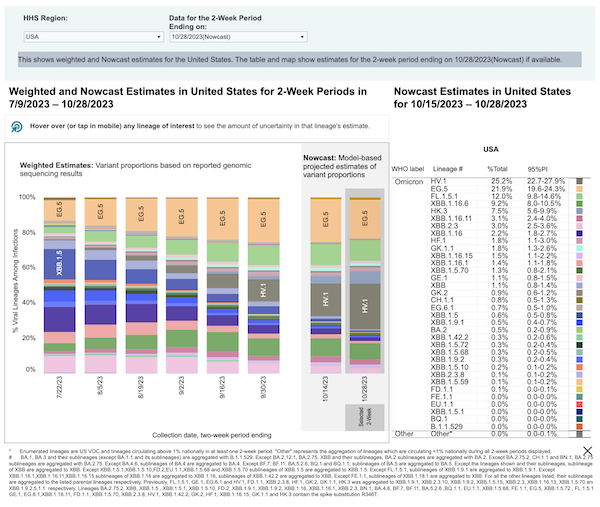 Lambert here: Top of the leaderboard: HV.1, EG.5 a strong second, with FL.1.15.1 and XBB.1.1.16.6 trailing. No BA.2.86 (although that has showed up in CDC's airport testing). Still a Bouillabaisse…
From CDC, October 14: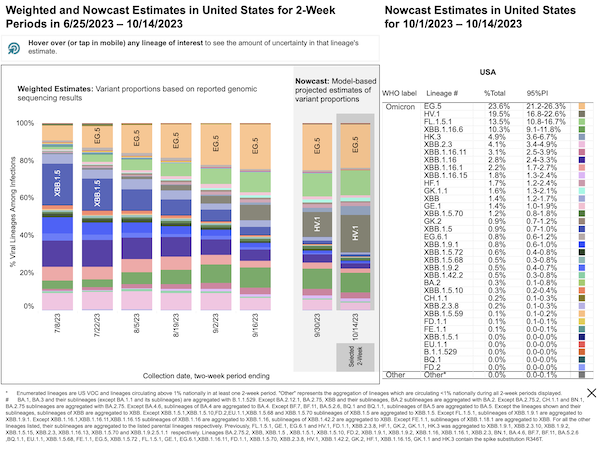 Lambert here: I sure hope the volunteers doing Pangolin, on which this chart depends, don't all move on the green fields and pastures new (or have their access to facilities cut by administrators of ill intent).
CDC: "As of May 11, genomic surveillance data will be reported biweekly, based on the availability of positive test specimens." "Biweeekly: 1. occurring every two weeks. 2. occurring twice a week; semiweekly." Looks like CDC has chosen sense #1. In essence, they're telling us variants are nothing to worry about. Time will tell.
Covid Emergency Room Visits
NOT UPDATED From CDC NCIRD Surveillance, October 28: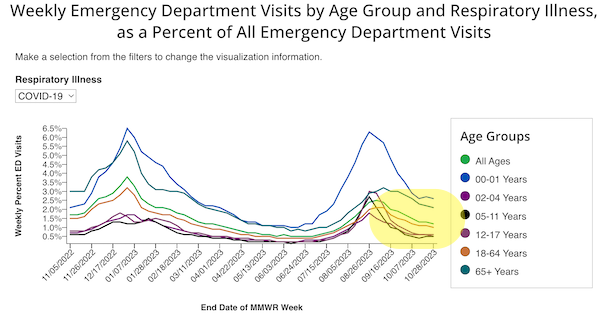 Lambert here: Flattening. Only a week's lag, so this may be our best current nationwide, current indicator until Verily gets its house in order (and working class-centric, since I would doubt the upper crust goes to the ER).
NOTE "Charts and data provided by CDC, updates Wednesday by 8am. For the past year, using a rolling 52-week period." So not the entire pandemic, FFS (the implicit message here being that Covid is "just like the flu," which is why the seasonal "rolling 52-week period" is appropriate for bothMR SUBLIMINAL I hate these people so much. Notice also that this chart shows, at least for its time period, that Covid is not seasonal, even though CDC is trying to get us to believe that it is, presumably so they can piggyback on the existing institutional apparatus for injections.
Hospitalization
Bellwether New York City, data as of November 7: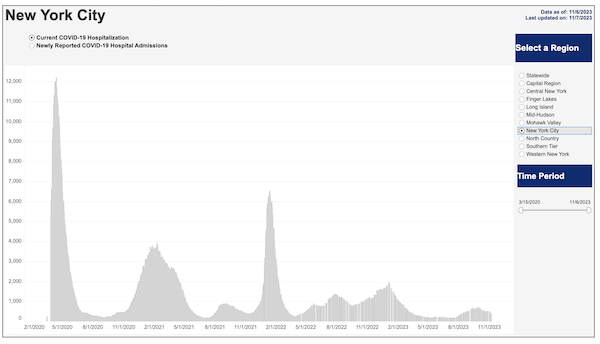 A definite decrease. Should be up in two weeks, though! (I hate this metric because the lag makes it deceptive, although the hospital-centric public health establishment loves it, hospitalization and deaths being the only metrics that matter [snort]).
NOT UPDATED Here's a different CDC visualization on hospitalization, nationwide, not by state, but with a date, at least. October 28: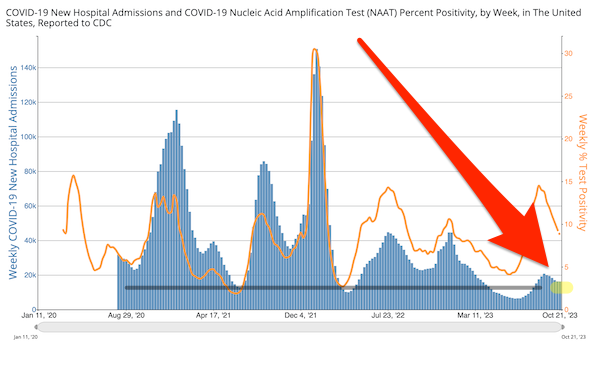 Lambert here: "Maps, charts, and data provided by CDC, updates weekly for the previous MMWR week (Sunday-Saturday) on Thursdays (Deaths, Emergency Department Visits, Test Positivity) and weekly the following Mondays (Hospitalizations) by 8 pm ET†". So where the heck is the update, CDC?
Positivity
NOT UPDATED From Walgreens, November 6: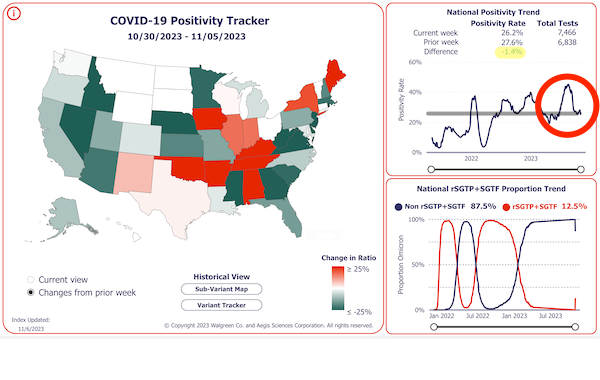 -1.4%. But bouncing around. (It would be interesting to survey this population generally; these are people who, despite a tsunami of official propaganda and enormous peer pressure, went and got tested anyhow.)
NOT UPDATED From Cleveland Clinic, October 28: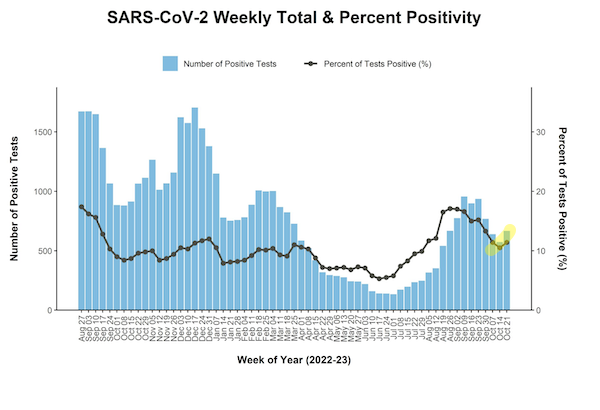 Lambert here: Slight increase. I know this is just Ohio, but the Cleveland Clinic is good*, and we're starved for data, so…. NOTE * Even if hospital infection control is trying to kill patients by eliminating universal masking with N95s.
NOT UPDATED From CDC, traveler's data, October 16: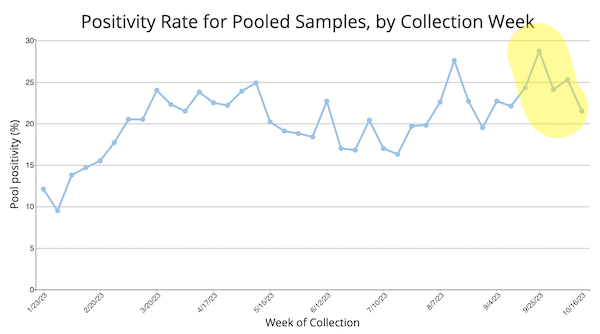 Down, albeit in the rear view mirror. And here are the variants for travelers: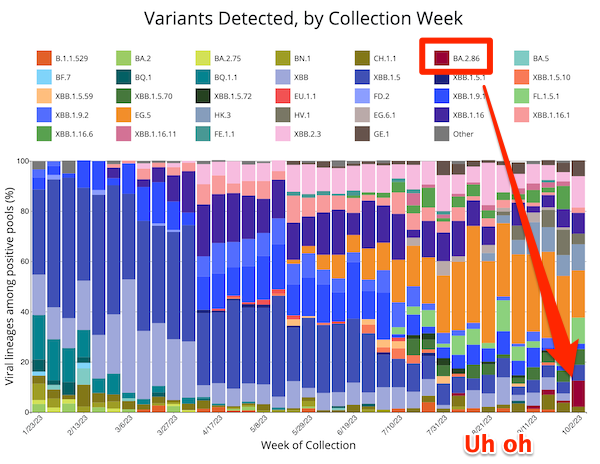 Sudden big BA.2.86 appearance. This variant chart has not been updated, which makes me wonder if CDC is gaming the data, and BA.2.86 is worse than we think.
Stats Watch
Supply Chain: "United States LMI Logistics Managers Index Current" [Trading Economics]. "The Logistics Manager's Index in the United States increased to 56.5 in October 2023 from 52.4 in September, pointing to the third consecutive month of growth in the logistics sector and the strongest performance since January."
* * *
Tech: "Overheating datacenter stopped 2.5 million bank transactions" [The Register]. "Outages at two banks that stopped 2.5 million payment transactions were sparked by a technical issue with the datacenter's cooling system, according to the Monetary Authority of Singapore (MAS) on Monday. DBS and Citibank, the banks involved, experienced outages in the mid-afternoon of October 14, 2023 that resulted in full or partial unavailability of online banking apps for around two days – leaving customers and vendors without a way to make payments in a city-state that is increasingly reliant on digital financial systems. In fact, according to minister Alvin Tan in a parliamentary reply, the outages led to 810,000 failed attempts to access the two platforms while 2.5 million payment and ATM transactions could not be completed. The root cause of the outages was issues in the cooling system that caused the temperature to rise above optimal operating range at the Equinix datacenter used by both institutions." • Not any kind of foreshadowing, I am sure.
* * *
Today's Fear & Greed Index: 41 Fear (previous close: 41 Fear) [CNN]. One week ago: 30 (Fear). (0 is Extreme Fear; 100 is Extreme Greed). Last updated Nov 7 at 12:48:41 PM ET.
Rapture Index: Closes up two: Anti-Semitism up one, Persia (Iran) up one, and Date Settings down one [Rapture Ready]. Record High, October 10, 2016: 189. Current: 187. (Remember that bringing on the Rapture is good.) NOTE on #42 Plagues: "The coronavirus pandemic has maxed out this category." More honest than most! • The goat sacrificers are going to defile the Al Aqsa mosque, and the Rapture Index is down? I hardly had them in the contrarian box! UPDATE I guess the indexing lags. I can't recall a jump of two, and if Date Settings hadn't been down one, it would have been three!
Zeitgeist Watch
I apologize, but….
"It's true: People do poop, a lot, in ride lines at Disneyland and Disney World" [SFGate]. "Two former Disneyland custodial team workers have also written about this unsavory topic in their book 'Cleaning the Kingdom: Insider Tales of Keeping Walt's Dream Spotless.' In the chapter titled 'Disgusting Things,' former 'cast members' (as employees are referred to in company parlance) Ken Pellman and Lynn Barron reveal there's even a name for such happenings: 'Human Code H.' A Code H, according to the authors, originally referred to 'horsecrap.' A Code H meant a custodial worker needed to clean up after one of the horses pulling a Main Street vehicle did its business. The term was later modified to reflect a bowel movement of the human variety (and in case you're thinking this is a pandemic-induced phenomenon, Pellman and Barron worked in the park primarily in the 1990s and early 2000s)." • Tell me this isn't a great country!
"4 Men Finally Charged With Stealing Famous Golden Toilet Worth Nearly $6 Million Once Offered To President Trump" [Forbes]. "The golden toilet was stolen from Blenheim Palace on September 14, 2019, shortly after 5 a.m. local time, according to the BBC. British police arrested seven people in the four years since the toilet was stolen, though only four were identified and charged. The toilet, titled 'America,' was created by Italian conceptual artist Maurizio Cattelan in 2016, according to the Guggenheim Museum. Cattelan said the artwork was a commentary on the 'ever-increasing divide between the wealthy and the poor' in the U.S., according to the museum. The toilet was moved to Blenheim Palace in September 2019 just days before it was stolen. British officials have been unable to locate the toilet ever since." • I don't think a gold toilet makes any sense. How do the rich tell their toilet from their sh*t? Which doesn't stink, either…
The Conservatory
For Beatles stans:
Whaddaya know, Ringo and Paul are really good!
News of the Wired
"Why We Thought Marriage Made Us Healthier, and Why We Were Wrong" [NBC]. "We believe married people 'have someone' and single people do not. But research has shown that it is single people who more often maintain their ties with friends, neighbors, siblings and parents. In contrast, couples tend to turn inward after they marry, paying less attention to their friends and parents. Married people have 'the one,' but single people have 'the ones.'" • And introverts chug along exactly as before? Readers?
* * *
Contact information for plants: Readers, feel free to contact me at lambert [UNDERSCORE] strether [DOT] corrente [AT] yahoo [DOT] com, to (a) find out how to send me a check if you are allergic to PayPal and (b) to find out how to send me images of plants. Vegetables are fine! Fungi and coral are deemed to be honorary plants! If you want your handle to appear as a credit, please place it at the start of your mail in parentheses: (thus). Otherwise, I will anonymize by using your initials. See the previous Water Cooler (with plant) here. From Oguk: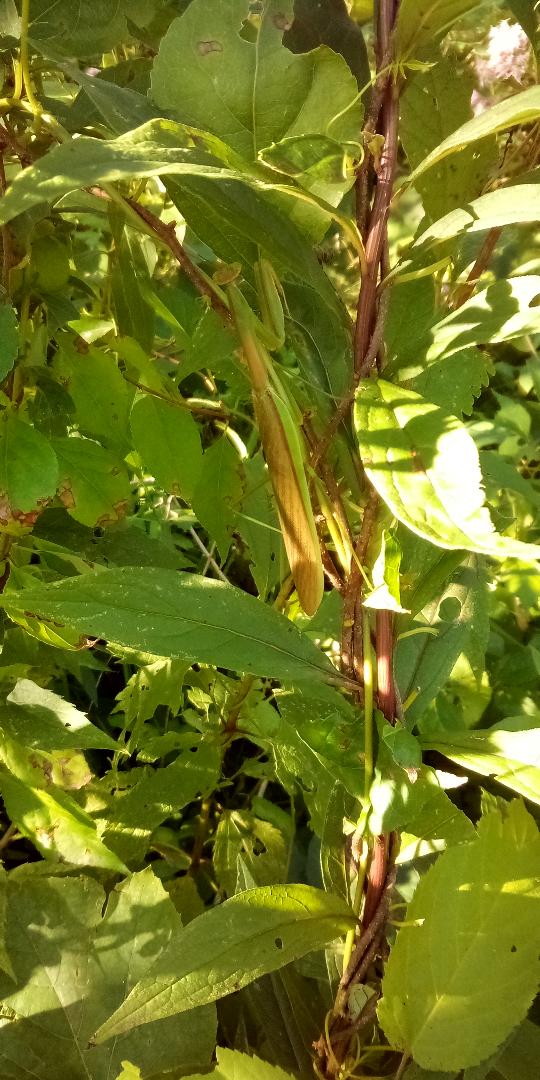 I don't know what kind of plants these are, but the photo captures the feeling of sun breaking through leaves very well. Oh, and there's a surprise.
* * *
Readers: Water Cooler is a standalone entity not covered by the annual NC fundraiser. So if you see a link you especially like, or an item you wouldn't see anywhere else, please do not hesitate to express your appreciation in tangible form. Remember, a tip jar is for tipping! Regular positive feedback both makes me feel good and lets me know I'm on the right track with coverage. When I get no donations for five or ten days I get worried. More tangibly, a constant trickle of donations helps me with expenses, and I factor in that trickle when setting fundraising goals:
Here is the screen that will appear, which I have helpfully annotated: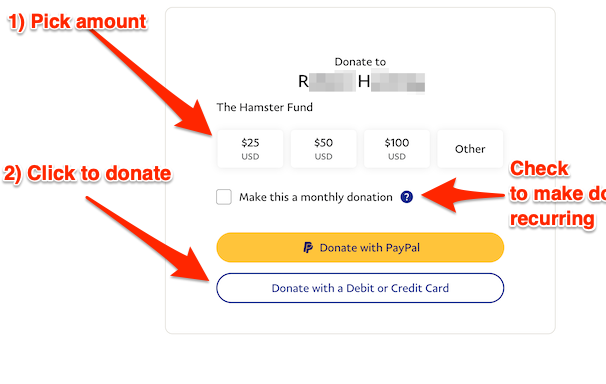 If you hate PayPal, you can email me at lambert [UNDERSCORE] strether [DOT] corrente [AT] yahoo [DOT] com, and I will give you directions on how to send a check. Thank you!