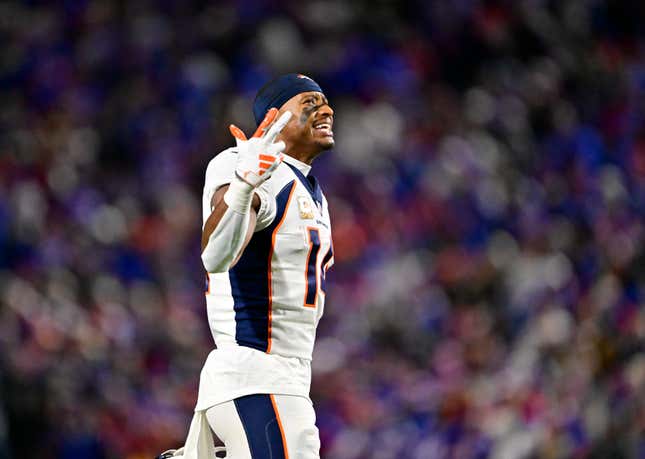 Denver Broncos wide receiver Courtland Sutton has seen enough and is convinced that Russell Wilson is owed an apology nine games into the season. He's so committed to this notion that he posted a "Russell Wilson apology form" on his Instagram story, which is now circulating on Twitter.
Is Russell Wilson playing himself out of the HOF?
Wilson has quietly climbed back up to respectability through the first half of the 2023 campaign after most national (and local) pundits predicted he was finished. Many said he was no longer Hall of Fame worthy after one horrendous season, which was his first in the Mile High City. As bad as '22 was, a change in coaching and philosophy looks to be working wonders for DangeRuss so far this year.
In Monday night's win over Buffalo, Wilson played an efficient game where he threw nearly 30 times with only five incompletions. He completed 82 percent of his passes with two touchdowns and zero interceptions. That performance yielded less than two hundred passing yards for Wilson, but that doesn't matter in a win. Through nine games Wilson has thrown 18 TDs to only four picks.
Because of that victory, the Broncos are more than alive in the AFC playoff picture. Although they're currently sitting in 14th place in the conference because of the log jam that is the AFC, Denver is one game behind the Houston Texans, who sit in seventh. The Broncos play the Texans (5-4) in a couple of weeks; before that, they take on the Cleveland Browns (6-3). The Browns currently occupy sixth place in the AFC. With Deshaun Watson out the remainder of the year, Cleveland could be ripe for the picking when they meet.
Ultimately, there's still a lot of football left to play, but the Wilson we've seen thus far probably is owed numerous apologies, especially from some folks in the media. If he continues to play like this and Denver makes the postseason, Wilson will have earned apologies from everyone who said he was washed. And Broncos head coach, Sean Payton, might also deserve an apology or two based on some of the flack he caught following the team's slow start to the season. Let's admit that we may have been wrong about Wilson, Payton, and the Broncos….maybe.